Creating a Sense of Pride in Communities in Brazil through Community Engagement
Published 05/02/2019 by Global Communities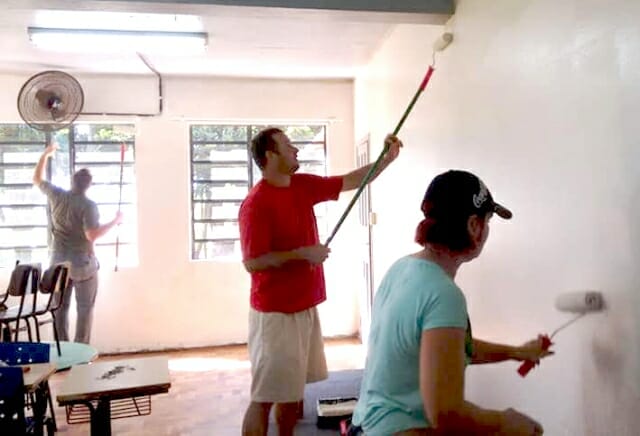 The Sowing Futures program in Brazil is the product of a partnership between the international development organization, Global Communities, and the John Deere Foundation, and was created in order to provide members of John Deere home communities with the tools and connections necessary to improve their own socio-economic conditions. The strand uniting Sowing Futures' successes is that of providing community members with a sense of pride—including a place to belong, a way to be recognized, and a way to contribute to the well-being of themselves and the people around them. Prior to the program's creation, the communities neighboring the John Deere plants showed little cohesion nor organized associations and lacked a sense of community and active participation from citizens.
One of the targets of the Sowing Futures program is at-risk youth, and one way in which they benefit is from the fulfillment of volunteering in groups with friends and community members to revamp the environments around their schools. Recently, parents and students came together to rejuvenate the Carlos Gomes School in Horizontina, Rio Grande do Sul. Thanks to a local grant obtained by the school's new parent teacher association, the volunteers were able to set up a computer room with access to the internet. The association's other achievements include a completely remodeled library including an enlarged book collection, and a remodeled covered courtyard. "The excitement after every achievement, the students' happiness for having a beautiful and well-equipped school, the availability of the school's community in helping with various duties, the gleam in our team's eyes when they realize that everything is possible – all this is the fuel to continue the improvement process. I feel grateful to have had the opportunity to live this unique experience with this community," says Maria Ines Cassol, a teacher who helps the parent teacher association generate new projects.
The program also provides numerous youth leadership training sessions, often run by trained local John Deere employees who volunteer their time. Over 7,000 youths have participated in trainings and other opportunities since the program's start, which also includes events, community volunteering, and school activities.
Some of the successes of the program can be drawn from the incorporation of Global Communities' Participatory Action for Community Enhancement (PACE) methodology, which is a method of facilitating community development that unites and empowers community leaders to take ownership of local priorities. Sowing Futures staff designed a 40-hour course that provides knowledge and skills training in participatory community development, community facilitation, community development planning, and project development. At the end of the course, participants receive a university course certification in Participatory Community Development. Attending the course in the university's classrooms and receiving the course certificate (many of which are hung up in their homes) does much to raise participants' self-confidence and self-esteem, which gives them greater encouragement to become leaders in their neighborhoods.
In addition to training individuals, Sowing Futures adapted Global Communities' toolkit to support community-based organizations. "Our greatest achievement was the significant improvement in our management capacity. The program broadened our visibility, which led to new partnerships and societal recognition, leading to more material and human resources, more adherence to volunteer work, etc. In addition, we have made our performance in accountability and services more transparent and much more effective," says Márcia Machado, Paulo e Estevão NGO President, who underwent the institutional strengthening trainings for local organizations.
The program, which began in 2014, has engaged over 28,000 community members, created over 5,400 volunteer opportunities, trained over 1,500 individuals, and mobilized 544 employee volunteers from nearby John Deere manufacturing plants. With the success of the program uniting neighborhoods and communities in Brazil, the partnership between Global Communities and the John Deere Foundation has since expanded to also include similar work in John Deere communities in the United States and Argentina.