Inauguration of the First Palestinian Green School – Aqqaba Secondary Girls' School
Published 08/12/2016 by Global Communities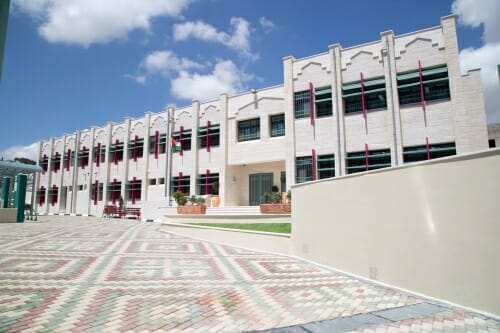 Inauguration of the First Palestinian Green School – Aqqaba Secondary Girls' School
This article first appeared on the US Consulate General in Jerusalem website
Aqqaba, Tubas Governorate – Today, representatives from the U.S. Government, the Palestinian Authority, and Global Communities, joined local residents to inaugurate the newly completed Aqqaba Secondary Girls' School, the first Palestinian green school. USAID invested $1.3 million in this project to enhance the learning environment for 130 school students, promoting girls' education and raising awareness on the benefits of green building.
The new school will reduce the overcrowding faced by students who attended classes at the local primary schools. The school includes a library, computers labs, science labs, and enhances school safety. In addition, the green elements integrated into the construction and operation of the school such as water-recycling systems, solar panels that provide energy saving, and reusable wastewater systems set a new standard for environmentally sound design in the West Bank. This project also generated numerous jobs for Palestinians.
In her remarks, Dorothy Shea, the Acting Principal Officer at the U.S. Consulate General in Jerusalem said, "We know that when women succeed, societies flourish. By inaugurating the Aqqaba Secondary Girls' School here today, we are again showing our commitment to promoting girls' education."
The inauguration was attended by Minister of Local Government Dr. Hussein Al Arraj; Minister of Education and Higher Education Dr. Sabri Saidam; Tubas Governor Rabih Khundaqji; Aqqaba Mayor Jamal Abu Arra; U.S. Consulate General's Acting Principal Officer Dorothy Shea; USAID West Bank and Gaza's Acting Mission Director Jonathan Kamin; and Global Communities Country Director Lana Abu-Hijleh.
The U.S. Government, through USAID, is the leading provider of bilateral development assistance to the Palestinians, having provided more than $4.9 billion since 1994 for programs in the areas of democracy, governance, education, health, humanitarian assistance, private enterprise, water resources, and infrastructure. Since 2000, USAID has built 3,106 classrooms and renovated 1,255 classrooms. As a result of such activities, 200,000 students study in classrooms built or renovated by USAID.