Raising Awareness about Flood Risks in Vulnerable Areas of Gaza
Published 03/09/2023 by Global Communities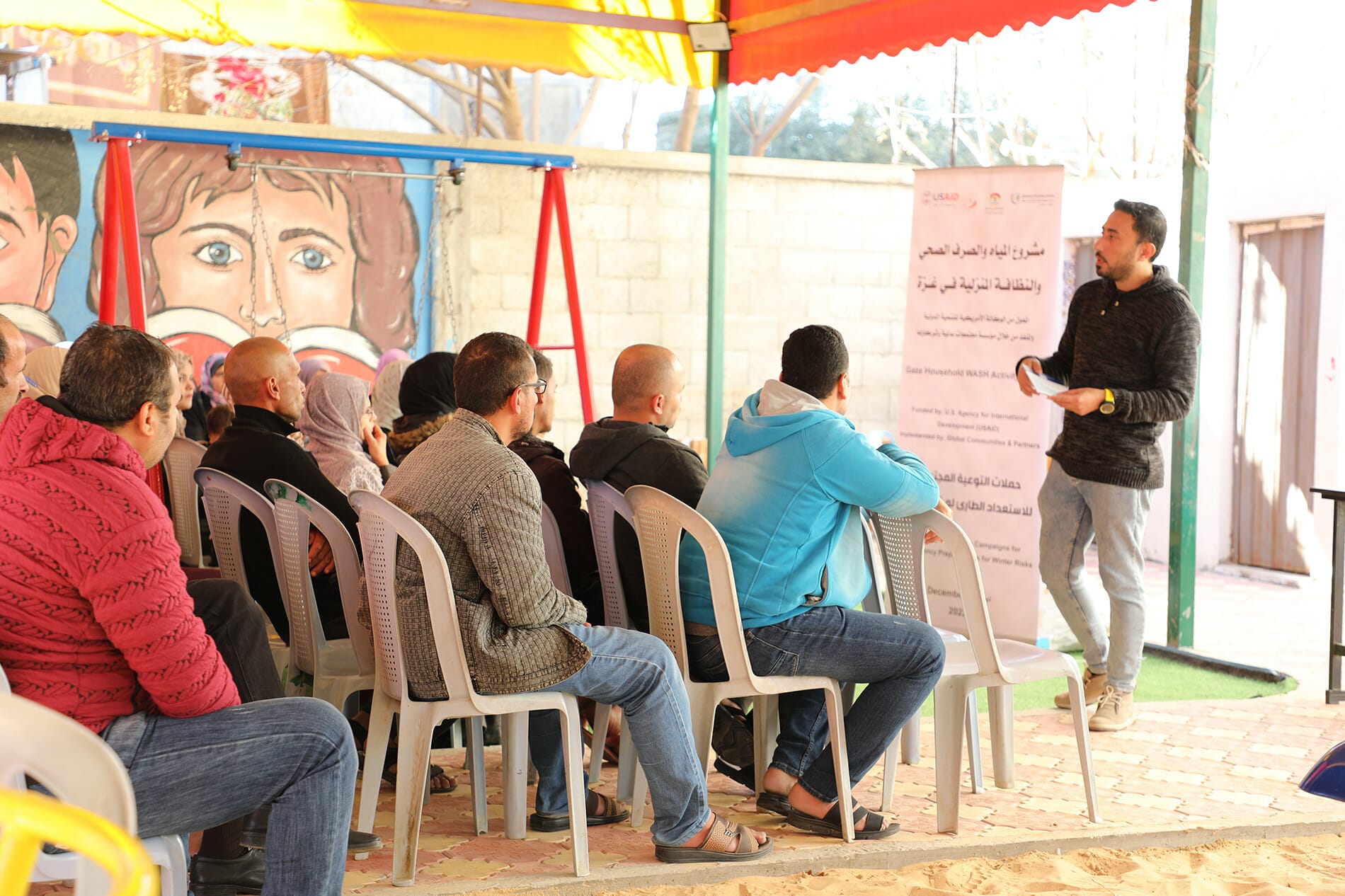 By Ziad Bakri
Ahmad*, a father of six children, lives with his family in Khuzaa village. Like many others living in the Gaza Strip, he and his family face daily challenges related to hazards that accompany the winter season, from sewage overflow and flooding to frequent power outages and frigid temperatures.
More than 148,500 people live in flood-affected areas in Palestine, and at least 21,300 houses in Gaza fall below the minimum standards for hygiene facilities and protection against adverse weather. As the rainy season usually lasts from late October to early April, heavy rainfall is expected to continue, aggravating the flooding situation in areas that have already been compromised.1
Flooding frequently contaminates limited water sources in Gaza, increasing the risk of waterborne diseases. What's more, many houses are not equipped for the combination of rain and cold. Access to heating is difficult because of constant power cuts.
To address these challenges and help vulnerable families in the region mitigate flood risks, Global Communities conducted 35 awareness sessions for a total of 4,375 community members in seven localities in North Gaza, Middle Area and South Gaza. The sessions, held at the end of December, were part of a larger program known as the Gaza Household WASH Activity, which is funded by the United States Agency for International Development (USAID) and implemented by Global Communities in partnership with Bayader for Environment and Development and Beit Lahia Development Association.
"We learned how to deal with cracked walls, prevent water from getting into the houses during floods, protect children from cesspools flooding, keep the water tanks and greenhouses safe, protect livestock during freezing weather and use heating and lighting tools safely," said Ahmad, who planned to use what he learned to help his own family and other local residents. "As a father, I am happy to take this session because I, and other parents, will share the information with our own kids to protect them."
During the awareness sessions, facilitators covered several topics, including preventive measures to apply prior to floods and heavy rains, strong winds and storms and freezing weather. They also discussed the dangers of electricity faults and general tips to keep homes safe and secure in case of flooding. Participants received brochures that summarized the key messages.
"[The brochures] contain useful information, and I can share it with my neighbors and friends who couldn't attend the sessions to benefit as well," said Suha*, another community member in attendance with Ahmad.
Building upon these efforts, the Gaza Household WASH team distributed 7,250 hygiene kits in January and February to help the heads of households in flood-risk areas protect their children from viruses and keep their living spaces clean. The kits included soap, cleaning products, luffas, toothpaste and toothbrushes, menstrual health products and cleaning sponges.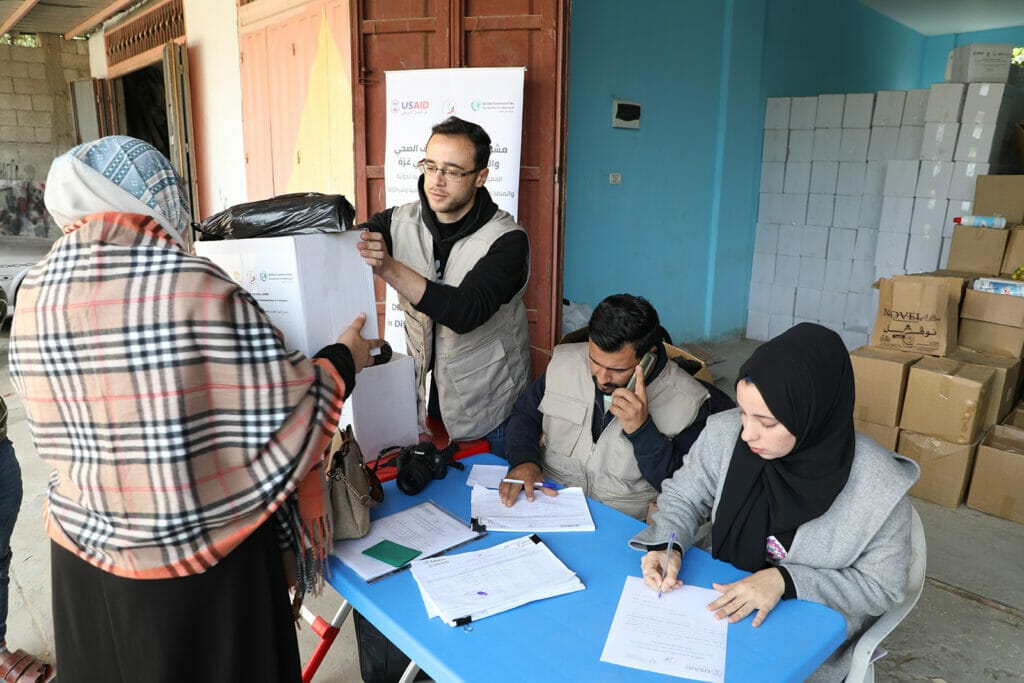 Sondos, 30, lives with her husband in a small place where two-thirds of their home is made of sand and there is no ground slab or tiles. She expressed gratitude for receiving the hygiene kit at a time when families in Gaza are facing deep financial struggles that force them to prioritize basic needs.
"Usually, I would sell a bottle of oil that I receive through food support to buy cleaning material. We really need the hygiene material to keep ourselves and our homes clean," she said. "… I appreciate how everything was organized and how we were treated respectfully."
Currently, Global Communities and partners under the Gaza Household WASH Activity are working on delivering health promotion and education sessions to 3,372 households. We have also launched 23 water, wastewater and stormwater projects in the Gaza Strip to improve living conditions, reduce flooding risks and rebuild critical infrastructure destroyed by conflict.
[1] ACAPS, 10 January 2023 Briefing Note.
*Names have been changed to maintain confidentiality.
This success story is made possible by the generous support of the American people through the United States Agency for International Development (USAID). The contents are the responsibility of Global Communities and do not necessarily reflect the views of USAID or the United States Government.