Amplifying the Voice of Marginalized Communities in Ghana
Published 09/02/2014 by Global Communities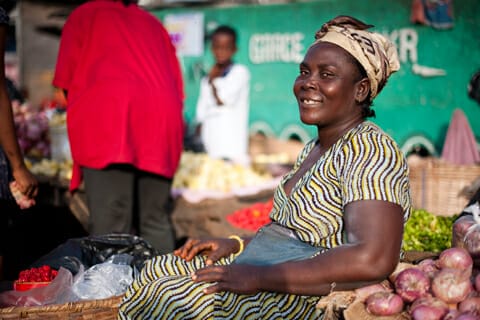 Amplifying the Voice of Marginalized Communities in Ghana
This story originally appeared on Making All Voices Count
On September 19, awarded partner Global Communities will launch the radio aspect of their project Our City: Our Say, aimed at increasing women's participating in local government. This project will enable marginalized citizens to report on service delivery and improve the ability of the government to respond and incorporate this feedback. The radio show is intended to complement this activity and further engage citizens, such as women and the poor, who may not usually participate in local government issues.
Global Communities is an international non-profit organisation that works closely with communities worldwide to bring about sustainable changes to improve the lives of vulnerable people. This month, on August 5, 2014 the Our City: Our Say project was featured on Ghanaian television news channel, Viasat 1.
 
Below, Ishmael Adams, Program Director for Global Communities' IncluCity program, reflects on the project:
The participation of women in government in Ghana is low; in the years 2009-2012 only 8% of members of parliament were women, and currently women account for only 11 out of 72 assembly members. Gearing to change this, Global Communities started the project Our City: Our Say, supported by Making All Voices Count. This project gives us the chance to experiment and build on work already done to deepen connections between residents and government officials.
Our City: Our Say ties into the on-going IncluCity program, which has helped the city implement the Citizens' Report Card (CRC) which surveyed more than 800 households in 2012 – the first time citizens had been asked directly what they thought about the city's performance in 10 areas of service: water, basic education, public health, electricity, public toilets, solid waste, drainage, police, roads, public markets.
Since that time, Global Communities has been working with a CRC team of community leaders to follow-up on the results of the survey and to help hold the city accountable for making changes. Global Communities has also been helping the city improve its revenue collection (fees and property taxes) and helped to assign street names and house numbers to every property in the city.
This was a huge improvement that touched everyone and generated a lot of media attention. People are finally starting to see how the taxes they pay are linked to the ability of the city to deliver services and are mobilising to hold their local government accountable.
The radio show, set to launch this month, will give citizens the opportunity to make their voices heard. The concept for the show was developed with input from key stakeholders, who in a survey were asked how they'd most like to receive feedback on the progress the city was making on the 10 previously mentioned areas of service. Respondents overwhelmingly chose radio as the preferred method.
Since we are trying to reach lowest income residents – we're focusing on using radio. It will be hosted by a female host and presented in the local dialect to make sure everybody can understand what is being said.
City employees, service providers and elected officials will feature on the programme, answering questions and offering opinions on how Sekondi-Takoradi district could improve access to water, basic education, public health and other services. A quiz component feature also and respondents who provide the correct answer will be entered in a draw to win a lunch date with the mayor. This will give them the unique opportunity to interact with local government directly.
In addition, the project will help the city expand and automate its clients service unit through an interactive platform called "SmartSol," which will provide multiple toll-free hotlines and an improved website, creating additional ways to follow up with citizens and find out if they were happy with the help received.
The city needs good data to make good decisions. By helping them to analyse the data from callers to the show and the service number, combined with walk-in requests for help, the city will better understand people's priorities and where there are chronic problems they need to address.