Building a More Resilient and Equitable World
From climate change and cross-border conflicts to the growing inequities left behind by the COVID-19 pandemic, the world faced multiple and complex challenges in 2022. Drawing from seven decades of learnings, Global Communities partnered with local leaders, governments, civil society and the private sector to face these problems directly and design customized, local solutions. Across five continents, in over 30 countries and alongside thousands of communities, we helped to create meaningful and measurable change in service to our vision of a more just, prosperous and equitable global community.
We bring together local ingenuity and global insights to save lives, advance equity and secure strong futures.
A more just, prosperous and equitable global community.
We envision a world of expanded opportunity, where crises give way to resilience and all people thrive. We work to build this better world with a spirit of constant innovation and a commitment to confront historic barriers to dignity, equity and inclusion.
We respect the dignity and humanity of every individual and are committed to equity, inclusion and justice in everything we do.
We are transparent when we make mistakes, trust the wisdom of the communities we serve and seek to preserve the natural environment.
We are curious, seek to innovate and embrace a spirit of experimentation.
We consistently hold ourselves and each other to delivering excellence and to the highest professional and ethical standards.
We actively collaborate with all our stakeholders to improve understanding of complex issues and catalyze lasting change.
Messages from Our Leadership
Board Co-Chairs Richard Celeste & John Potter
President & CEO Carrie Hessler-Radelet
A Message from Our Safeguarding Director
Protecting and Safeguarding Participants Globally
Dear Friends,
At Global Communities, we firmly believe that all people have a right to thrive in a safe and supportive environment and are committed to ensuring accountability to the communities we serve. For us, safeguarding is a priority that aligns with the vision and mission of our organization. While we know that no organization is immune and that harm, particularly sexual exploitation, abuse, and harassment (SEAH), can happen anywhere, it is our commitment to prevent, report and respond to SEAH and other forms of abuse.
Global Communities has been working on a Safeguarding Framework as a hub for the policies and actions that outline our commitment to ensuring that our culture, programs and practices respect the rights and dignity of anyone with whom Global Communities interacts and allow them to live free from abuse and harm.
We know that safeguarding is an organization-wide effort that involves all departments in the process and that it requires us to go beyond compliance to address any harmful systems and norms in our culture while centering the voices of the communities we serve.
To honor our commitment, Global Communities created a Global Safeguarding office in August 2022 based on the recommendation of the Safeguarding Working Group to further our action through cross-team initiatives toward prevention, reporting and responding to safeguarding incidents, such as SEAH, and to the work of holding ourselves accountable for ensuring the safety of the people with whom we work. Some of these efforts include:
Conducting a safeguarding training led by country teams to more than 600 staff, emphasizing prevention of sexual exploitation, abuse and harassment.
Joining the Core Humanitarian Standard (CHS) Alliance and Steering Committee for Humanitarian Response in the Harmonized SEAH data collection and reporting pilot. The initiative aims to create more transparency and a standardized approach across aid organizations on data collection and reporting and supports trend analyses from aggregated data, which will inform strategies aimed at prevention interventions.
Joining the Misconduct Disclosure Scheme, alongside almost 200 other international organizations, to support our recruitment procedure by enhancing reference checks and ensuring that perpetrators of sexual misconduct are not moving between organizations undetected.
Working across different teams to develop a Community Feedback/Complaint Mechanism template that can be adapted across our global programs with community input. Feedback and complaints received from program participants and communities is considered an opportunity to not only improve the quality of our programming but also to strengthen our culture of responsibility by providing a safe, confidential and accessible means for participants and communities to raise safeguarding concerns and for us to respond accordingly.
Safeguarding is a journey, and 2023 will provide opportunities to work closer with all our global offices and teams to implement safeguarding standards across our work.
Sincerely,
Stacey Williams
Democratic Republic of the Congo
Democratic Republic of the Congo
Middle East & North Africa
From Crisis to Resilience
In today's complex world, fragile and stable contexts are not always clearly defined, and communities move back and forth from crisis to resilience. We understand this dynamic and, in 2022, we continued to tailor our programs to the real-time needs of communities, drawing from our extensive experience in humanitarian assistance, sustainable development and financial inclusion.
To build a path forward, we recognized the need for greater collaboration between the humanitarian, development and peace sectors to support families and communities through crises while fostering long-term resilience. As we have always done, we implemented solutions generated by the communities we serve and spearheaded new localization models that shift power dynamics and put decision-making in the hands of those who are most affected. Through it all, we worked toward these changes by harnessing the power of innovation, collaboration and cutting-edge technology.
Today's reality is that communities do not move neatly on a continuum from crisis to resilience. Shifts back and forth caused by political instability, climate disasters and conflicts can take a stable environment like Ukraine into crisis overnight.
Global Communities believes meaningful solutions lie at the intersections that link humanitarian, development and peace-building programs – also known as the triple nexus. Our unique expertise allows us to leverage learnings for integrated programs and respond to rapidly changing circumstances.
The complex challenges facing communities around the world require customized, locally owned solutions. Global Communities does not believe in a one-size-fits-all approach and is committed to advancing the localization of our work through a wide range of models.
As our sector transforms, Global Communities will lead the way, always centering local voices and prioritizing support and technical assistance for sustainable, community-driven solutions.
Ideas and approaches from the past are no longer enough to keep pace with the world's challenges. Global Communities embeds innovation at every level of our programming, creating space for digital solutions and agile approaches that can blaze a trail to new thinking and a more just and equitable world.
From partnering with the private sector to upend the home sanitation market in Ghana and expanding access to credit for women business owners in the Middle East to putting mobile technology in the hands of East African pastoralists, we are working to expand opportunity, prosperity and social inclusion. We are exploring new solutions for safe commodities storage, taking community savings groups online, and connecting people and ideas across languages and borders to build a better future for all.
Fiscal Year 2022 At A Glance
Year End Operating Results
Less Change in With Donor Restrictions
Without Donor Restrictions
Program Services & Program Support
For the periods ending: Sept. 30, 2022 & Sept. 30, 2021
Revenue, Expenses, Year End Operating Results and Net Assets are presented in Millions.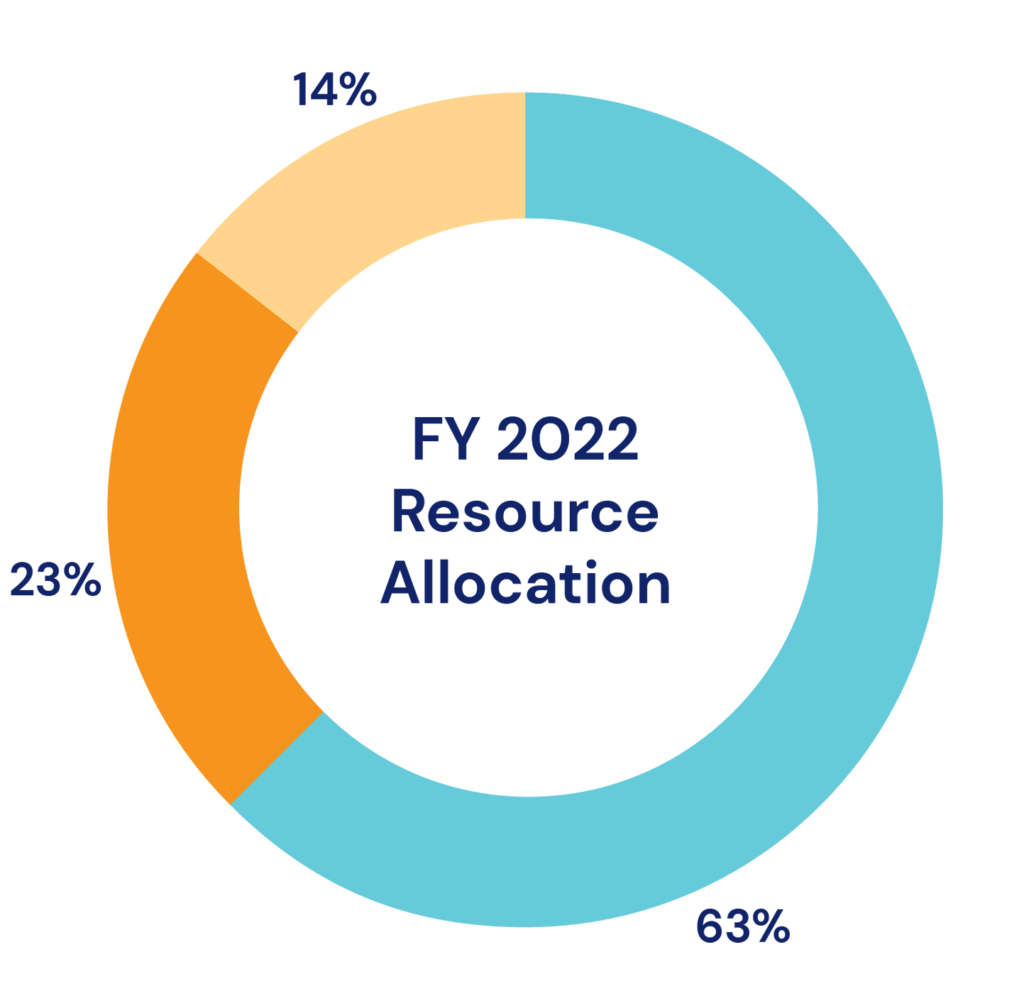 Catalyzing Lasting Change as Partners for Good
Global Communities aligns the interests of businesses and communities to achieve sustainable results. We have facilitated partnerships that demonstrate mutual strategic benefits, including:
Strategizing with corporate partners to reinforce stakeholder engagement, while improving the ability of communities to be more self-sufficient and advocate for their needs.
Building employee morale and teamwork through volunteerism, while helping communities capitalize on our corporate partners' technical expertise and catalyze local capacity.
Identifying labor market skill gaps and potential target markets for corporate partners, while delivering improved workforce training and creating job opportunities for vulnerable youth.
We promote effective stakeholder collaboration and learning to increase the scale and impact of our shared initiatives. Through collaboration and knowledge sharing, we develop new solutions to grow sustainable companies and communities.
Explore our 2022 Annual Report and learn how Global Communities:
Responded to the outbreak of war in Ukraine
Adapted to climate realities with urgent solutions in Ethiopia
Led capacity strengthening programming in Brazil & Argentina
Supported peacebuilding initiatives in Yemen
These and other regional highlights in our Impact Recap, available as a PDF download.
This report was compiled by the Global Communities Office of Communications with support from global program teams. Design and layout by Bonnie Maratea, Annie Mueller & Digital Marketing Inc. Authors and contributors include Melissa Silverman, Natalia López-Thismón, Maureen Simpson and Lizzie Hickman.