How Saving Groups are Transforming Rural Communities in Rwanda
Published 09/15/2014 by Global Communities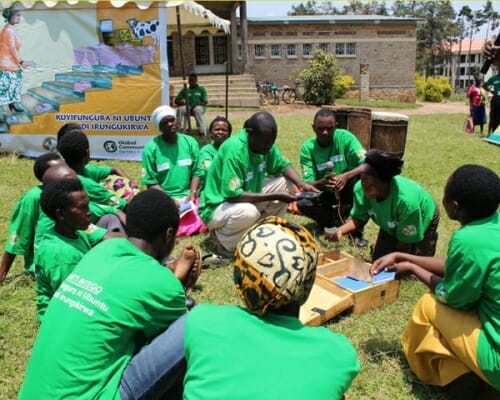 How Saving Groups are Transforming Rural Communities in Rwanda
This story originally appeared in The New Times Rwanda.
For decades, Joseph Ndemeye struggled to improve the welfare of his family. The 50-year-old resident of the rural Kibilizi Sector, Nyanza District, depended on produce from his small farm to feed his family, but most of the time lacked basic needs. Ndemeye, a married father of nine, says his future and that of his family looked bleak.
"Even getting health insurance for my children was a problem," he says. "I had no clear vision of where I was heading and what I could do to get out of poverty."
But about a year-and-half ago, Ndemeye's life started improving considerably. At the time, he had teamed up with about 30 other people from his village to start an informal, small and mutual-help savings group that they named Ejo Heza-or literally meaning 'Better Future'. The group later proved to be a transformational tool both for Ndemeye and his compatriots who now say they are living far better lives. Not only did their living conditions improve thanks to working together but also their mindset and attitudes toward saving and self-development, Ndemeye says.
"Working together opened our minds to the realities of the world," Ndemeye says. "In addition besides learning how to better manage my resources, I also learnt how to better utilise them to generate more revenues."
Changing attitudes
Ndemeye says mindset change is the first step towards self-development. This, he says, has enabled them develop a savings culture which has in turn helped improve their lives. "We have also been able to share skills and experiences," Ndemeye says. "All my efforts are directed towards a specific objective," he adds, noting that he is planning to use his savings to open a retail shop in his area. But Ndemeye is not the only one who hails the informal saving groups for opening a new chapter in his life. Mukamusabwa Judith, 40, a resident of Kibinja Cell, Busasamana Sector also commends the informal savings groups, also known as Ibimana, for transforming her life. The mother of seven boasts of having been transformed "from an unproductive housewife to a money-maker."
Financial inclusion
Ibimina operate on the basis of contributions from their members who are mainly residents of the same village or settlement. Each group comprises about 30 members and activities, including lending money to members, rely on mutual trust between them. Contributions are paid weekly and range between Rwf200 and Rwf500 per share per week. Each member pays up to four shares a week.
The groups, which have been receiving support – mainly in form of training and capacity building from several non-governmental organisations – are said to have encouraged saving, especially in rural areas. They have also facilitated members to access funds to implement income-generating activities which has helped improve their welfare. Some organisations have also intervened to help link the small savings groups to banks and micro-finance institutions. They include Global Communities, an organisation working to improve the capacity of informal saving groups.
John Ames, the Chief of Party for Global Communities/USAID Ejo Heza project, told The New Times that their intervention is geared towards promoting the financial inclusion of individuals who lack access to bank services, mainly those in rural areas. He said they work with financial institutions to design products that respond to the community's needs. He said the overall target is to help 'raise the number of individuals and groups that can access loans and finances" to implement income-generating activities.
On Wednesday, the organisation partnered with Duterimbere Microfinance to launch a new saving account that targets mainly individuals and informal savings groups in rural areas. Named Intego (or target), the product features a savings account that gives customers a 6 per cent annual interest rate. Holders of the account, which is free from any charge, can then access loans. Delphin Ngamije, the Managing Director of Duterimbere IMF, said they hope to reach out to many people who were not part of the formal financial sector and help them transform their lives.