Global Communities has a proven history of providing HIV and other infectious disease prevention and response programs at national, regional and local levels. We take an integrated approach to our disease prevention, treatment and care programs to create strategic networks, support frontline and facility-based health workers, and empower communities, families and individuals with quality information and services.
We work collaboratively with local governments to build on existing program infrastructure and support surveillance, detection and response to infectious disease prevention and management, as well as demand creation for quality preventive, curative and promotive health services. Global Communities has emerged as a leading expert on local capacity strengthening in this sector, providing technical assistance to local implementers for successful management of United States government funds.
Working Towards HIV/AIDS Epidemic Control
By addressing the root causes of HIV and building local capacity, resilience and ownership, we believe that an empowered, AIDS-free generation is possible. With vast experience as a direct implementer and technical assistance expert, we specialize in convening partners across sectors and levels of government to enhance the well-being of women, children, adolescents and other groups significantly affected by the AIDS epidemic.
We offer technical assistance to build the capacity of local community-based organizations, primary health care systems and community agencies to implement comprehensive, integrated HIV/AIDS services across the continuum of care. We tailor our behavior change strategies to meet the unique needs of those living in a range of adverse situations, including orphaned children, adolescents in high-risk environments, men who have sex with men, female sex workers, transgender people, prisoners, mobile populations, discordant couples and persons living with HIV.
Our initiatives prioritize tools and approaches that optimize quality, choice and convenience, and engage key stakeholders to deliver integrated HIV and health services, promote digital tools and self-care and drive equitable access to human-centered care for people living with HIV and their families. Due to unique vulnerabilities of various target groups, we provide support and services beyond health such as combination socio-economic approaches for adolescent girls and young women and stigma reduction approaches for all persons living with HIV reached.
While HIV is not a new threat, we have seen positive results through a focus on behavior change in Kenya, Zambia, Botswana, Rwanda, Malawi, Tanzania, Honduras, Guatemala, Nicaragua, Mexico, Ethiopia and the United States.
In Kenya, Zambia, Rwanda and Botswana, we implement DREAMS, a project funded by the U.S. President's Emergency Plan for AIDS Relief through the U.S. Agency for International Development. DREAMS stands for Determined, Resilient, Empowered, AIDS-free, Mentored and Safe and aims to reduce rates of HIV among adolescent girls and young women. The project links adolescent girls and young women with safe spaces and provides access to essential social, emotional and support services including HIV, sexual reproductive health and violence prevention education. DREAMS also engages men, boys, parents and caregivers, a critical piece to enacting sustainable, long-term change in health behaviors.
We have been a leader in providing comprehensive care and support for orphans and other children impacted by HIV/AIDS including children and adolescents living with HIV and HIV-exposed infants. We address critical risks by providing services that improve their health, well-being and protection and strengthen their resilience. Our HIV prevention and care efforts also support military institutions, people living in confinement and surrounding communities through testing, treatment, care and support.
Elimination of Cervical Cancer
Women living with HIV are at least five times more likely to develop cervical cancer (a co-morbidity of HIV and an AIDS-defining illness) than their HIV-negative peers, and they have twice the risk for death from invasive cervical cancer within three years than women who do not have HIV, making integrated screening and treatment critical for saving lives. We build the capacity of local partners to provide integrated HIV and cervical cancer testing and screening in mobile and static health sites, ensuring that women who test positive for HIV are linked to treatment services and screened for cervical cancer. Those who have precancerous lesions are provided with or linked to treatment, improving survival rates for both diseases.
Global Communities, then operating as PCI, partnered with the Zambian Defense Forces to implement a low-cost, low-technology single-visit screen and treat approach to reach HIV-positive women and those newly diagnosed with HIV from antenatal care and maternal, neonatal and child health clinics with lifesaving cervical cancer screening and treatment services. Screening services are offered to all sexually active HIV-positive women regardless of age. This innovative approach increased the yield in women needing cervical cancer treatment and strengthened referral of cases with advanced lesions to centralized district hospitals offering the Loop Electrosurgical Excision Procedure.
With support from Pink Ribbon Red Ribbon through the U.S. Department of Defense HIV/AIDS Prevention Program, we also provided technical assistance to the Zambian Ministry of Health to develop a national automated and harmonized cervical cancer information management system called SmartCerv that enabled national reporting of cervical cancer control data and related HIV/AIDS data. Building the capacity of Community Health Workers played a critical role in educating women on the importance of cervical cancer screenings. Community Health Workers scheduled and sent appointment reminders to HIV-positive clients, promoted screenings and reduced barriers to women obtaining routine cervical cancer screenings.
We are a proud member of the TogetHER for Health network, a global partnership focused on cervical cancer prevention. This partnership is identifying key issues and leveraging global connections to implement and scale programs in high-risk areas while fostering the development of innovative cervical cancer prevention interventions and programs. Working with TogetHER and other partners, we are raising cervical cancer awareness and advocating for the resources required to effectively fight this disease.
Prevention, Mitigation & Response to Infectious Diseases
Global Communities provides comprehensive and contextualized community mobilization and social behavior change strategies and  strategically uses technology to prevent, mitigate and slow the transmission of infections. We have responded to outbreaks and pandemics of diseases such as COVID-19, tuberculosis, malaria, polio, Ebola, Zika and H1N1.
We partner with key stakeholders including national and sub-national governments to educate communities on COVID-19, provide prevention and curative services and eliminate barriers to vaccine uptake. Our approaches are evidence-based and innovative with a focus on strengthening health care systems for home care and isolation and providing outreach, personal protective equipment, education, referrals and support. Through our education and prevention programming, we conduct contact tracing, rumor tracking to stop the spread of dangerous misinformation, psychosocial support and mobilize community members to encourage vaccine uptake.
In San Diego, California, Global Communities, then operating as PCI, partnered with the County of San Diego Health and Human Services Agency to help prevent the spread of COVID-19 through culturally-sensitive, linguistically appropriate contact tracing. Drawing on decades of experience in community and public health, Global Communities provided fluent and native speakers of critical languages, from Spanish to Haitian Creole to Tagalog, to support individuals recently diagnosed with COVID-19 through the quarantine process to reduce the risk of them further spreading the disease.
We work together with communities to combat the spread of tuberculosis and reduce barriers to health services. In partnership with local stakeholders, we implement tuberculosis detection and treatment, improve the institutional capacity of health systems to deliver patient-centered care, increase post-detection counseling and services and promote healthy environments for vulnerable populations. People who are infected with HIV are 18 times more likely to develop active tuberculosis, so we incorporate HIV testing into our tuberculosis interventions to strengthen coordination, detection and control of tuberculosis and its key co-morbidities.
In Honduras, we partner with the Ministry of Health and local civil society organizations to implement an integrated program to achieve impact in the prevention, control and treatment of HIV, tuberculosis and sexually transmitted infections among men who have sex with men, transgender women, female sex workers, Garífuna people and prisoners. In partnership with local stakeholders, we implement tuberculosis detection and treatment, improve the institutional capacity of health systems to deliver patient-centered care, increase post-detection counseling and services and promote healthy environments for vulnerable populations.
Global Communities is working with the Government of Honduras to reach the goal of eliminating malaria by 2022 through the strengthening of early detection, diagnosis and treatment, improving case investigation and reporting practices, expanding on vector control interventions such as nets and indoor spraying and enhancing the utilization of digital tracking systems.
We have a history of demonstrated success in strengthening national health responses in areas with the greatest risk of contracting malaria. We have collaboratively developed robust surveillance systems at the local, sub-national and national levels, and built capacities of local health facilities to offer diagnosis, treatment and investigation of cases in regions most affected by the disease.
In collaboration with the World Health Organization, the Government of India and other partners, we mobilize communities for increased acceptance of polio vaccines in hard-to-reach areas, strengthen routine immunization and improve positive behaviors that support population immunity. Our efforts have contributed to the eradication of polio from India and the maintenance of high population immunity to stave off importation of the wild poliovirus from neighboring countries.
A large part of our success is our grassroots community mobilization and interpersonal communication. We also strengthen national and regional immunization systems by building capacity of frontline health workers responsible for community outreach and monitoring to support routine immunizations.
Prevention, Mitigation & Response to Neglected Tropical Diseases
Global Communities is committed to the effort to eliminate Neglected Tropical Diseases. Then operating as PCI, we were among the first organizations in India to successfully embed social mobilization into the National Vector Borne Disease Control program, which focuses on eliminating Lymphatic Filariasis and visceral leishmaniasis from the region.
Our expertise also lies in building the capacity of front-line health workers, supporting program design and improvement using nimble and sophisticated measurement, and developing social behavior change strategies for effective implementation of Neglected Tropical Disease elimination programs. Our unique social mobilization approach focuses on leveraging existing platforms such as State Rural Livelihoods Missions, Panchayat Raj Institutions, front-line health workers, self-help groups and schools to improve compliance at the population level.
Our initiatives create awareness about Neglected Tropical Diseases and their consequences, communicate the prevalence and local endemicity, popularize mass drug administration days, engage communities to improve drug compliance and build the capacity of drug administrators and other health workers.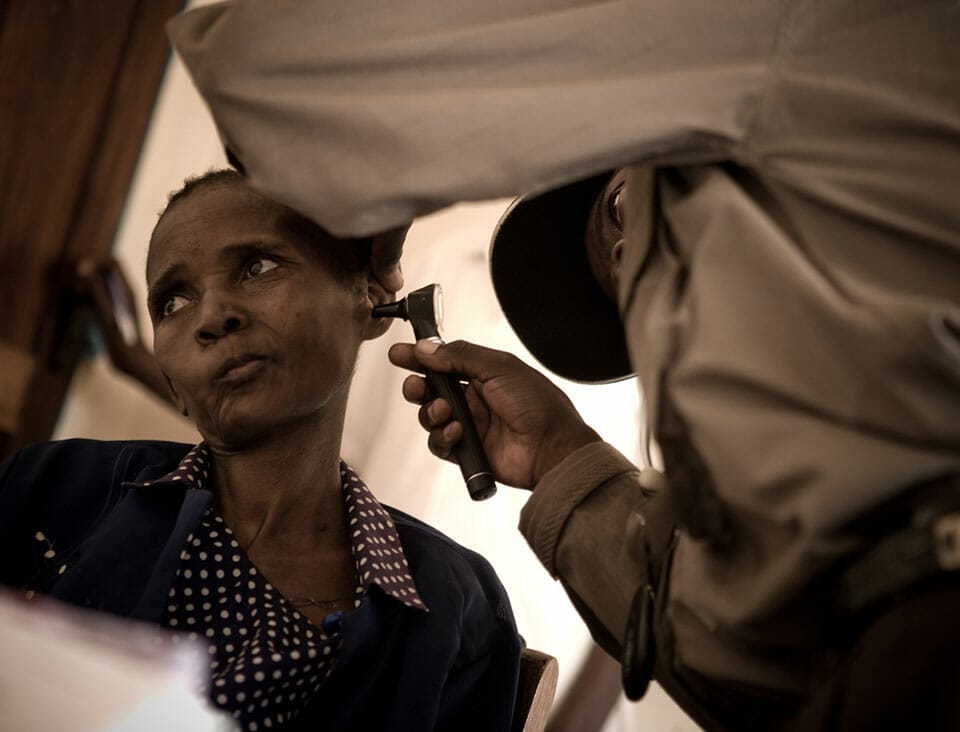 adolescent girls and young women in Rwanda who successfully completed Sexual Reproductive Health and Rights education curriculum developed by the Rwandan Ministry of Health
HIV-positive military personnel and civilians who received access to viral load testing in and around 20 military units in Zambia
women living with HIV in Zambia who received cervical screening cancer services, including 1,286 women with abnormal cervical cancer lesions who received treatment
Our work in this area reaches