Islands of Hope: Ebola-Free Communities in the Hardest Hit Areas of Liberia
Published 02/03/2015 by Global Communities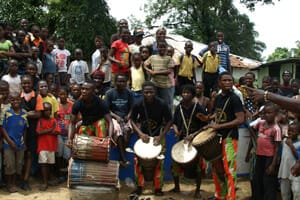 Islands of Hope: Ebola-Free Communities in the Hardest Hit Areas of Liberia
284 Ebola-Free Communities
At the height of the Ebola crisis, there were 284 communities in some of Liberia's hardest-hit counties with a shockingly low Ebola statistic: zero.
Differentiating these communities from those in the rest of the country was the presence of USAID and Global Communities' Improved Water, Sanitation and Hygiene (IWASH) program and the open defecation-free (ODF) status of the communities.
Global Communities is currently implementing a study to confirm anecdotal evidence of this statistic with hard, verifiable data and better understand contributory factors, including:
Communities' heightened awareness of health risks;
Increased safe hygiene and sanitation habits; and
Ability to adopt new health behaviors to help prevent Ebola.
IWASH staff are testing the premise that our methodology of developing a network of Community-Led Total Sanitation (CLTS) "Natural Leaders" through IWASH to work closely with the government's County Health Teams played a critical role in preventing the outbreak in these communities.
About IWASH
Natural Leaders at a Community-Led Total Sanitation workshop.
The $10-million, five-year USAID IWASH program, which commenced in 2010, focuses on developing local WASH capacity. IWASH established five district-wide Natural Leader Networks comprised of 87 leaders, ranging from established community elders to young women, trained 112 CLTS ambassadors and engaged more than 50 entrepreneurs in WASH activities.
IWASH focused on increased water, sanitation and hygiene (WASH) access for rural households largely through the CLTS methodology and the development of WASH entrepreneurs. The program developed Natural Leader Networks to lead communities through the process of becoming ODF. These leaders, with practical linkages to the County Health Teams, were trained, poised and ready to rapidly disseminate health information to remote communities as the Ebola virus spread through Lofa, Bong, and Nimba counties.
IWASH and Ebola
IWASH programming shifted focus to Ebola prevention early in the outbreak, and by April, more than 600 Natural Leaders were actively delivering Ebola-related health messaging in their communities.Through community meetings and dialogue sessions, Natural Leaders, government officials, Community Health Teams and traditional leaders came together to address the threat of the disease and develop action plans to prevent its spread in their communities.
The process mirrored that of CLTS in its focus on community-identified needs, respect and understanding of existing structures, and a commitment to two-way dialogue.
Community members responded by ramping up safe hygiene practices, monitoring newcomers to the community, and remaining vigilant in monitoring health changes in community members in order to prevent the disease from entering or spreading in their communities.
This method worked largely because:
Natural Leaders developed through IWASH were known and trusted; they grew up in the communities where they delivered their messaging.
The Natural Leaders had already proved their value as effective agents of health behavior change through their CLTS work in IWASH – the fact that communities had seen the positive health and social impacts of ODF status gave credibility to and promoted acceptance of new messaging on Ebola.
About Community-Led Total Sanitation (CLTS) in Liberia
The Government of Liberia has a National Technical Coordinating Unit, charged with overall coordination and technical support to CLTS efforts nationwide. The National Steering Committee within this unit is chaired by the Ministry of Health & Social Welfare and co-chaired by the Ministry of Public Works. IWASH adapted the CLTS methodology to Liberia's specific needs (CLTS+) and worked with the unit to develop and roll out the Government of Liberia's Guidelines for Community-Led Total Sanitation Implementation in Liberia, published in 2012. Adaptations to the Liberian context include:
IWASH created Natural Leader Networks to bring CLTS facilitation to a local, sustainable level, and shift primary responsibility for implementation from NGO or government staff to the community.
CLTS+ ensures that management and accountability are integrated into existing government structures by working closely with general County Health Volunteers and District Environmental Health Technicians in building their capacity to oversee CLTS programming.
CLTS+ also introduced trained WASH entrepreneurs, who ensure affordable sanitation options are made available to their communities.
Lessons From the Experience of 284 Communities
Global Communities believes effective containment of the current Ebola crisis needs:
To be based on motivating local communities and recognizing the importance of local leaders;
Messaging that is delivered by trusted, credible sources; • Local customs and traditions to be factored into any efforts to stem transmission at the community-level (e.g.: burial team activities); and
Work that is done to reinforce and in coordination with local and national government structures.
An in-depth, rigorous evaluation of the 284 communities would be an effective method of learning how to minimize the possibility of future outbreaks in Liberia and other at-risk countries.
Next Steps
Global Communities is currently studying these original 284 communities to inform our understanding of their success in remaining Ebola-free and how this can be applied throughout Liberia and other areas. A more complete paper with further details on IWASH and CLTS in Liberia is available.