Sharing Experience in Governance and Training of Cooperative Boards
Published 03/13/2014 by Global Communities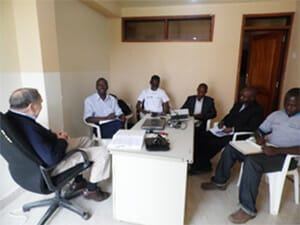 VIP Profile: Gordon E. Lindquist
Uganda and Rwanda, February 2014
Sharing Experience in Governance and Training of Cooperative Boards
"Leaders of cooperative organizations need training to develop the capacity to analyze their institutions' growth."    —Gordon Lindquist
Global Communities currently implements cooperative development programs in Uganda and Rwanda. To take advantage of the countries' proximity and the training needs of local teams and partners, Gordon Lindquist was invited to share his experience in working with cooperatives. Gordon worked with them throughout his professional career, for the last 35 years with Mutual Service Insurance Companies. He also served on the Board of Global Communities (formerly CHF International). Since his retirement, Lindquist has served as a volunteer assisting cooperatives around the world focusing in particular on governance and cooperative board issues. In 2012, Lindquist volunteered for an assignment to Rwanda and in February 2014 he volunteered again, this time for an assignment split between Rwanda and Uganda cooperative programs.
The history of cooperatives in each of these two countries is different but the problems relating to cooperative governance and training of cooperative boards are similar.  In the course of his assignment Gordon conducted a series of training sessions and interactive small group meetings to help local cooperative leaders identify the ways in which they can strengthen their organizations and improve their  management systems. Following these sessions, local participants formulated a number of lessons learned. Among them:
Boards should be encouraged to receive training on financial aspects, book keeping, governance, etc., and to continuously improve their skills; a single course on a particular aspect may not be sufficient;
Term limits for board members should be in place, and self-assessments should be encouraged to increase effectiveness; board training should be based on results of these assessments;
A strong cooperative board should be composed of members with diverse skills which complement each other. All board members should have the right competences and understand their roles and responsibilities;
Understanding the purpose of the cooperative and the differences in managing a producer and farm supply cooperative (where key service to members consists on providing a market for their products) and a service (such as health) are important and should be thoroughly understood to ensure that members own and control their organization.