World Refugee Day 2014: Supporting Families and Communities
Published 06/25/2014 by Global Communities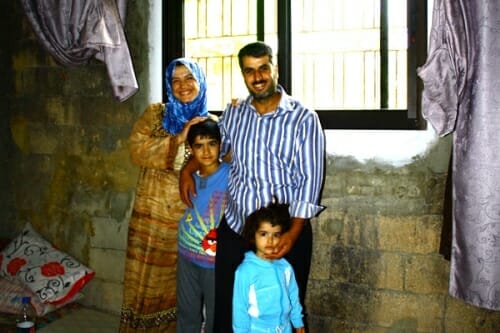 World Refugee Day 2014: Supporting Families and Communities
Lebanon: Aida's Story
Aida stands with her family in front of their newly installed windows.
Aida al Sooreeya is one of the one million registered Syrian refugees in Lebanon and for the past two years she has focused on creating a safer life for her family. She fled Damascus with her husband and children when the fighting in Syria became too intense. Leaving behind their home and all that they knew, they settled in the Lebanese town of Keteramaya and began the slow process of putting their life back together.
The first step was to find somewhere to call home. Refugee camps are illegal in Lebanon so Syrians rely on apartments, community centers, and Lebanese families for places to live. The steady influx of refugees over the past three years means that all three options — even dilapidated shelters without heat or running water — are in high demand. Aida and her family eventually settled in a home that did not have a working bathroom or proper doors and windows. It cost around $300 a month.
In 2013, Aida's family was referred to Global Communities' Shelter Assistance to Refugees Program. Through this program, Global Communities makes the necessary repairs to homes and apartments if the landlord agrees to let a refugee family live in the home rent-free for one year. In Aida's case, this led to an extension, repairs to the bathroom and kitchen plumbing, and the installation of doors and windows. When asked what her housing was like before, she commented, "We had no bathroom for one year.  It was terrible.  We suffered." 
Through this program, Aida and her family finally have some breathing room to cope with the rising cost of living and limited income opportunity in Lebanon. "Before we had no privacy, no space. We could not afford both rent and food. Now we can live in a more decent way.  This has helped us in so many ways."
Colombia: Martha's Story
Martha and her daughters Angie, Tatiana, and Yenis. 
Martha Lucía Londoño eyes light up every time she thinks of her three daughters, for they give her strength and motivation to create a new life. Martha is originally from San Rafael, a municipality located southeast of Antioquia, a region in Colombia whose fortune once depended on the exploitation of gold. Eventually, though, violence and criminals led to the displacement of many residents, including Martha. Fleeing the violence, Martha arrived seven years ago in Monteria, 275 miles and 11 hours away from her home in San Rafael. She thought she had found a safer life for her and her family, but the violence and injustice that affected thousands of Colombians in the early 2000s once again found its way to her doorstep. Her husband was killed, leaving her the sole provider for her three young daughters.
Left with few options, Martha worked two to three jobs a day to feed her children and pay for their education. Martha lived day by day, holding on to her dreams and coping by saying, "When something bad is happening, there is always tomorrow to makeit better. Tomorrow finally came one morning in 2013. Martha received a call from the Global Communities' ANDA program. She was invited to participate in ANDA's income generation and entrepreneurship project, which helps individuals like Martha understand their life difficulties, formulate a life plan and develop entrepreneurial skills. With ANDA's training and coaching, Martha was able to create her own home-based linen store called Maty's Creations, with the name Maty deriving from her and her daughters' initials (Martha, Angie, Tatiana, and Yenis). In addition to earning a profit, the mission of Maty's is to engage and empower people who have an interest in making a difference and advancing their dreams. Martha knows that capital is important for business momentum. She also knows, however, that positivity and confidence are what will make her business thrive. As this woman, who has endured so much, said, "Those who don't believe in themselves will never achieve the dreams that they set out to accomplish."
Martha is just one of the 400 people who have participated in ANDA's income generation and entrepreneurship project. ANDA aims to reduce poverty and improve the quality of life for vulnerable populations, including internally displaced persons, in the Monteria and Cartagena municipalities of Colombia. 
South Sudan: Samual's Story
Samual Kuba is proud to have a positive legacy to pass along to his children..
Samual Kuba likes to say "nothing is as sweet as home where the heart is…" Samual understands this statement all too well as he is one of many who have recently returned to South Sudan after living in exile for years. He was forced to flee his home village of Ijiri in Morobo County when conflict broke out in 1990. He recalls with bleak memories the hardships he faced before and during his exile.
After his father's death, he was forced to drop out of school. As the oldest child in his family, he shouldered much responsibility and married early. "No sooner did I settle down in my village as a married man when the war reached Morobo in 1990 forcing me to flee to Congo where life was difficult as there was no support from any organization. Opportunities for learning skills was not there," he recounts.
Upon returning home, Samual took advantage of a Global Communities program on teaching farmers techniques to increase and improve their harvest. Through this training he learned about soil conservation techniques and quick-growing crops that allowed him to increase his crop production. Now Samual can feed his family and generate additional income. 
And he has a positive legacy to pass on to his own children: "Now I can even teach my children to plant crops in a good manner and how to maintain soil fertility."
Lebanon: Rawla's Story
Rawla stands in front of a newly installed window with her 4 year-old granddaughter, Jamella. 
Rawla greets all of her visitors with a cup of Arabic coffee and invites them into the home she shares with five other families, all relatives. Two years ago, Rawla and her family fled their homes in Damascus to escape the fighting. "The fighting was so bad.  Our home was destroyed.  My son, he suffers from bad memories of the fighting and won't talk of what happened to him in Syria.  Sometimes he can't sleep." The family settled in Keteramaya—a small village in Mt. Lebanon located 30 minutes outside of Beirut.
When asked what her greatest needs are in response to the Syrian crisis, she responds without hesitation, "Money and shelter. There are no jobs and not a lot of places to live.  Apartments are becoming more and more expensive.  In Syria, medicine is free. Here we must pay.  We have little money to buy food and medicine." 
The Global Communities' Shelter Assistance to Refugees Program was able to meet one of Rawla's needs. Through this program, Global Communities makes necessary repairs to homes and apartments if the landlord agrees to let a refugee family live in the home rent-free for one year. Rehabilitation to Rawla's home included the construction of five additional rooms, rehabilitation to the bathroom, and the installation of doors and windows.
"By saving on rent, we can afford these food and medicine.  Every little bit helps.  God willing, we will return to Syria.  We want to go home.  But until then we are safe and thankful for our home here in Lebanon." 
Learn more about our programs assisting refugees, displaced populations and host communities here.