For questions about, or referrals to, Healthy Start, please call 858-227-7317.
Global Communities wants every child to have a strong start in life. Funded by the U.S. Health Resources and Services Administration (HRSA), Global Communities' Healthy Start project is taking a person-centered approach to improving family health. Healthy Start provides free prenatal and childbirth education, postpartum and breastfeeding support, with a focus on Black families and immigrants in San Diego County. The project seeks to provide the perinatal care that all families deserve, but only some parents get. Health educators, known as Perinatal Navigators, provide home-based visits for families from the time they are pregnant until their child is 18 months old. Navigators are trained childbirth and lactation educators and speak languages including Somali, Haitian Creole, Spanish and French. Enrolled participants have access to midwifery care, doula and lactations services, and other resources that ensure a healthy birth.
Healthy Starts leads a Community Action Network (CAN), an alliance of more than 40 agencies and programs aligned around collective impact goals to increase healthy pregnancies, safe labor and delivery, and nurturing parenting for San Diego families. To achieve maximum sustainability, Healthy Start also engages in perinatal workforce development, training women from underrepresented communities to become childbirth educators, doulas and lactation educators.
Childbirth education
Birth planning
Breastfeeding support
Infant care and child development education
Exploration of health care options
Wellness checks for the whole family
Connections to midwifery and doula services
Father/partner-specific education and events
Access to special events, groups, and services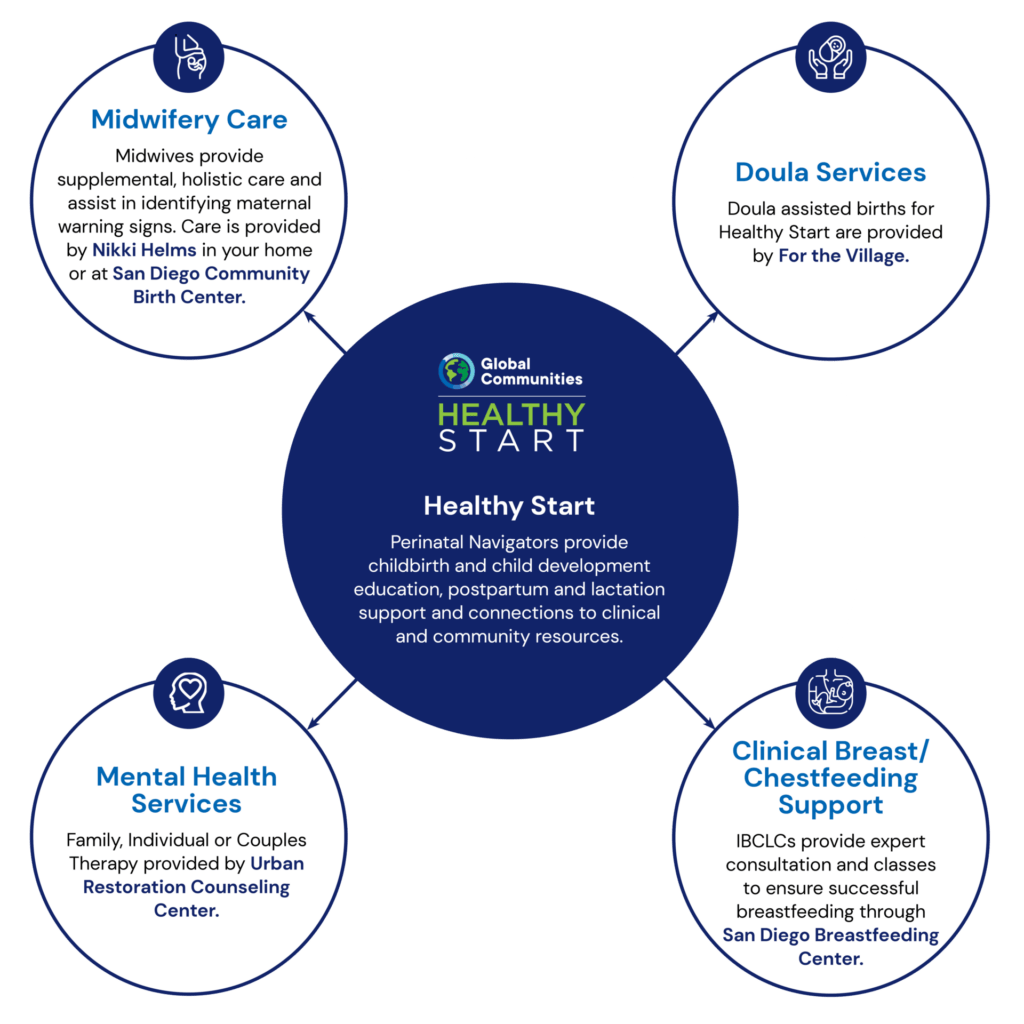 Enrollment: Program Eligibility
Must be pregnant and identify as Black, African American or Black immigrant. Women who qualify for WIC, MediCAL or CalFRESH may also be eligible.
Services are available in English, French, Haitian Creole, Spanish and Somali.
To enroll or make a Referral please use this online form: