Art Therapy for Ukrainian Children Helps Reduce Stress Under Everyday Shelling
Published 08/30/2023 by Global Communities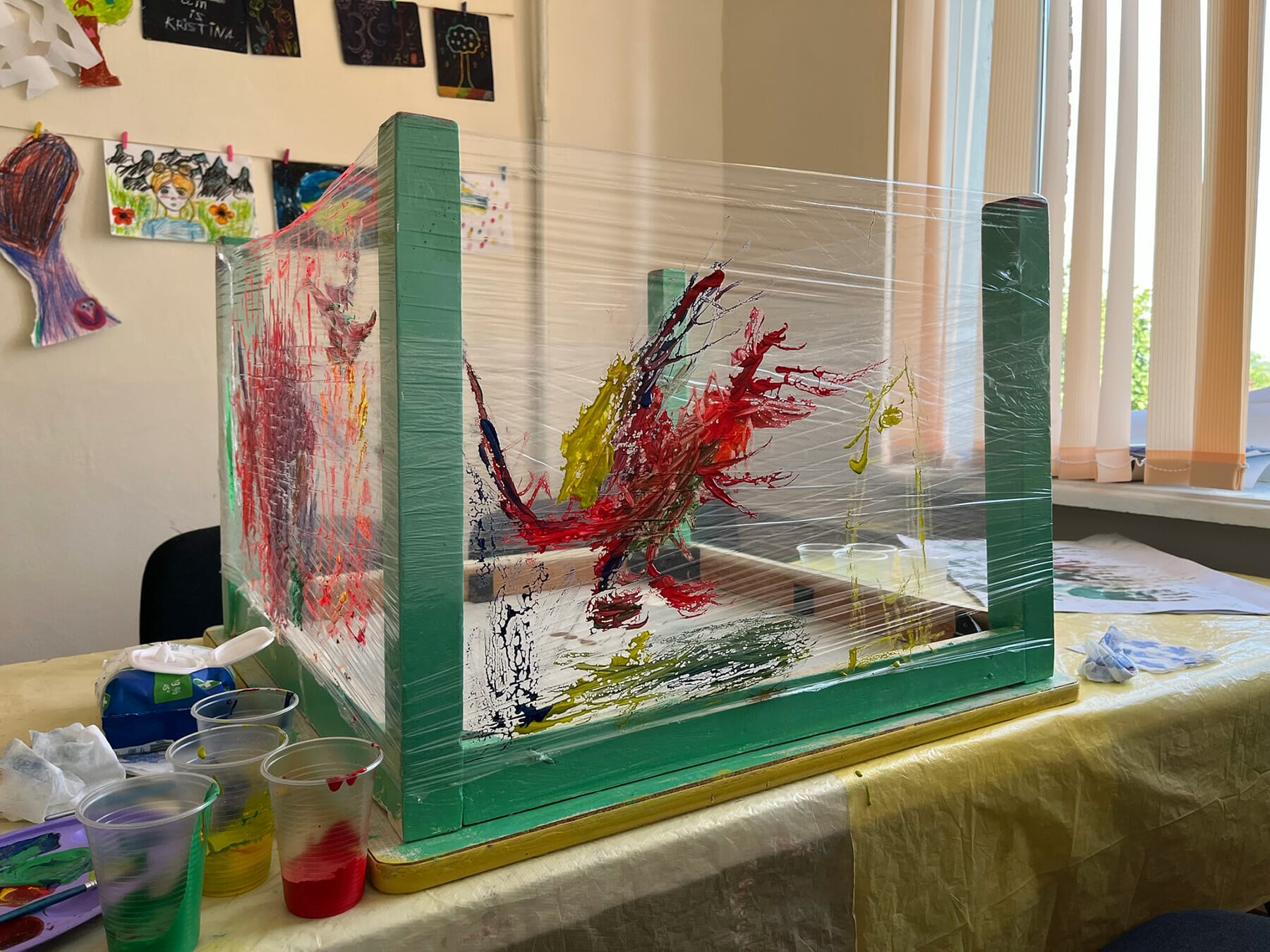 By Tania Dudnyk
Since the end of June, children from three villages in the Chernihiv region have been attending special art therapy classes designed to support their mental health as the war continues in Ukraine. The sessions, which will continue until the school year begins in September, are made possible with funding from the United States Agency for International Development's Bureau for Humanitarian Assistance (USAID/BHA) under Global Communities' Community-Led Emergency Action and Response (CLEAR) program.
Once a week, two groups of children ages 6-9 and 10-13 years old attend art classes at a local school in the region to help them relax, express their emotions and ultimately learn how to cope with the everyday stress of living under constant air raid sirens. Although some children live far from where the school is located, parents coordinate with each other to share transportation responsibilities so everyone can fully participate.
Nadiia and Raisa, who work in the art space, teach Ukrainian Language and Literature and Art and Technology, respectively. Both received training under the CLEAR program on how to apply art therapy methods with children experiencing war trauma. They use best practice approaches and techniques to provide psychological support to their students, who are allowed to choose what they want to do during the one-hour class. Whether it be painting, knitting, working with clay or playing with sand, all activities are accompanied by classical music and followed by energetic dance movements.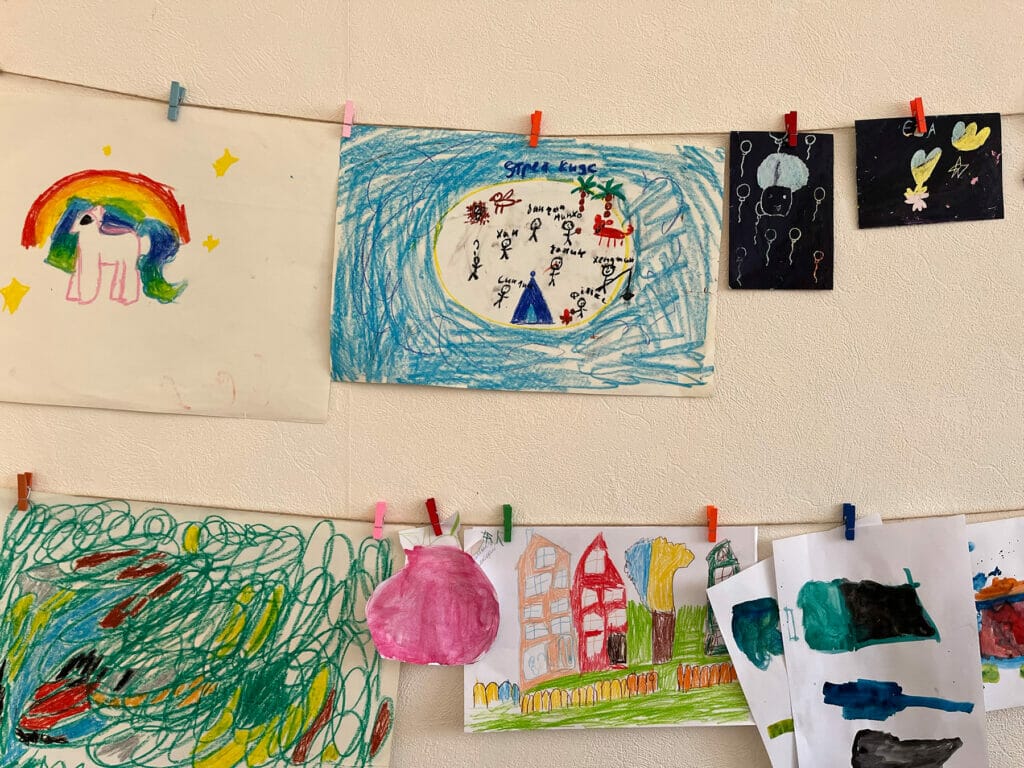 "Our children had studied online for over a year because our school was not equipped with a shelter. That is why, at the beginning, they had difficulties cooperating with each other," said Nadiia, describing an environment where students often appeared tense and struggled to voice their feelings. "Add to this constant air raid alerts and sounds of explosions."
To help ease the children's stress, Nadiia and Raisa invented a rule: when they close the door, the room turns into a safe space of freedom, fantasy and tranquility, where everyone can be whatever they want to be in spite of what is going on in the world outside. Together with students, the teachers dip their hands in the paint, play with sand and dance. Then, step by step, the children start talking about their feelings and fears and become more relaxed.
Children like hugging us and, at the end of each session, we must ensure them that, 'We will meet next time, we promise.'

Nadiia, art therapy instructor

Signs of psychological trauma are common among children in the Chernihiv region, which borders Russia and suffers from daily shelling. Young people and adults alike are forced to spend much of their time in shelters due to the ongoing threat of missile attacks and airstrikes. Sometimes, girls and boys come to the art therapy class very upset, so their teachers focus on showing them creative ways to channel their sadness, frustration and stress.
For example, Nadiia and Raisa bring old newspapers and magazines to the sessions and encourage the children to draw what they are feeling on the pages. Then, they let the students tear the paper apart or crumple it into balls as a way to express themselves and go home in better moods. Throughout these activities, they also come to understand that feelings aren't inherently good or bad; rather, every emotion serves a purpose, and it's valuable to experience them. The key is learning how to effectively navigate and manage these sentiments. Parents have seen immediate benefits from their children participating in the art therapy classes.
"We have been receiving responses such as, 'My child is feeling less worried.' 'My child taught us how to breathe when feeling anxious.' 'My child wants to come to the art room every day,'" said Nelia Lavrynenko, project manager for Global Communities' local partner Civic Initiatives of Ukraine. "This is so important for us and for the children."
Even Nadiia has noticed the positive effect the outlet has had on her own well-being and mindset as she continues to work alongside the students to create an artistic haven.
"I started burning out at my main job as a teacher, and these classes are a completely new experience for me," she said. "I feel like another person, so inspired by what I do together with these children, as if I am healing on my own."
In addition to psychosocial support activities, the CLEAR program provides gender-sensitive protection services, shelter & settlements solutions, and water, sanitation and hygiene support to people who have been displaced or affected by the war in 23 communities of Chernihiv and Chernivtsi oblasts in Ukraine.