Community Lay Counselors in Zambia at the Forefront of Realizing an AIDS-free Generation
Published 12/01/2018 by Global Communities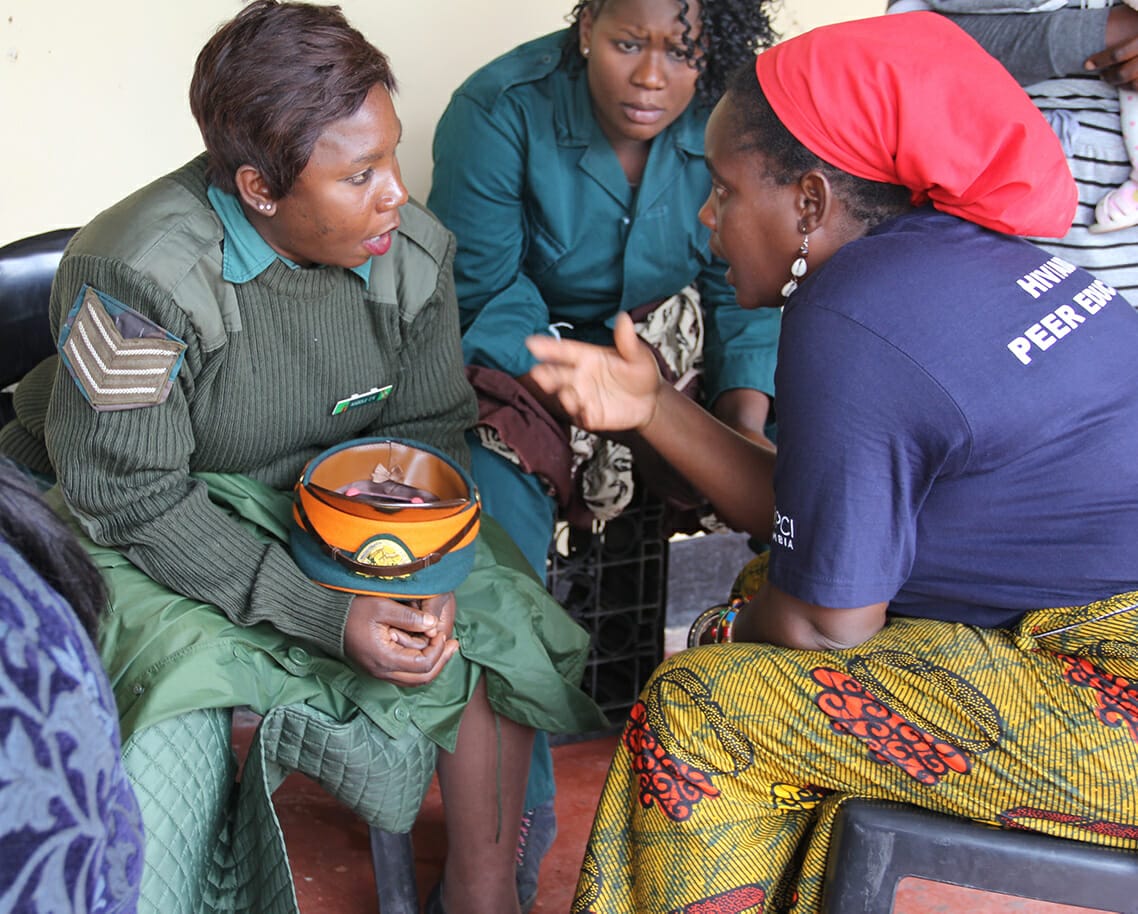 Zambia has one of the highest HIV prevalence rates in Sub-Saharan Africa at 13%. Among the military population, the prevalence rate is estimated to be two times higher than the national rate. Project Concern International (PCI) is working in Zambia to strengthen the capacity of the Defence Force Medical Services (DFMS) to plan and implement sustainable HIV/AIDS prevention, care and support programs in and around 54 military camps spread across all 10 provinces of Zambia.
Between October 2017 and September 2018, PCI supported DFMS to enhance the HIV testing Services program by integrating evidence-based strategies that were aimed at efficiently identifying undiagnosed People Living with HIV/AIDS (PLHIV) and linking them to treatment. These strategies included the index client testing strategy and the partner notification services strategy.
Index client testing involves determining the HIV status of individuals who are biologically or sexually linked to PLHIV (index clients)—namely biological children and all informal or formal sexual partners. Partner notification services involve counseling index clients on how to notify their sexual partners of their HIV status and providing them with support to get their partners and biological children tested for HIV.
As a result of the adopted strategies, identification of HIV positive cases increased from 3% in December 2017 to 44% in September 2018.
On this World AIDS Day, PCI Zambia would like to celebrate Community Lay Counselors and Peer Educators who helped make this possible. In a context where HIV remains a highly stigmatized illness, these volunteers are committed to helping community members understand the importance of knowing their status and communicating it to those who are intimately connected with them. They see this as the starting point to saving lives, reducing HIV incidence rates and ultimately realizing an AIDS-free Zambia.
"People seem freer," said Gertrude Mateu, a community lay counselor. "Nowadays I get phone calls from clients themselves requesting for HIV testing services done in their homes. Stigma is slowly reducing."
In one rural and remote military setting in Zambia, lay counselors identified three male index clients who led them to 17 of their female sex workers. Of the 17 female sex workers, 9 were identified as HIV positive. Through the partner notification services strategy, the female sex workers led lay counselors to 72 of their male clients. All 72 clients consented to HIV testing and 38 were identified as HIV positive.
"I get up every day because I know I am not saving one life but I am saving a lot of lives," said Roy Mbingela, a community lay counselor. "We are able to provide the community with the right information on the benefits of HIV testing, treatment, and reducing onward transmission. We are able to counsel them so well that all sexual partners and children of index clients are willing to get tested for HIV."
Yvonne Mulenga, Kennedy Tembo, Coretta Mukelabai and Mildred Kalufyanya contributed to this story.
---
With support from the U.S. Department of Defense HIV/AIDS Prevention Program, PCI launched a groundbreaking program in 2003 to build the capacity of the Zambian Defense Force (ZDF) to design, implement and evaluate HIV/AIDS behavior change and care activities for its 30,000 uniformed personnel, their family members and surrounding communities. For more information, visit www.PCIGlobal.org/Zambia.