Direct Cash Assistance Gives War-Torn Ukrainians Freedom to Cover Most Pressing Winter Needs
Published 06/15/2023 by Global Communities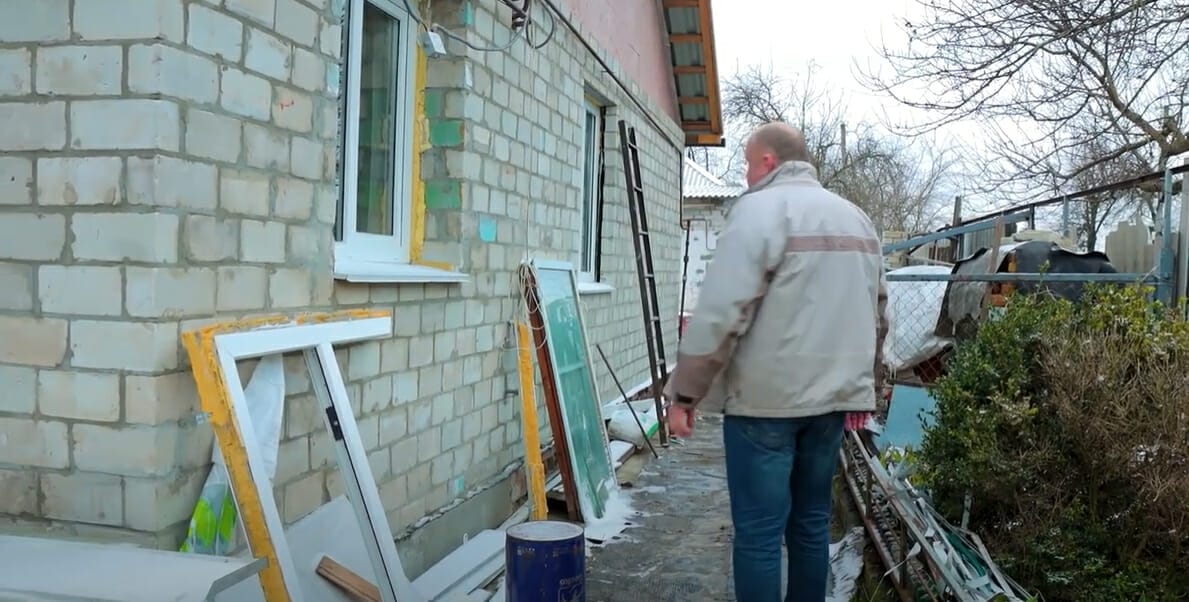 The winter of 2022-2023 was expected to be highly challenging for Ukrainians. Continued Russian attacks on Ukraine's energy infrastructure caused disruptions of electricity and heating as well as damage to unprepared houses. The ongoing war has had a disastrous impact on the country's economy. Millions have lost their livelihoods, and among those who have not lost their jobs, many have experienced significant salary cuts. All these factors intensified the need to provide support focused on helping vulnerable people face the severe difficulties of the coming winter.
Cash assistance to cover winter needs was not initially planned under Community-Led Emergency Action and Response (CLEAR), a program funded by the United States Agency for International Development's Bureau for Humanitarian Assistance (USAID/BHA). However, following a community-level needs assessment by Global Communities, it was found that people identified cash as one of their main priorities. As a result, the CLEAR program decided to provide this type of support to both the internally displaced and non-displaced who have been affected by the humanitarian crisis in Ukraine.
After local partners conducted a survey in Chernihiv and Chernivtsi oblasts and compiled a list of eligible candidates, 1,194 families were selected to receive one-time bank transfers of $440 USD (UAH 16,000).
"Transferring money directly to people addresses their actual needs in a dignified fashion, as it allows them to decide what they require and gives them the freedom to spend cash on their most pressing needs," said Valerii Darnychenko, Global Communities' Cash Technical Advisor and Area Manager in Chernihiv.
Recipients were mostly families with low or limited incomes, families with members over 60 years old, and those with members who have chronic illness or serious medical conditions requiring expensive health care. In Chernivtsi oblast, compared to Chernihiv oblast, a higher number of cash assistance recipients were female-headed households and unemployed, which might be due to the higher percentage of internally displaced people living in this oblast.
According to results from post-distribution monitoring conducted by the Kyiv International Institute of Sociology, the majority of families in Chernivtsi oblast spent their cash assistance from CLEAR on medication, winter clothes and household items. While in Chernihiv oblast, people mostly spent their money on renovation materials, medication and heating. The difference in spending between these two oblasts could be explained by the priority of needs. For example, in Chernivtsi oblast, cash assistance recipients were mostly internally displaced people, while in Chernihiv oblast, the majority of recipients were people in their place of residence.
Halyna, an internally displaced person from the Luhansk region, said that UAH 16,000 was quite a significant help for her to buy warm clothes and shoes, as she left home with only one bag. Yevheniia, who moved from partly destroyed Kharkiv to the Velykokuchurivska community, spent funds received from CLEAR on winter clothes for her two boys, 5 and 11 years old. She also used the cash support to pay for utilities.
"Thanks to such programs as CLEAR, we received help that significantly reduced the burden on my family budget," said Kateryna, an internally displaced person and single mother from Kharkiv who used her cash support to purchase firewood during the winter. "… We also hired a handyman who helped us with it, because I live here alone with my daughter. I don't have a husband, so we had to spend extra money on firewood harvesting."
In the Chernihiv oblast, people mainly applied their cash assistance towards house repairs such as new windows and ceilings, noting that support from CLEAR has given them motivation to rebuild and renovate in spite of all that has been destroyed and lost.
"Our house was severely damaged. If we were at home, I don't know if we would have survived or not," said Vadym, a cash assistance recipient from the Chernihiv community. "CLEAR decided that we really needed help and gave us money, which we spent on the house renovation. There was a pile of bricks, and I had to re-brick the wall. I asked people, and they helped to do it. So, we covered it with bricks, insulated the house and covered it from the influence of various external factors. Now, from the outside, the house is ready for use."
Another resident, Tetiana, plans to use the cash assistance she received from CLEAR to travel to a pediatric hospital in Kyiv, where she can receive medical consultations and diagnostics for her baby. Her youngest among three children was born with aortic stenosis, a type of heart valve disease.
According to Darnychenko, a new round of cash assistance will take place in August-September 2023 and will support 2,500 additional families in Chernihiv and Chernivtsi oblasts, where Global Communities is also providing gender-sensitive protection services, improvements in shelter conditions and technical assistance to 12 local partner civil society organizations.
To hear directly from other recipients of the first round of CLEAR cash transfers, watch their video testimonials here.
This success story is made possible by the generous support of the American people through the United States Agency for International Development (USAID). The contents are the responsibility of Global Communities and do not necessarily reflect the views of USAID or the United States Government.