Disaster Planning Pays Off in Northwest Syria
Published 07/07/2022 by Global Communities
By Adile Sahin
Originally from Hama, Asem has been displaced several times, like most Syrians, to escape the war at home.
First forced to flee in 2012, he was displaced to the Idleb countryside, where he opened a hygiene materials shop. However, the village was later bombed by an air strike, during which Asem suffered a leg injury that required a prosthetic joint.
As regime forces advanced to the region in 2018, Asem, along with the other remaining families, was displaced once again to Atmeh in Northwest Syria. Atmeh is the largest camp for Internally Displaced Persons (IDPs) with a population of more than 170,000. Although away from shelling, the living conditions there deteriorated quickly. Asem searched for work to be able to support his family, but with such few opportunities, he struggled to find a way forward.
Eventually, he discovered Global Communities' Green Hands project on Facebook and started following the page to stay updated on job opportunities and other services available to IDPs through the organization. When Asem saw an announcement recruiting for disaster rescue team workers, he immediately applied to join.
Global Communities has been providing humanitarian assistance in Syria since 2014 but most recently received funding from the U.S. Agency For International Development's Bureau for Humanitarian Assistance (USAID/BHA) to implement the Assistance to Lives Across Syria (ATLAS) program. As part of ATLAS, Global Communities is responding to flooding, wind and fire incidents and emergency winterization needs at Atmeh camp.
According to the 2022 Humanitarian Needs Overview, winter creates a high risk of fire incidents at IDP sites. Severe economic hardship drives many to use inappropriate sources of fuel and faulty appliances to stay warm, cook and carry out other daily tasks, while hazardous electrical wiring and a general lack of space heighten safety issues. Likewise, critical gaps in infrastructure at IDP sites exacerbate the likelihood and impact of floods. Camp Coordination Camp Management found that 33 percent of IDPs in Northwest Syria were living in sites that had flooded in the past year.
To address these issues, Global Communities began implementing a Disaster Risk Reduction-Flood Response and Mitigation activity in October 2021 under the ATLAS program. Asem was one of 98 Cash for Work (CfW) participants who was selected and provided with vocational training to reduce the risk and mitigate the impact of potential disasters in targeted areas of Atmeh, Deir Hassan and Qah camps. Their tasks primarily involved precautionary daily activities and some emergency interventions. In all, they carried out 956 interventions, including 855 stable and 101 emergency, as of the end of March 2022.
"Our work is to clean and open the rain drainage, clogged channels and culverts, and stay ready in case of heavy rains and floods to help people and avoid flooding of tents and houses in the winter," said Asem, adding that his specific role on the team took into account his knee injury.  "I was working to document our achievements by photographing the work of my group during any activity or staying on the night shift to communicate any case of emergency or appeal by the camp residents to my team."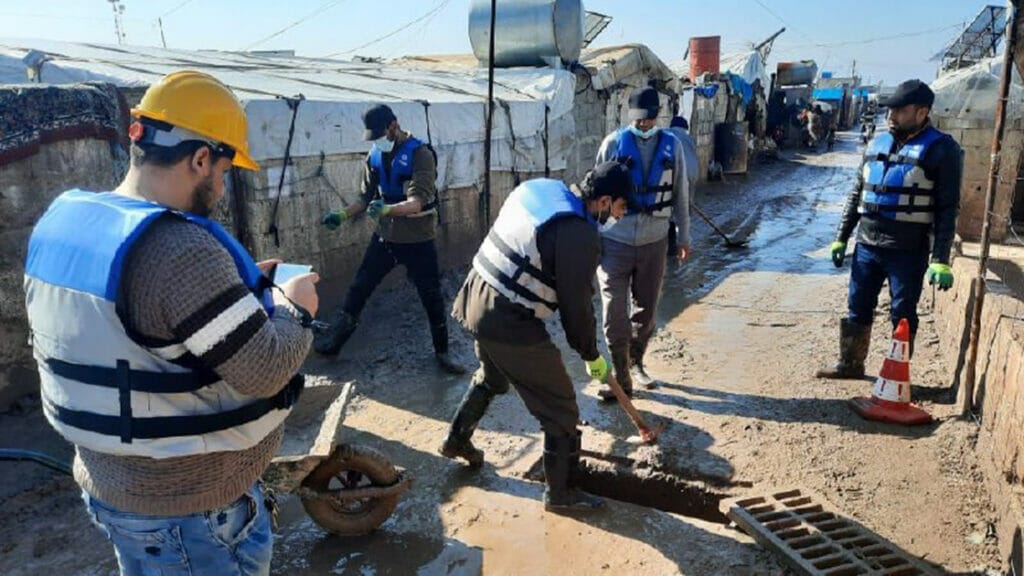 From October 2021 to December 2021, under ATLAS, Global Communities rehabilitated 12.5 kilometers (km) of roads, associated drainage infrastructure and 9 culverts in several flood-prone locations at Atmeh camp. These improvements served a total of 60,268 people. More recently, in March 2022, program teams rehabilitated an additional 1.6 km of roads and drainage infrastructure, improving access and easing the movement of 2,965 affected individuals.
"Through this work, I supported my family and secured some of the necessary needs for my home, and I was able to provide medicine for myself," Asem said.
In addition, his children returned to school, and he is now able to receive the medical treatment needed for his knee injury.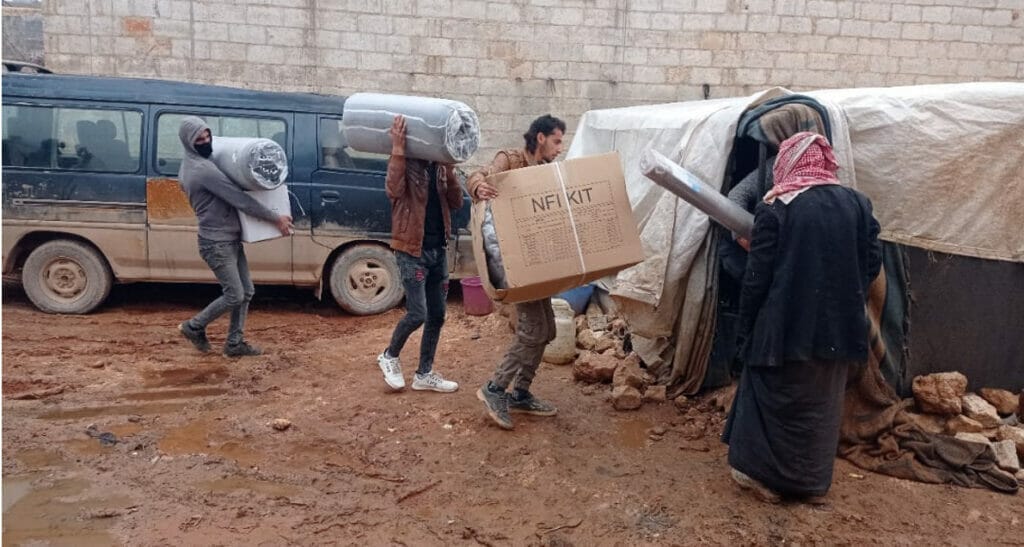 Aside from rehabilitating roads and infrastructure, the ATLAS program has supported 2,850 households with non-food items (NFI) including plastic sheets, mattresses, baby diapers, blankets, jerry cans, carpets and solar lamps in 12 camps in Northwest Syria. Based on a rapid needs assessment conducted in four subdistricts, Global Communities targeted the most vulnerable, neglected and underserved IDPs with NFI kits. Global Communities also distributed winterization support non-food items and multi-purpose cash assistance in December 2021, covering the entire Atmeh camp population (33,777 households/173,783 individuals).
In addition to these interventions, Global Communities distributed 100 flooring kits to 100 households who have a family member with a disability and are living in tents in Atmeh camp. Since December 2021, as floods, fires, windstorms or other extreme weather conditions have affected families' assets, Global Communities has responded with NFI kits for 94 additional households.
Learn more about how we are addressing the most pressing humanitarian needs of Syrian refugees and IDPs while planning for a sustainable recovery.
---
Aditi Sharma contributed to this story.