Global Communities' Digni-loo Project Wins USAID's Private Sector Engagement Award
Published 05/22/2019 by Global Communities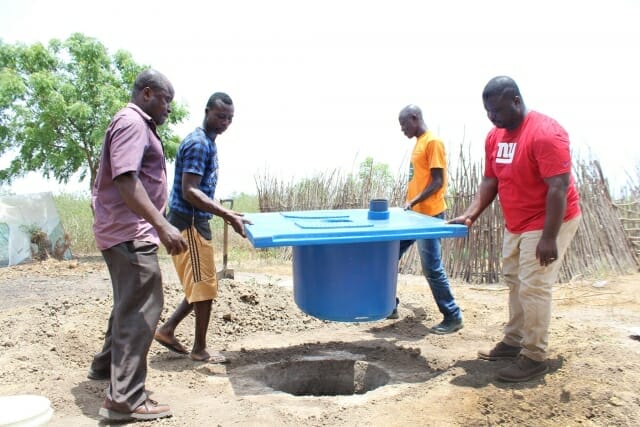 Liz Calvey Zeller, Senior Director of Strategic Partnerships, represented Global Communities at an invitation-only workshop that USAID convened to solicit feedback from development implementers on putting USAID'S new Private Sector Engagement (PSE) policy into practice. The feedback will be incorporated in published guidance for USAID implementers and will also serve as a guide for USAID staff to incorporate new language in solicitations and awards, with the goal of encouraging and enabling PSE in USAID programs as appropriate. They also ran a competition among implementing organizations to submit a case study that demonstrates impactful market-based approaches and investments that deliver more effective development outcomes, in alignment with USAID's new PSE policy. Global Communities won the award for its Digni-Loo WASH for Health case study.
As a winner of the competition, Global Communities' work will be published by USAID in their new PSE Policy Guide that will be shared with implementing partners as part of their training to USAID Missions around the world, and to their working group of over 100 private sector representatives, as an example of how to put their new strategy into practice.
About the Digni-Loo Project
In order to make household latrines more accessible, Global Communities, under WASH for Health, designed the Digni-Loo, an affordable, durable and reusable plastic latrine slab that is both visually appealing and easy to install and maintain. Global Communities identified the Ghanaian company Duraplast Ltd as an ideal partner for the Digni-Loo based on their specialization in the production of unplasticized Polyvinyl Chloride (uPVC), Polyvinyl Chloride (PVC) and High- Density Polyethylene (HDPE) Pipes and Fittings – a product used in creating the Digni-Loo. Global Communities and Duraplast Ltd developed and tested a series of prototypes, and the newly developed Digni-Loo was submitted to the Technical Assessment Framework carried out by the Ministry of Sanitation and Water Resources as well as the tests conducted by the Ghana Standards Authority, giving the Digni-Loo all the required certifications to be sold across Ghana.
Since developing the slab, more than 30,000 latrines have been installed in eight regions in Ghana. Digni-Loos are being produced in large quantities and sold in the local market to individuals and local and international organizations; the Government of Ghana's (GoG) Community Water and Sanitation Agency (CWSA), with funding from the World Bank, has purchased 20,000 units. Through WASH for Health, Global Communities is also working with local sales agents to ensure the long-term availability of the slabs for households and contribute to economic growth. The innovative technology has changed to the lives of many families already. "This plastic slab is fast to install and use. It is easy to clean, flies do not disturb and there is no bad scent," said Anani Abeena, a 54-year-old farmer with five children. In the coming months, Global Communities will continue working with government, private sector and community partners to make the plastic slabs available to all Ghanaians.
Read the Digni-Loo case study here.