Global Communities Liberia Receives Golden Image Award
Published 07/28/2016 by Global Communities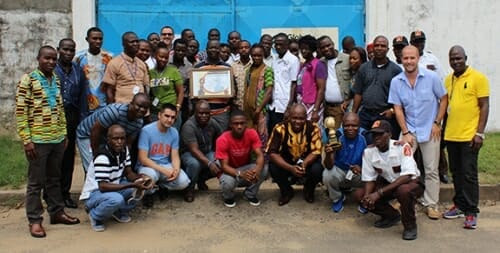 Global Communities Liberia Receives Golden Image Award
This article first appeared on Reuters Alertnet
On July 21st, the Global Communities Liberia team was honored by the Government of Liberia to be a recipient of the Golden Image Award (GIA). First envisioned in 2010 and endorsed by President Ellen Johnson Sirleaf, the GIA is premised on two key rationales: to support the Government of Liberia through innovative activities to rebuild Liberia's image after 14 years of devastating civil crisis; and to honor and recognize individuals who have made outstanding contributions to the peace process in Liberia and/or those who have significantly impacted communities and the lives of other people.
This year's Golden Image Award focused on peace, health and humanity with an emphasis on contributions made by frontliners, donors, international organizations, countries and ordinary people during the fight against the Ebola Virus Disease in West Africa.
As a key actor in the health and sanitation sectors prior to the Ebola crisis, Global Communities was uniquely positioned to respond quickly and effectively. By leveraging relationships with local communities, the Ministry of Health, the Traditional Leadership and the Ministry of Internal Affairs, Global Communities partnered with the government to construct a national cemetery to halt the controversial practice of cremation and to operate over 70 burial teams across the country to ensure that Liberians were buried safely and with dignity.
During the latter half of 2015, Global Communities was anonymously nominated for the GIA and was selected by the GIA Secretariat which comprised of journalists, university students and lecturers, artists, civil society representatives, teachers as well as religious and traditional leaders.
Winning this award would not have been possible without the support and collaboration from our major Government of Liberia partners. Global Communities must also thank the Environmental Health Technicians and countless volunteers who risked their lives and sacrificed many personal comforts to work on burial teams and minimize EVD transmission. Finally, we must recognize the entire Global Communities Liberia team, which reached over 400 persons during the peak of the outbreak, the long hours they worked and their tireless efforts that kept the response going at the most difficult of times.
Global Communities was not alone in this fight. As an organization, we would thank and dedicate this award to the people of Liberia and to the International Community for their support as we worked together to make and keep Liberia Ebola-free.