Global Communities, Other NGOs Discuss Solutions to Mass Migration
Published 06/19/2019 by Global Communities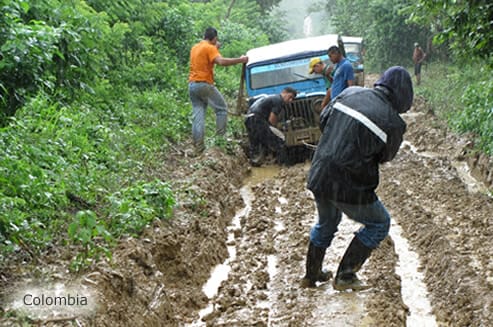 Senior Director of Resilient Communities, Randy Lyness spoke at the 2019 InterAction Annual Forum where he represented Global Communities on a panel, Collaborative Lessons Learned from Colombia Displacement Response Applicable to a Venezuela Response. Multiple organizations, including Global Communities, Blumont and Mercy Corps, have decades of experience responding to the internal displacement in Colombia, which has resulted in direct immediate support to over two million IDPs as well as increased capacity of the Government of Colombia to directly provide support.  In recent years, the Venezuelan crisis has compounded the Government's ability to provide support to vulnerable IDPs, as over a million migrants have fled to Colombia. Lyness and practitioners from Blumont and Mercy Corps discussed how their collective impacts and lessons in IDP programming can shape much needed  Venezuela response programs.
Panelists described the evolution of their programs supporting local responses to mass displacement emergencies, the lessons learned and best practices applicable to response programming for Venezuela migrants. Juan Pablo Franco, Country Director of Blumont, noted the prolonged challenges of the 50 year conflict have plagued Colombia for many years. Franco noted that the Government of Colombia has a well-developed policy environment supporting national and local support to IDPs that has evolved over the years of conflict; something he recommends they look to develop now in support of what could be a prolonged presence of Venezuelan migrants. Franco said Blumont has worked in Colombia since 2008, mainly addressing IDP and conflict victims' needs.  He noted that while there was hope when the Peace Accords were signed in 2016, there have been increases in crime, cocaine production and mass migration since; continuing to strain limited Government and donor resources. Venezuelans are placing a burden on services that are already stretched thin.
Carolina Rodriguez, Conflict Mitigation Manager at Mercy Corps, described their programming as focused on four components: 1) cash assistance for Colombian and Venezuelan families, 2) psychosocial support, 3) legal assistance and 4) livelihoods, which entails matching people with skills and needs of the community. They are also implementing interventions with the GoC and others to build local capacity to address acute needs of a diverse array of vulnerable migrants, IDPs and Colombian community members. Mercy Corps has found that working in partnership with civil society groups has been key for families who would not otherwise have access to local governments.
And while displaced Colombians and Venezuelans share many hardships and challenges, the lack of funds hampers holistic responses, as many Donors are focused on either migrant or IDPs, yet both live in the same communities pointing to the need to have a territorial response.  Accurate numbers of either population are also difficult to come by, making it hard to reach everyone needing help in the ways that they need it.
Global Communities has worked in Colombia since 2001, starting with humanitarian assistance and food aid, working in the entire country. Then as now, displacement affects everyone and everything in the country. Global Communities has focused on the very early stages of programming, with an emphasis on GBV and psychosocial support and protection of potential victims. "Poverty itself is traumatic. Psychosocial support is critical for people to take charge of their own development," Lyness said. Over the years the focus changed from food aid, nonfood aid and shelter to municipal and civil society capacity building; moving the response leadership from Global Communities to the local communities. He added that the current crisis presents challenges similar to what the Syrian migration crisis is causing. The GoC is reaching out to the international community for help, but even when there is a policy developed, it is not always implemented.
But Lyness adds that these challenges are not insurmountable, and that so much focus remains on capacity building, particularly at the municipal level. But to help IDPs, and more importantly Venezuelan migrants, the GoC must be called on to be responsive at all levels, and the international community must be engaged too. Global Communities has found the community-based approach successful by working with communities to identify, prioritize and carry out their own development through PACE and ARC.
"People are integrating, and even if there is significant change, many will continue to migrate within and to Colombia. Many of them will still integrate in these communities, and they need to be able to earn a living while there," said Lyness.