Global Communities Showcases Collaborating, Learning and Adapting Experiences in USAID Case Competition
Published 05/28/2021 by Global Communities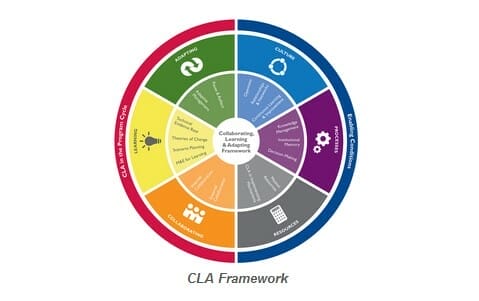 By Ashleigh Mullinax, Knowledge Management & Learning Manager, Global Communities
By now you've undoubtedly heard of Collaborating, Learning and Adapting (more commonly known as CLA) as it has become a fixture at USAID over the past decade, slowly growing from an esoteric concept discussed by few to a regular requirement in USAID solicitations. CLA is a philosophy that draws from many existing disciplines and schools of thought including adaptive management, design thinking, complexity thinking, organizational learning and knowledge management. From these disciplines it borrows concepts like rapid prototyping, scenario planning, double loop learning, agile management and the knowledge cycle that are brought together in a framework of six components and 16 sub-components that lay the foundation for effective collaboration, learning and adaptation in organizations, teams and projects. The framework is further divided up into two sections—CLA in the Program Cycle and Enabling Conditions—that stress the importance of the enabling environment for CLA including culture, processes and resources. Taken together, these components lay a solid foundation for effective CLA practice with the ultimate goal of improving development outcomes.
CLA is closely tied to Global Communities' new mission, values and strategic priorities. You need collaboration, relationships and networks and openness to uncover, understand and learn from local and global perspectives. You need to collect data, information and knowledge that can be utilized to support evidence-based program designs, elevate our areas of expertise and leverage synergies across our portfolio. You need to pause and reflect to make quick and informed decisions about when to scale or shift program activities following innovative pilots and changing contexts. And, finally, you need an enabling environment that supports and prioritizes learning, reflection and openness to fully practice organizational values such as creativity, connection and humility.
CLA's rise in prominence over the past decade is likely due to many factors, not in the least the efforts and talent of the teams at USAID and partners like Dexis and RTI International who found a way to effectively explain and communicate a complicated concept through accessible materials, evidence of its impact on development outcomes and documentation of the experiences of USAID and other partners actively using CLA in their work. I would argue that this last activity—collecting and sharing experiences from practitioners implementing CLA—has likely had the greatest impact on elevating the prominence of CLA within the international development community.
In 2015, USAID launched their first CLA Case Competition, an opportunity for USAID Missions, Bureaus and implementing partners to share examples of how they practically applied CLA to their work. According to the CLA Case database, the first CLA competition garnered 36 entries, five of which were selected as finalists. Global Communities submitted a case to that first competition, documenting our experience practicing adaptive management in Liberia during the Ebola crisis. Although our case did not win, it is still being utilized by development practitioners as an example of CLA in action during a crisis.
In subsequent years, the competition grew in popularity and prestige, soliciting hundreds of entries in recent years. Winners were recognized at the annual Moving the Needle event, an interactive conference showcasing CLA in action and bringing together different USAID officials and practitioners who believed in the power of the framework. Global Communities was selected as one of 10 winners in 2017 with our case "Collaborating, Learning and Adapting to Build Resilience in Fragile States". This case documented our work with the PROPEL project in South Sudan, specifically how PROPEL used CLA to engage with local communities and adapt interventions as conflicts in the region evolved. It highlighted the challenges that many projects face in sticking to agreed upon targets and activities while realistically needing to adapt in challenging circumstances. It also contributed to Global Communities' technical evidence base on measuring social capital in fragile states using our Social Capacity Index (SCI) tool.
After a year's hiatus due to the COVID-19 pandemic, USAID re-launched its CLA Case Competition. This year, Global Communities and PCI submitted four cases to contribute to USAID's evidence base on CLA. The cases span the globe and include entries from Ethiopia, Sri Lanka, Kenya and Yemen. We wrote about how we're regularly using pause and reflect activities to adapt as needed, how collaboration is integral to every aspect of our work and how resources really matter to make sure that CLA happens. The cases, taken together, showcase our diverse technical work in food security, economic growth, cooperative development and governance. They also represent projects in both our Sustainable Development and Humanitarian Assistance Portfolios. But despite their diversity, they all demonstrate Global Communities' and PCI's commitment to and execution of the principles of CLA.
Read below for a high level summary of the cases:
Migrating Agile Management: Herding a New CLA Approach in Ethiopia's Lowlands: PCI's Resilience in Pastoral Areas (RIPA) program in Ethiopia must be ready to shift program operations as the pastoral communities it serves are regularly challenged by natural disasters, market shocks and inter-community conflict. Traditional adaptive management approaches had not proven successful in similar programs so the RIPA team decided to incorporate an agile management approach into its operations. Agile management is a proven project management approach, originally developed in the software industry, that prioritizes frequent communication among key stakeholders, rapid iteration and feedback, and utilization of real-time data and analysis. For RIPA, agile management provided a defined set of activities and structure to implement CLA. Although the RIPA program is relatively new, the incorporation of agile management and CLA has resulted in positive outcomes including better information flow, the ability to successfully work across geographies and partners, and peer to peer accountability from frequent interaction. However, it's important to note that this success was not accidental. Rather it was the result of deliberate planning and resourcing. The RIPA case is an excellent example of how CLA is not a strict set of practices. Rather, activities and complementary frameworks can be tailored to meet the specific needs of a project.
Pause and Reflect to Strengthen Kenyan Local Partner Collaboration: Global Communities' Cooperatives Leadership, Engagement, Advocacy & Research (CLEAR) project regularly collaborates with many stakeholders including Kenyan cooperatives, local universities, government, NGOs, unions and apex organizations in an effort to strengthen the Kenyan cooperative sector. This collaboration relies on open, honest and frequent communication that can be challenging among so many stakeholders with limited resources and time. CLEAR was designed with designated resources for CLA but needed to figure out the best set (and sequence) of activities to foster collaboration and promote regular learning on the project. Two types of Pause and Reflect activities—After Action Reviews (AARs) and Quarterly Data Review Sessions—have enabled CLEAR to successfully learn from its activities while bringing in the perspectives and experiences of their wide group of stakeholders. CLEAR holds AARs after major events and includes relevant stakeholders to gain a full understanding of the successes and challenges of the activity. CLEAR also holds quarterly mini-workshops that include members from all teams to review data gathered through routine project monitoring as well as lessons learned gained throughout the previous quarter. This activity has helped CLEAR use their data and learning to plan and adapt for the following quarter. The CLEAR case is a great example of a project institutionalizing CLA and making it a regular part of its operations.
Actionable Learning: Adapting a Grants Process to Support Effective Programming: The Social Cohesion and Reconciliation (SCORE) project relies on local grants to implement project activities. In its third year of programming, SCORE realized that its existing grant mechanisms were not flexible enough to meet the frequently changing needs of communities in a post-conflict environment. Modifications to the grants took too much time and the involvement of local organizations as grant recipients sometimes meant that the SCORE team had less of a pulse on shifting community needs. Using activities like Key Informant Interviews to gather information as well as pause and reflect workshops to convene key internal and external stakeholders for discussion, SCORE identified a new approach that better fits the needs of the project and the communities it serves. SCORE further used the principles of CLA to pilot, refine and roll-out the new grants mechanism and has incorporated additional tweaks through adaptive management practices. Outcomes thus far have been positive with an increased number of grants processed and positive feedback from both local communities and USAID. With this type of grant, local communities are also building their own capacity in grants management, community engagement and financial management. The SCORE case is a good example of how adaptive management changes can be phased, evidence-based and collaborative.
Greater Evidence and Participation: Using CLA to Learn from Stabilization in Yemen: The Yemen Communities Stronger Together (YCST) project operates in one of the most volatile areas of the world and, as a result, must be ready to adjust and adapt as situations on the ground shift. One of the objectives of the YCST project is to pilot stabilization activities in communities in Yemen. Stabilization programming in Yemen focuses on building the trust between legitimate local authorities and citizens by rapidly and effectively responding to citizen needs and priorities. YCST was designed to contribute to the technical evidence base around what works (and doesn't work) to improve stabilization in Yemen. Over the course of the project, YCST is required to produce three Lessons Learned Reports documenting the project's experience with community stabilization activities. YCST has engaged in rigorous data collection activities to inform these reports providing important information to USAID and contributing to their technical evidence base. Through purposeful collaboration activities such as Annual Learning and Reflection workshops, YCST has identified what is working well and what needs to be improved to inform future year programming. YCST is an excellent example of a project well-designed and resourced for CLA that is regularly using its data and learning to adapt accordingly.
It will be some time before we know the results of the Case Competition (USAID should be making an announcement in late summer/early fall). However, whether we win or not, these four case studies demonstrate Global Communities' commitment to CLA and our leadership in this area.