Helping Families Piece Life, Homes Back Together in Ukraine's Chernihiv Oblast
Published 09/15/2023 by Global Communities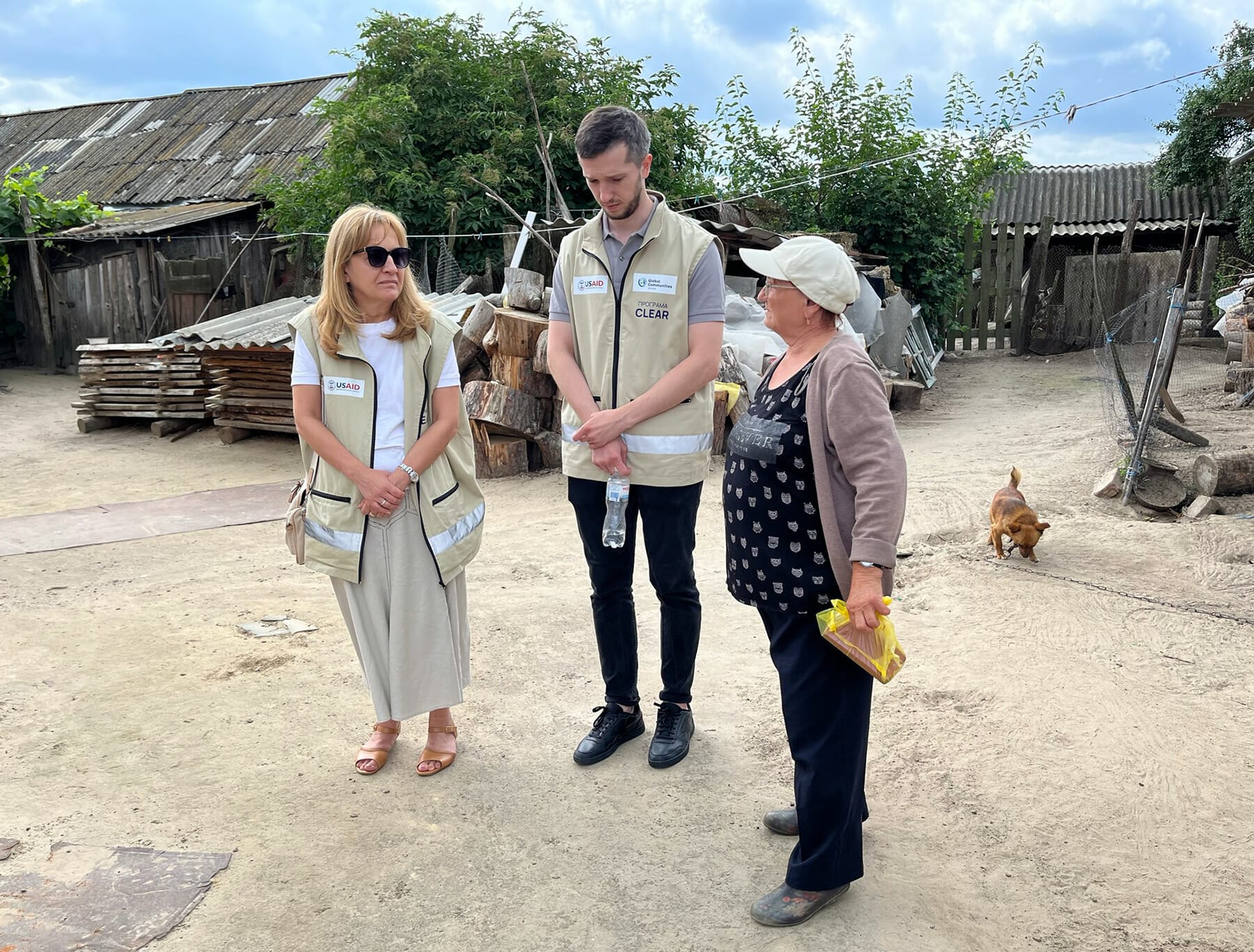 By Tania Dudnyk
Chernihiv Oblast is among the top five regions of Ukraine most affected by Russia's invasion on February 24, 2022. Due to its proximity to the Russian border, many villages have experienced occupation firsthand and, thus, significant damage to their residential areas. To date, over 8,200 sites and facilities have been destroyed or damaged, including 202 educational institutions, 90 health and social protection institutions and more than 7,000 private homes.
A significant number of people in Chernihiv's communities continue to live in damaged housing. Such is the case for the residents of Ivanivska, where multiple settlements experienced direct occupation by Russian troops during the first months of the war. According to local authorities, around 1,667 residential buildings were damaged in the community, of which 226 were completely destroyed.
Under the Community-Led Emergency Action and Response (CLEAR) program in Ukraine, funded by the United States Agency for International Development's Bureau for Humanitarian Assistance (USAID/BHA), Global Communities has been helping local people in four villages with housing repairs. Replacement of destroyed windows and doors started in December 2022 and will continue until December 2023, covering a total of 300 houses.
Liubov and her husband Olexander have endured three missile attacks in their neighborhood so far. The last one damaged a part of the house that the couple had just updated before the war started. Through CLEAR, the retirees – both former school employees – received assistance with replacing a broken window and two doors. Electricity was also restored to their residence. Now that the home is prepared for the coming winter, Liubov and Olexander said they have been able to focus their attention on activities that bring them a sense of calm and hope – her tending to their garden and him helping other neighbors rebuild.
Liudmyla lives on the same street as the couple and had to shelter next door during the first two months of attacks on Chernihiv Oblast. Her home suffered significant damage, but Global Communities is among several organizations and people who are assisting her with critical repairs. The gates, 10 windows, external and internal doors, roof, gas pipes, water pipes and electricity outlets in the house were all partly destroyed.
"Even the kettle has a bullet hole, but I still can pour a cup of water into it to make tea," said Liudmyla, providing a stark reminder of how quickly life changed overnight after Russia's invasion more than a year ago.
Regardless of the grief and loss each family has experienced on a personal level, the residents of Ivanivska keep expressing concern for those in the community they think have suffered even more.
"We still must repair the shed for pigs, but you better help those whose houses were completely destroyed. They've lost everything," said Olena, a CLEAR program participant whose husband is on the front lines of the war in Ukraine while she cares for their three children.
As repairs continue on homes in Ivanivska and three other communities in Chernihiv, CLEAR Program Director Dubravka Latinac Pem said that technical staff are advising and working with local contractors to ensure everything meets program standards.
"We want to be sure that people get the best quality of repairs we provide," she said. "They have to be prepared for the coming winter, because we are not sure what the situation with electricity and heating will look like in the coming months."