Hygiene Promotion Team Protects Families from Diseases in Northwest Syria
Published 01/11/2023 by Global Communities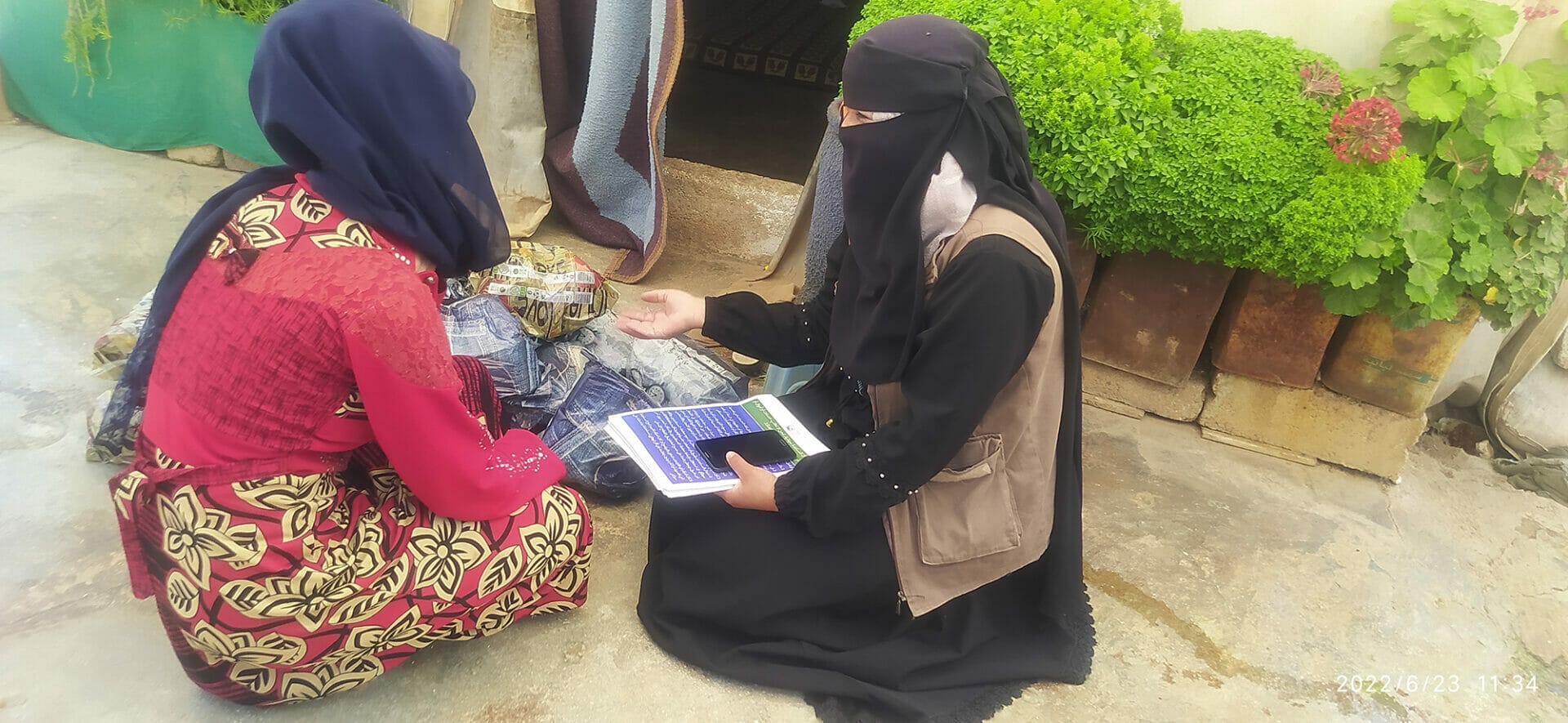 By Adile Sahin
Ali, 37, lives with six family members in Atmeh, which hosts more than 157,400 internally displaced people in northwest Syria. The camp was established in 2011, following the start of the country's now decades-long conflict, and sits on graded agricultural land that lacks a proper sewage drainage system.
Over the last 10 years, Global Communities and several other non-governmental organizations (NGOs) have constructed numerous sewer pipes to mitigate sanitation issues, but many families — like Ali's — still rely on draining to small random sewer pits or other open areas.
While conducting a field tour of the camp, Global Communities' Hygiene Promotion team noticed an open sewer pit next to Ali's house filled with sewage water and worms. Realizing the seriousness of the matter, the team visited Ali's family to talk to them about the dangers of this pit and the health risks it posed for them and their neighbors.
During the visit, the team encountered a child suffering from diarrhea and another with leishmaniasis, both of which could be caused by exposure to sewage pollution. After several awareness sessions, Ali's family responded to advice and directions from the team by removing the old sewer pit and linking their toilet to a nearby sewage line implemented by Global Communities. In 2022, we installed 3,000 meters of sewer pipes, helping more than 500 families connect to the sewer system instead of draining to open or small random sewer pits. In 2023, we plan to construct an additional 4,500 meters of sewer network.
"We thank the Hygiene Promotion team for providing advice to our neighbor Ali to eliminate this sewer pit," said one resident of the camp. "We also thank the Global Communities project for implementing the sewage line, which helped a lot in limiting the issue of open sewage and thus limiting the spread of diseases."
Expanding the sewer network in Atmeh is just one of the ways in which Global Communities, with funding from the U.S. Agency for International Development's Bureau for Humanitarian Assistance, has been providing essential water, sanitation and hygiene (WASH) services to camp residents since 2016.
To mitigate or prevent transmission of common diseases that have a high prevalence in overcrowded, informal camps such as Atmeh, the Hygiene Promotion team conducts in-person and remote group awareness sessions as well as house-to-house visits in close cooperation with other health partners. Messages focus on hygienic practices such as handwashing, the importance of drinking and using chlorinated water, safe storage of water in clean and closed tanks, and the risks of open defecation.
Most recently, the team has intensified its efforts due to a cholera outbreak that has been spreading in Syria, particularly in the northern part of the country, since September 2022. As of December 17, 500 lab-confirmed cholera cases and 16 deaths have been recorded by the Early Warning, Alert and Response Network (EWARN) team in northwest Syria. More than 17,000 suspected cholera cases have been reported in both the Idleb and Aleppo governorates, of which more than half are children aged 5 years old and younger.
Global Communities' WASH management coordinated with an international NGO to conduct training for the Hygiene Promotion team on cholera prevention and to develop a referral system to health facilities in Atmeh camp. The team also created new videos for its GreenHands Channel on YouTube, and put up 130 posters about cholera prevention in centers, health facilities and other public places where Global Communities implements programming or provides services. Our GreenHands Channel is used to publish hygiene-related informational videos for program participants.
Every morning, Global Communities provides 5.2 million liters of chlorinated drinking water to 33,912 families in Atmeh camp. We also desludge private and public sewer tanks and lead regular cleaning campaigns of roads, open channels, culvert pipes and garbage in all areas that impact camp residents.
Just last month, in December, the Hygiene Promotion team distributed 37,315 feminine hygiene kits to women and girls in Atmeh. Each kit contained eight packs of sanitary pads and four bars of soap.
Over the course of 2023, the Global Communities WASH team will continue to enhance and expand the drainage and sewer systems in Atmeh camp by constructing an additional 4,500 meters of pipes to drain sewer, blackwater and rainwater for an area that hosts 15,000 internally displaced people.