Improving Access to Safe Drinking Water in Honduras
Published 03/21/2023 by Global Communities
By José Alberto Vasquez Padilla
Despite possessing a large amount of water resources, many communities in Honduras suffer from a shortage of safe drinking water, which leads to a series of public health and quality of life problems across the country.
According to the National Survey of Demography and Health (ENDESA 2019), only 50% of households in Honduras have access to quality water free of Escherichia coli (or E. Coli). The presence of E. coli in water is a strong indicator that it has been contaminated by sewage or animal waste. Consuming this polluted water can result in severe illness, especially among children under five years of age, those with compromised immune systems and the elderly.
Over the last two years, as a result of the COVID-19 pandemic and Hurricanes Eta and Iota, the situation has only worsened in Honduras, with the water and sanitation sector being one of the most affected. Severe damage to infrastructure and access to water systems has led to losses valued at approximately 7,101 million lempiras ($288 million USD), putting the health of thousands at risk.
To address this problem, Global Communities stepped in to implement measures that contribute to improving the infrastructure and water treatment systems in Honduras, strengthening the management of water resources, and promoting the participation and empowerment of local communities in the Cortés, Copán, Santa Bárbara, Ocotepeque, Valle and Choluteca departments.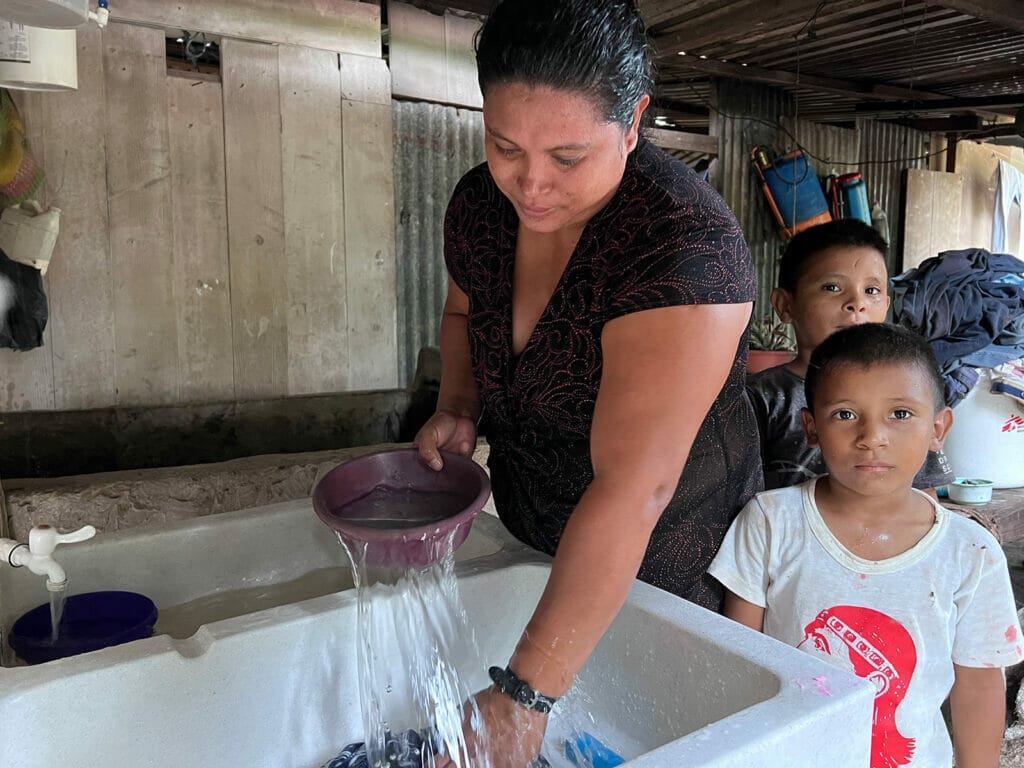 With support from the United States Agency for International Development's Bureau for Humanitarian Assistance (USAID/BHA), Global Communities has repaired and restored 58 drinking water systems that have benefited 39,708 homes in 68 communities. These activities have taken place through the Honduras Emergency WASH and Shelter (HEWS) program, which ran from 2020-2022, and the Honduras Agricultural System Strengthening (HASS) program that is currently active.
"Before, we had to carry water by bicycle, which put the physical safety of my family in question," said Brenda Argueta, a HASS program participant and mother of four from the community of Limones, La Lima Cortés. "Now, we will be able to do the housework like cooking, washing clothes and bathing my children, without any problem."
In the La Metálica community in La Lima, Cortés, where the HASS program built a drinking water system that will benefit 190 families, the president of the board of trustees expressed gratitude to Global Communities and USAID/BHA for recognizing and responding to the needs of her community.
"You made the decision to support us since nobody had laid eyes on us after the hurricanes," said Rosa Acosta. "You came to give life and joy, once again, to our community that was destroyed."
In addition to analyzing the water systems in these communities, Global Communities also conducted capacity strengthening activities with the local Water Management Boards. These activities aimed at teaching adequate maintenance of the systems to guarantee the supply of quality drinking water. The HASS program, in collaboration with key partners, also developed six community action plans to strengthen the conservation of micro-watersheds.
Germán Mejía is the president of the Water Management Board of the Llano del Horcón community in the department of Ocotepeque. He said that like the rest of the Water Management Board presidents, he is committed to continue working with the local and municipal authorities and providing adequate maintenance and care to sustain their new water system, which will benefit 140 families in the area.
Learn more about how Global Communities has been working side-by-side with Hondurans for more than 30 years to build stable, resilient communities through programs focused on water and sanitation, disaster mitigation, support for good governance and economic recovery.