Improving Working Conditions and Security at Artisanal Gold Mine Sites in Eastern Congo
Published 01/26/2022 by Global Communities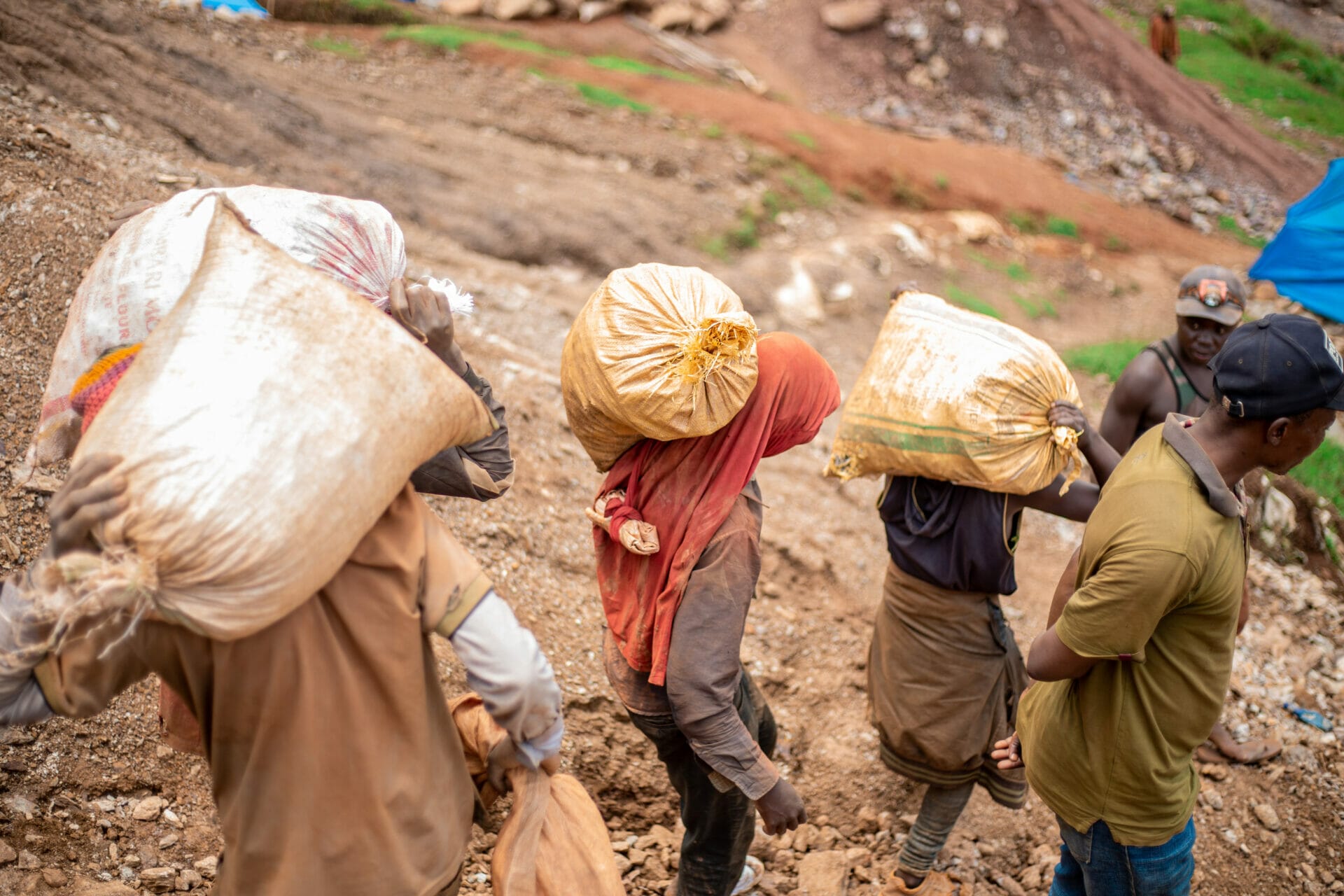 By Kevin Eze
Even as a landowner, Diel's* income falls short. Profits have not been enough to feed and care for his wife, six children and elderly parents. He and other artisanal and small-scale gold miners have been out of work due to the invasion of mine sites by military in eastern Democratic Republic of the Congo (DRC).
Diel lives in the gold-rich village of Luhihi, 50 kilometers (31 miles) from the city of Bukavu in South Kivu province. Of the town's 10,000 dwellers, 98 percent of the men are artisanal miners and often economically marginalized; 60 percent live in poverty.
Three cooperatives work at the Luhihi mine site; two of these actively produce artisanal gold.
Diel is a cooperative member. On his co-ops' five hectares, nestled between rolling hills, Diel's collective of 1,100 artisanal miners typically produce 3 kilograms of gold per month. However, constant interference by soldiers in mining activities, which is against the law in DRC, forced the government to halt all mining at the site.
"Order must be re-established in mining activities in Luhihi, not only to protect lives but also to ensure the traceability of the gold produced in line with Congolese law," Congolese authorities said. "The presence of soldiers at the mine sites, prohibited under DRC's mining code, contributed to the 'disorder' at Luhihi."
Prior to the mine's closure, Diel was publicly beaten by soldiers for refusing to pay an illegal tax. Then, he was unlawfully detained for two weeks in Bukavu, perhaps as punishment for not giving the soldiers money.
Diel and other subsistence miners first began questioning the illegal presence of military members after three soldiers were seen on the site in December 2020, and extortion activities continued thereafter.
To address these serious issues, Diel and the miners connected with the U.S. Agency for International Development (USAID) and other development partners to build a strategy to address the soldiers' illegal presence. This collaboration was possible because of USAID's Zahabu Safi (Clean Gold) Project, which launched in late 2018 to support the export of commercially viable, conflict-free artisanal gold from eastern DRC. The project is implemented by Global Communities with partners Levin Sources, RCS Global Upstream Ltd. and Better Chain.
Between December 2020 and April 2021, RCS Global identified risks at the Luhihi mine site based on Better Mining methodology. The worst were forms of child labor and cruel or inhumane treatment. RCS Global recorded incidents of illegal activities by members of DRC's military through their due diligence staff who reported back to provincial authorities and other stakeholders. RCS Global then engaged with the cooperative on risk mitigation activities.
Strong pressure from provincial authorities and the cooperative eventually led to Diel's release from detainment. Additionally, based on regular supply chain evaluation reports and the incidents registered on behalf of Diel, a Corrective Action Plan was prepared and shared with the cooperative, stakeholders and the project consortium. Corrective actions have since addressed the identified risks.
Not long after advocacy efforts began, provincial authorities informed the project that a delegation, which includes the Military Auditorat, will continue to monitor the presence of Congolese armed forces at the Luhihi mine site. The high-level body ordered the soldiers to leave.
"Our response to this illegal presence is a good example of what we can achieve together. I confirm that, as I speak, all the soldiers have left our sites. This contributes significantly to improving the living conditions of my family and education for my children."

Diel, artisinal miner in DRC
Diel is one of thousands of miners who have benefited from USAID's Zahabu Safi (Clean Gold) Project. In addition to helping increase the volume of responsibly produced gold to jewelry buyers in North America and Europe, the project contributes to the larger U.S. government goal of reducing instability in DRC, often related to armed groups and other illicit actors.
The project began with an approach of research and learning, relationship building and systems mapping. Now, the focus is on testing and delivery. USAID's Zahabu Safi (Clean Gold) Project is establishing due diligence and traceability systems, starting with regular site monitoring, at a minimum of three mine sites, with the potential to benefit more than 3,500 miners.
The project targets an initial export volume between 3-5 kilograms of responsibly sourced artisanal, small-scale mining gold from eastern DRC by the end of 2021.
The project's initiatives for social justice in the supply chain come at a time when movements across the world call for justice to marginalized voices.
*All names of individuals in this story have been changed for security reasons.
This success story is made possible by the generous support of the American people through the United States Agency for International Development (USAID). The contents are the responsibility of Global Communities and do not necessarily reflect the views of USAID or the United States Government.