Nurturing Tanzania's Future through Early Childhood Development
Published 01/04/2021 by Global Communities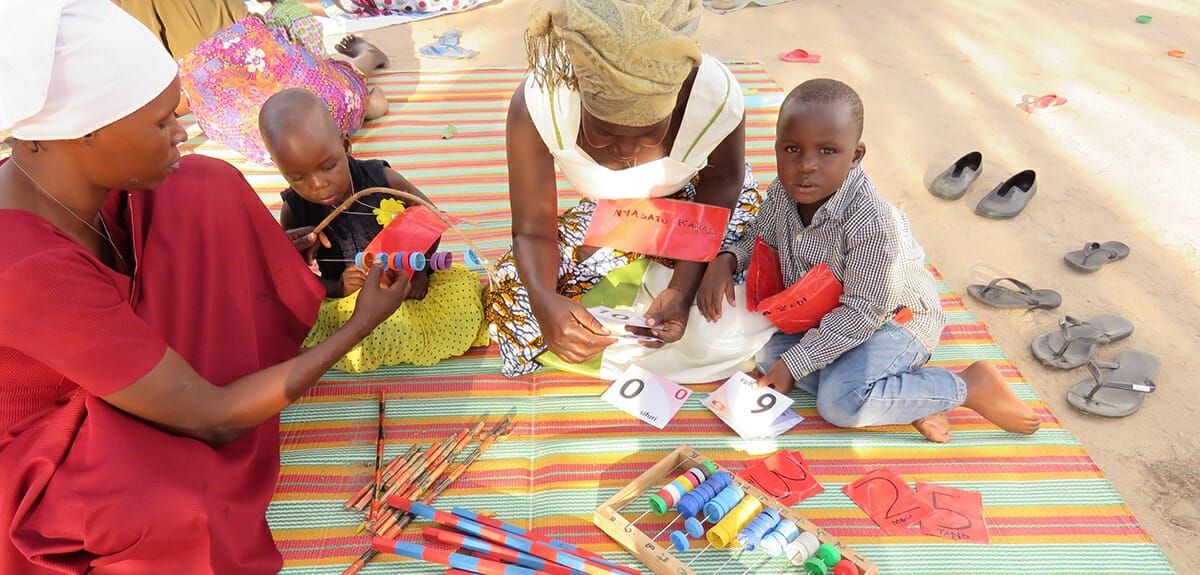 Many parents, guardians and caregivers want to ensure their children have the building block skills needed for success in school and in life.
To promote preschool readiness in Tanzania's Mara Region, PCI, a Global Communities Partner, in collaboration with the Government of Tanzania, designed a new strategic and community-based Early Childhood Development program. Mwalimu wa Kwanza (MWK), or "The First Teacher," is supported by the U.S. Department of Agriculture under the McGovern-Dole International Food for Education and Child Nutrition Program.
A substantial body of research establishes that high-quality preschool education enhances a child's cognitive, social-emotional, physical and language/communication development with long-term benefits for later success in school and beyond. In Tanzania, however, only 1 in 5 young children are enrolled in pre-primary school. For those who do have access to pre-primary education — mostly children from wealthier families — poorly trained educators, overcrowded classrooms and unstimulating environments diminish the quality of learning outcomes.
To address this issue, PCI has been setting up MWK groups. The approach convenes a group of caregivers and their children to learn together in a weekly series of group sessions reinforced by individual household visits. The objectives are to promote caregiver behavior change and the attainment of critical age-appropriate developmental milestones among children.
This low-cost intervention is appropriate for families of all economic backgrounds and is designed to nurture the holistic development of children's social, emotional, cognitive, language and physical skills. With these groups, children get the opportunity to develop their fine motor skills and build a strong foundation for future learning and success in life.
The Mwalimu wa Kwanza (MWK) program is a low-cost intervention that engages caregivers and their young children in early learning activities to prepare them for formal primary school environments.
A total of 80 MWK groups were established from 2017 to 2019, reaching 1,012 children. In 2020, 80 additional MWK groups were formed, reaching an additional 1,014 children.
The MWK program will continue to provide high-quality early childhood development support to caregivers by supplying them with handbooks, learning materials and trainings to empower them to administer the lessons more effectively and confidently.
Facilitators, known as Education Cascade Group Volunteers (ECGVs) deliver key early learning messages to caregivers and encourage caregivers and children to sing, play, draw and identify objects together. The program uses familiar objects as teaching aids and trains caregivers to be the first formal teachers of their children. Caregivers then take these skills learned during the group sessions and apply them to structured home-based parent-child play, communication and early learning activities.
Nyasiranga is a grandmother of three children living in Guta village. Among others, she is serving her community as an ECGV, coaching parents on how to promote early learning among their preschool children. She is a volunteer champion who has been advocating for community support for the program and encouraging caregivers to join the MWK groups. Her leadership and mobilization efforts have led to increased support and attendance at MWK sessions.
"Now I understand why the community should invest in early learning. It maximizes children's future well-being," Nyasiranga said. "Children get the opportunity to interact with others and learn well when instructional and educational activities are part of the child's daily activities. The program is changing parents' attitudes to be responsible for their children's learning progress."
Members of the community feel the program prepares their children mentally, socially and physically for primary school. Raphael, a grandchild of Nyasiranga, demonstrated higher academic achievement due to his participation in the MWK program.
"I received a call from Raphael's teacher, and at that moment, I thought he had done something wrong in school. But, to my surprise, the teacher shared with me that my grandson has been demonstrating a strong ability to learn during his early days of studies," Nyasiranga recalled proudly. "The school administration recommended moving him from pre-primary to Grade 1. I was so happy."
Like Raphael, 184 other children have transitioned directly to Grade 1 after graduating from the MWK program, skipping pre-primary school altogether.
The MWK program is seen to be so successful that primary school teachers in Guta have recommended the MWK program to parents as an opportunity to stimulate young minds and cultivate a love of learning early in a child's life. A robust evaluation of the MWK program is currently underway to assess the effectiveness of the intervention.
"The MWK program is the key tool for school readiness that prepares children with the early learning skills and milestones needed to promote child academic performance when joining formal studies," said Christopher, a pre-primary teacher at Guta B.
In February 2020, a baseline evaluation was conducted using the International Development and Early Learning Assessment Tool. This tool measures four developmental outcomes: motor development, emergent literacy, emergent numeracy and social-emotional development. Data on caregiver practices such as caregiver parenting, early learning practices and the early learning home environment are being gathered. The data collection will be completed this month (January 2021), and findings and recommendations will be shared with key partners including USDA and the Tanzania Ministry of Health, Community Development, Gender, Elderly and Children.