PCI India and 'Mobile Vaani' Answer Call for Action Against COVID-19
Published 11/16/2020 by Global Communities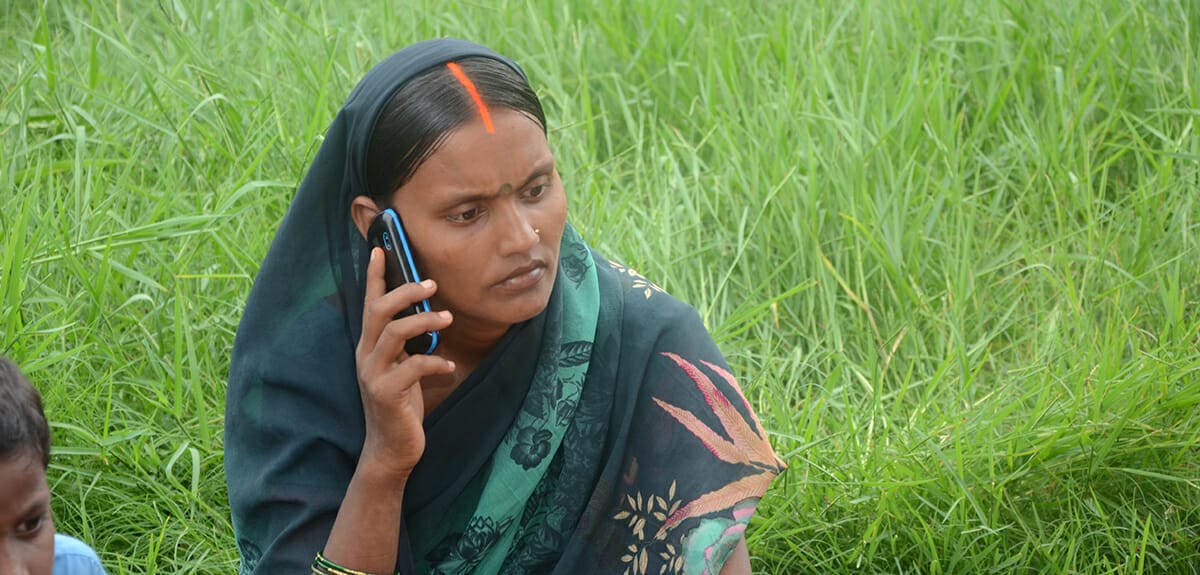 When much of the world came to a standstill in the wake of COVID-19, one Indian social tech company rose to the challenge.
Gram Vaani, which means "voice of the village" in Hindi, adapted its mobile phone-based social media platform—Mobile Vaani—to reach low-literacy, rural and remote audiences across India with important coronavirus prevention messages.
Prior to the pandemic, PCI India was utilizing the service to educate and engage women's self-help groups in Bihar on health and nutrition issues through the JEEViKA Technical Support Program.
"This platform actually leads to local action, greater awareness and empowerment for development," said Aaditeshwar Seth, director and co-founder of Gram Vaani. To date, the company's Mobile Vaani network spans 20 districts in the states of Bihar, Jharkhand and Madhya Pradesh as well as over 30 community radio stations.
According to Gram Vaani, Mobile Vaani is an Interactive Voice Response (IVR) system that allows people to dial a 10-digit phone number. The call is automatically disconnected and then the server immediately generates a callback to the user. They can leave a message about their community or listen to messages created by other community members, civil society organizations, government agencies, social enterprises and nonprofit partners. Depending on the context, the content is presented in the user's native language and delivered through a variety of formats including audio dramas, information snippets, quizzes, surveys, frequently asked questions and user-generated episodes. No sign-up is required to access the free content.
As part of the JEEViKA Technical Support Program, PCI India initially worked with Gram Vaani to develop messages for the platform about maternal and child nutrition, reproductive health and pregnancy. PCI India promotes the service among women's self-help groups (SHGs) and helped create a database of SHG members who receive Mobile Vaani calls throughout the day. During the pilot phase, the intervention successfully reached more than 50,000 users in rural Bihar.
When the Government of India instituted a nationwide lockdown in mid-March 2020 due to COVID-19, Gram Vaani and its partners recognized an opportunity to leverage the Mobile Vaani network to reach and link rural populations with pandemic-related health information and social services.
"We have scaled up our services so that this platform can act as a means of informing and providing relief to hard-to-reach communities," Aaditeshwar Seth shared.
At the start of the pandemic, early work focused on developing and recording a series of audio messages based on common questions about coronavirus disease transmission, symptoms and prevention measures. More recently, messages have been developed in response to questions, feedback and personal experiences that SHG members, migrant workers and other users have shared through the platform.
"With the help of information given by Mobile Vaani, I came to know about COVID-19 and steps like social distancing and regular handwashing to prevent the disease," said Anita Devi, a JEEViKA community mobilizer in the Muzaffarpur district of Bihar. "Now I disseminate this information to the SHG for their awareness."
As of the end of October, more than 172,000 SHG members in 14 districts of Bihar have listened to over 1.4 million minutes of COVID-19 content on Mobile Vaani's JEEViKA-specific channel. Messaging is ongoing.
"While COVID-19 uncertainties still continue, there is no time to waste," said Irina Sinha, Director of Strategic Insights and Systems at PCI India. "The partners are working together to make the best use of JEEViKA Mobile Vaani during this tough time, which is yielding encouraging results. The venture has shown great potential for possible scale-up of the model in other districts of Bihar in the coming days."