Recycling Cooperative in Brazil Gets a Boost from Young People's Communication Skills
Published 08/11/2023 by Global Communities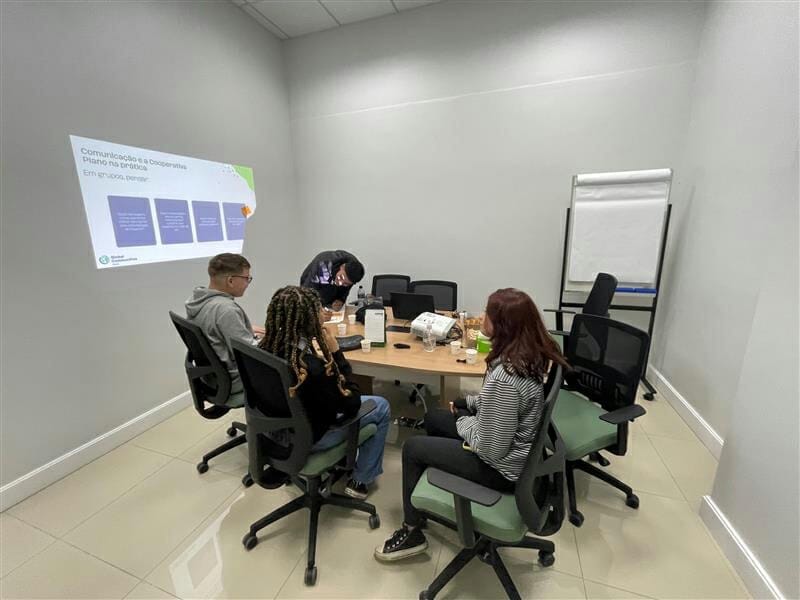 By Leticia Oliveira
An estimated 800,000 trash recyclers collect 90% of Brazil's recyclables every day. Many Brazilian cities lack formal recycling programs, so catadores (recyclers) offer a crucial public service and play an important role in protecting the environment. Still, they remain largely undervalued in their communities.
Forming a recycling cooperative is no longer a dream for 26 families in the Estação neighborhood of Montenegro. The Estação Reciclar cooperative was established to bring opportunities for a stable income and dignified livelihood for this community.
But with the realization of their dream comes many responsibilities, one of which is establishing communication systems on behalf of the cooperative. The young people of the neighborhood have embraced this challenge and, in June 2023, participated in a workshop aimed at strengthening their skills in marketing and social media usage. The workshop was held by Global Communities Brazil with support from the John Deere Foundation to strengthen the cooperative and its brand.
This social media project shows what their work is for the community and for the world. People are always discarding, and it's very sad to see the lack of awareness around this subject."

Nicole, communications workshop participant
During the series of trainings, the youth learned about various forms of communication, the importance of building a communications strategy, how to execute a communications plan and the importance of social media for advancing their brand. Staff worked with the group to learn about their main interests, existing knowledge and doubts about social networks and communication. Subsequently, through practical individual and group exercises, the group started to divide and align tasks according to their main skills and abilities, always with a view to maintaining fluid teamwork.
"Now, the recyclers' voices are being heard, and they have more visibility. Before the Instagram profile, their work was happening but was only visible to those who already knew about it," said Taissa, one of the workshop participants and young people who is supporting communications efforts for the Estação Reciclar cooperative. "With social media, they have more visibility and their work is valued. Normally, there's a lot of prejudice about being a recycler. … There's no such thing as 'putting something away.'"
According to Maria Janete Bernardes Francisco, president of the cooperative, workshops like these are a way to open new horizons and promote skills and confidence among young people.
"It is possible to see how much they identified with the activity; also, they began to see the potential they have. They arrived one way and left another," reports Janete, who says that after the training, the young people immediately started to mobilize. "You can see the sparkle in their eyes, the drive and the will to continue and work on social networks."
The future of the Estação Reciclar cooperative is bright, and their dreams are even bigger than before. They hope to establish their own headquarters and are working on a plan to seek out new partners, while continuing to build community awareness around the proper disposal of recyclable waste. They also believe in the importance of creating socio-environmental awareness in schools and offering more support for young people in the neighborhood.
Global Communities will continue to support the execution of the cooperative's communication plan through community mobilization and remote supervision to ensure sustainability of the group. This project is just one example of the many ways that cooperatives are making a difference in the world. By bringing people together, cooperatives can create a more prosperous and equitable future for everyone.
Projeto Reciclar began in October 2021 to improve recyclers' living and working conditions in the Estação district of the city of Montenegro in a partnership between Global Communities Brazil and the John Deere Brazil Foundation, as well as supporting organizations SICREDI, Poker, Biociturs, Tanac and Montenegro City Hall.