Schools Use USAID SCORE-donated COVID-19 Protective Equipment to Ensure Safety to Children Facing Crucial Government Examinations
Published 10/21/2020 by Global Communities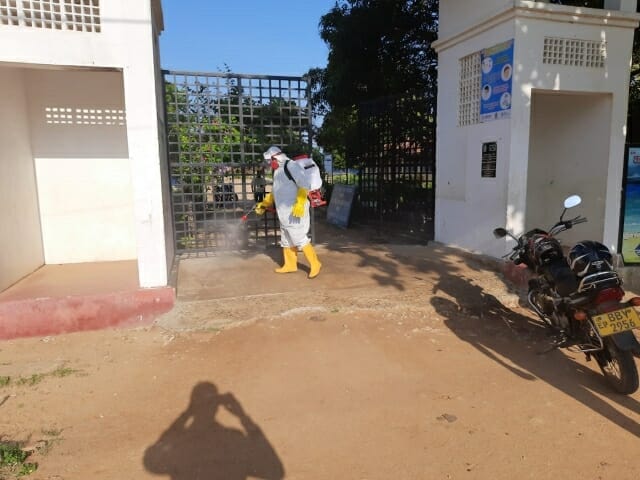 Sri Lanka is gripped by another wave of the COVID-19 pandemic as children prepared to face crucial government examinations of Grade 5 Scholarship and the Advanced Level on October 11 and 12 respectively. The former enables children, especially those in rural areas, the opportunity to attend better schools with more facilities while the latter selects students for degree courses in state universities. Although education is free in Sri Lanka, there is high competition to enter good schools and universities, making these examinations decisive. As such, the government announced its plans to go ahead with holding them despite the threat of disease spread, but would take all health precautions.
Before opening schools earlier in August after the initial shutdown, SCORE had already equipped 180 schools in 14 districts in the Southern, Central, Uva, Eastern, North, and North Central Provinces with the necessary gear enabling nearly 200,000 schoolchildren and teachers to resume their education safely. Schools used SCORE-donated equipment such as sprayers and personal protective kits throughout the following months for general cleaning and disinfection to protect children against COVID-19 and other diseases such as dengue with the oncoming monsoon. The equipment, once again, proved to be a blessing after the government directed health and education authorities to organize the disinfection of school premises before the examinations.
Over 50 schools that functioned as examination centers in the Galle, Matara, and Hambantota districts in the South used the SCORE-donated equipment for disinfection work. When the South Zonal Education Offices faced the issue of finding proper gear to wear at examination centers allocated for quarantine candidates, they were able to pull out from the cupboards the ones SCORE donated earlier this year. Six examiners in such centers in the Southern districts wore the SCORE-donated protective kit and visors.
In Vavuniya, Jaffna, Trincomalee, Kilinochchi, Mullaithivu, and Anuradhapura in the North and North Central Provinces, 10 schools used the equipment to disinfect their premises. In Batticaloa, Ampara, and Kandy, 14 schools used the equipment.
"I was scared to come to school and sit for the Grade 5 examination. But at the examination hall, we were assured that the school premises are safe which made us feel comfortable," said K. Murali from a Sampoor school in the Trincomalee district.
SCORE's support earlier this year to schools and education authorities, island-wide, has brought long-term benefits throughout the year to create a healthy environment for children. The SCORE activities helped populations in need through a mix of quick impact and long-term interventions.