SCORE Facilitates Exhibition for 20 Women Entrepreneurs
Published 03/18/2021 by Global Communities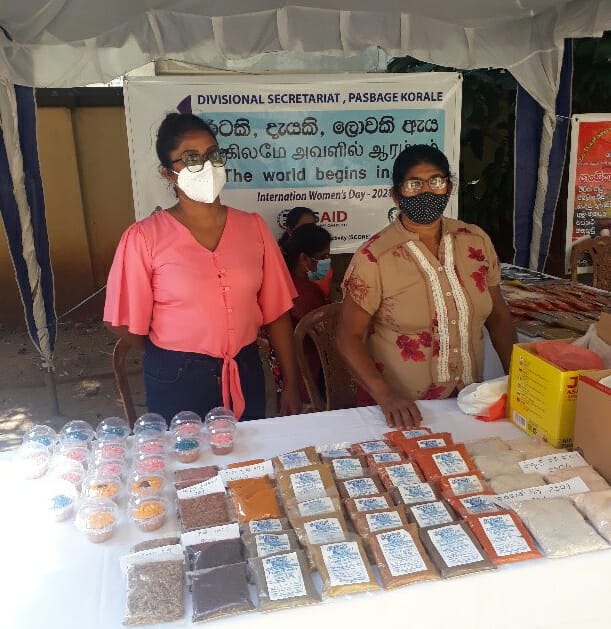 SCORE worked in close collaboration with the Women's Development Unit of the District Secretariat of Kandy to organize an exhibition showcasing the products of 20 women-led SMEs from all 20 District Secretariat Divisions in Kandy, at the District Secretariat premises on March 3, 2021. The exhibition was  in celebration of International Women's Day,  under the theme "Women in Leadership: Achieving an Equal Future in a COVID-19 World."
The event was the first In Kind Grant (IKG) implemented by SCORE. The District Secretariat took the lead  in organizing the exhibition while SCORE provided the technical and financial support. The exhibition was an opportunity for marginalized women in rural areas of Kandy to showcase their products and find a market to sell them. It brought recognition for them and enabled them to build stronger ties with the local government and build better networks within themselves and with communities. It also empowered the entrepreneurs financially with maximum scope for net profits on their respective products and merchandise.
Some of the products and crafts on display included batik clothing and related items, accessories, spices, jaggery and kithul products, handloom items, clothing items and plants. Present on the occasion were District Secretary Chandana Tennakoon, Women's Development Officers, District Secretariat staff and SCORE officers. Mr. Tennakoon observed that women entrepreneurs possess the potential to develop themselves further: "We celebrate the initiative of this exhibition on this occasion  and are pleased at the capacity these women entrepreneurs have demonstrated with items mainly targeting women.  Going even further, I am confident that they can advance to include innovation to empower their product lines and business by catering to men with clothing and accessories, as that market segment certainly has business potential, for economic viability," he said.
Anoma Paranthala, Women's Development Officer, said the exhibition included marginalized women from all Kandy's divisions: "Financial empowerment is key to women's empowerment. We need to further empower them with technology, innovation and skills development. We wanted to enable them to market their products through this exhibition," she said.
She added that it is significant that women from Minipe, Pasbage Korale Gaga Ihala, Mada Dumbara and Uda Dumbara, which are some of the most marginalized areas, were able to participate as these areas are usually not included in such activities due to financial and logistical constraints relating to travel. "I appreciate USAID SCORE for enabling the participation of these women entrepreneurs at this public event. This is our first collaboration with SCORE and it has been a fruitful partnership, she said.
One participant expressed appreciation of the USAID SCORE support to this exhibition. "I am from Pasbage Korale — one of the most marginalized areas in Kandy. In the past, I marketed traditional sweet meats and now progressed to making savory snacks, packing of spices and making cupcakes. My daughter helps me in this business. Being included in this exhibition gives us visibility and opportunity to network regardless of ethnic divisions and build our business."
Kandy is one of the largest multi-ethnic and multi-cultural districts of Sri Lanka, also divided by caste. However, in a general practice, the ethnic groups mostly live within their ethnic groups with minimal inter-ethnic interactions.  Women are largely excluded from mainstream activities, except for events such as these that are specific to women. Their needs and rights are largely neglected in the mainstream reform, recovery, and reconciliation processes. The event brought together women-led SMEs representing various castes and ethnicities in mutual dialogue and collaboration, by way of transactions, material sourcing and producer-customer interaction.
Furthermore, considering the ethnic tensions as recorded in the history of the area, this event facilitated by SCORE promotes the inclusion and participation by all women groups, thus, improving mutual economic opportunities for all communities.
SCORE with its sustained interest in capacity building, together with its promotion of entrepreneurship, engaged with the women through this exhibition to celebrate International Women's Day, by utilizing this event as a forum for increased opportunities, not limited to just women; but also for youth, to empower self-development through leadership and responsible citizenship, as showcased in the mother-daughter SME, representing the area of Pasbage Korale.