Supporting Community Recovery in El Copantillo
Published 01/12/2022 by Maureen Simpson
The drive to the remote community of El Copantillo looks much different than it did almost a year ago. Roads once cleared by the municipality were swept away, along with the rest of the mountain face, when tropical storms Eta and Iota pummeled Honduras in November 2020, causing considerable damage to homes, livelihoods, crops and infrastructure in rural departments throughout the country.
Now, to reach El Copantillo, hardy vehicles must navigate winding, unpaved paths to an altitude of 6,200 feet, where a community center sits on top of a luscious green hill surrounded by mountains. It's there, at the only signal point for miles, where Global Communities is working to support some of the most vulnerable, disaster-affected families in the department of Ocotepeque through the Honduras Emergency WASH and Shelter (HEWS) program.
Over the course of 14 months, with funding from the U.S. Agency for International Development's Bureau of Humanitarian Assistance (USAID/BHA), the HEWS program aims to address both the immediate needs and early recovery of 100,050 people by organizing access to clean water, sanitation and hygiene, safe living conditions through improved shelter and settlements and multi-purpose cash assistance. Program activities also focus on fostering economic recovery through support to agricultural and non-agricultural livelihoods. Global Communities started efforts in El Copantillo at the beginning of April 2021, distributing 56 hygiene and water purification kits containing toothbrushes, toothpaste, bleach, a mosquito net, laundry detergent and hand-washing soap. Since then, HEWS programming in the community has expanded to include multi-purpose cash assistance for 122 households. The next phase of support will involve repairing and replacing latrines that were damaged by the tropical storms. Four volunteer community leaders who received training from Global Communities work with our field team to organize activities and convene families for meetings or distributions.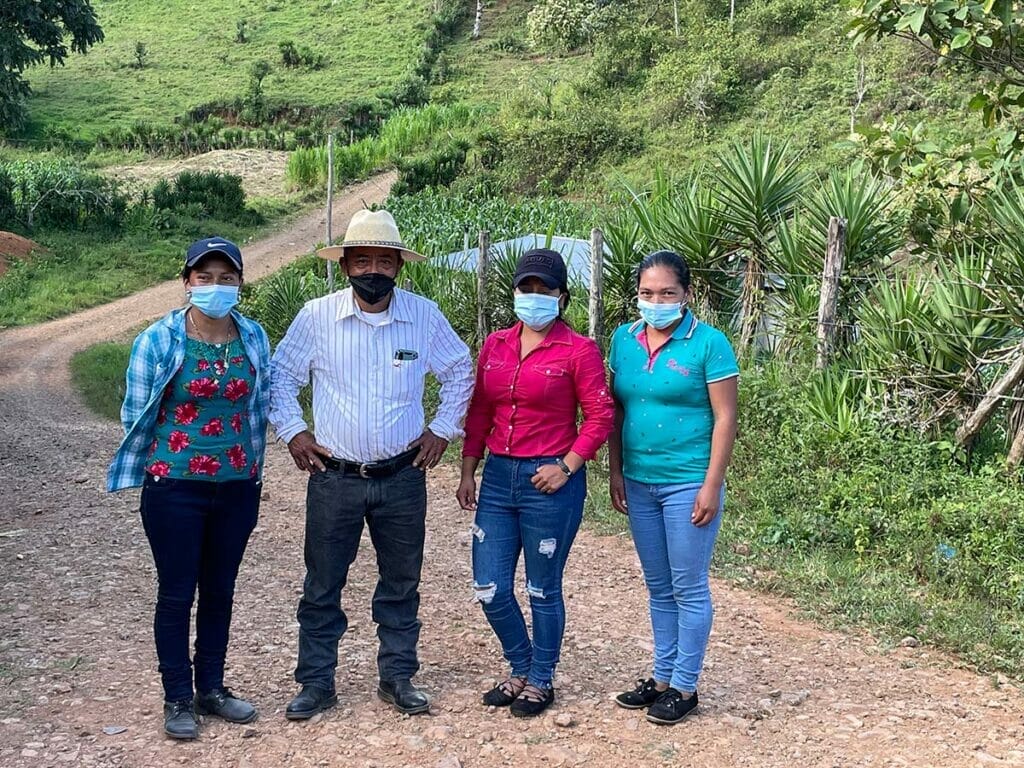 Juana Antonia Lopez was part of the first group of people in El Copantillo to receive assistance from the HEWS program, when Global Communities distributed hygiene and water purification kits to some of the most vulnerable, disaster-affected families. Although the mother of four cannot read, Juana said she learned about the water purification process through a training by one of the volunteer community leaders and a fact sheet with graphics and illustrations. While waiting in line to receive the last of two cash transfers from the HEWS program, she shared that the support has been crucial for her family, as they rely solely on her husband's income from agricultural work.
Using a cash transfer service in Honduras, Global Communities conducted two cash transfer activities in installments of $175 each for a total of $350 to 122 households in El Copantillo. Most families who are part of the HEWS program use the cash to buy necessities such as milk, beans and fruit as well as clothing, cleaning supplies and school materials for their children.
"No one expected that this support would come," said Ana Rosabel, one of four community leaders who is helping Global Communities to coordinate assistance for families like Juana's and others who were severely impacted by tropical storms Eta and Iota.
Ana Rosabel and her counterparts – Marlen, Don Francisco and Maria Yolanda – safely notify community members about multi-purpose cash distributions, help lead hygiene trainings, and mobilize local women and men for environmental health clean-up campaigns, among other HEWS program activities. As news of cash distributions may invite those who are not receiving assistance to derail activities or target families involved with the HEWS program, the community also commissions a security patrol at the entrances of El Copantillo to redirect or vet strangers before they are allowed to come in.
When selected program participants cannot travel to the community center due to their age, an illness or other physical disability, Global Communities conducts house visits to complete the cash transfer. For example, Maria Luisa is a subsistence farmer who had just given birth when the first distribution was scheduled to take place. Due to a poor harvest season, she used the assistance to purchase food for her seven-member household. She also bought clothing and shoes for her children.
Don Crescencio, 87, is another selected program participant who is unable to get to the distribution point in El Copantillo. His house was one of several in the community that was damaged by the tropical storms, so Global Communities repaired his wall and roof. Since he lives alone, community leaders worked together to purchase food for Don Crescencio such as cooked chicken, rice and beans. They also bought him clothing to ensure he had clean undergarments and other essential items to wear.
As part of her role as a community leader for the HEWS program, Maria Yolanda routinely checks in on Don Crescencio and other neighbors, even as her own family is recovering from hardships brought on by tropical storms Eta and Iota as well as the COVID-19 pandemic. Having never worked before, she said the program has helped her gain confidence with public speaking and given her an opportunity to use her voice to advocate for others.
Don Francisco, another community leader, said he values the sense of unity and accountability that has grown from the HEWS activities. Before the devastation brought on by the events of last November, Don Francisco had a blackberry farm that served as his main source of income. Now, he is focusing all of his energy and efforts on helping his community recover and rebuild.
After training families on how to use the water purification kits provided by the HEWS program, Don Francisco conducted household visits to quiz them on the ten steps. He also helps organize environmental health clean-up campaigns every Saturday for residents to take pride in keeping their streets clean and to protect green spaces for the community to enjoy. The municipality supports the clean-up campaigns by providing dumpster trucks to take the trash away.
"As long as the program exists, we will be here to support," Don Francisco said. "We need to do it."
This success story is made possible by the generous support of the American people through the United States Agency for International Development (USAID). The contents are the responsibility of Global Communities and do not necessarily reflect the views of USAID or the United States Government.