Supporting Malawi with Safe Water and Sanitation through COVID-19
Published 03/22/2021 by Global Communities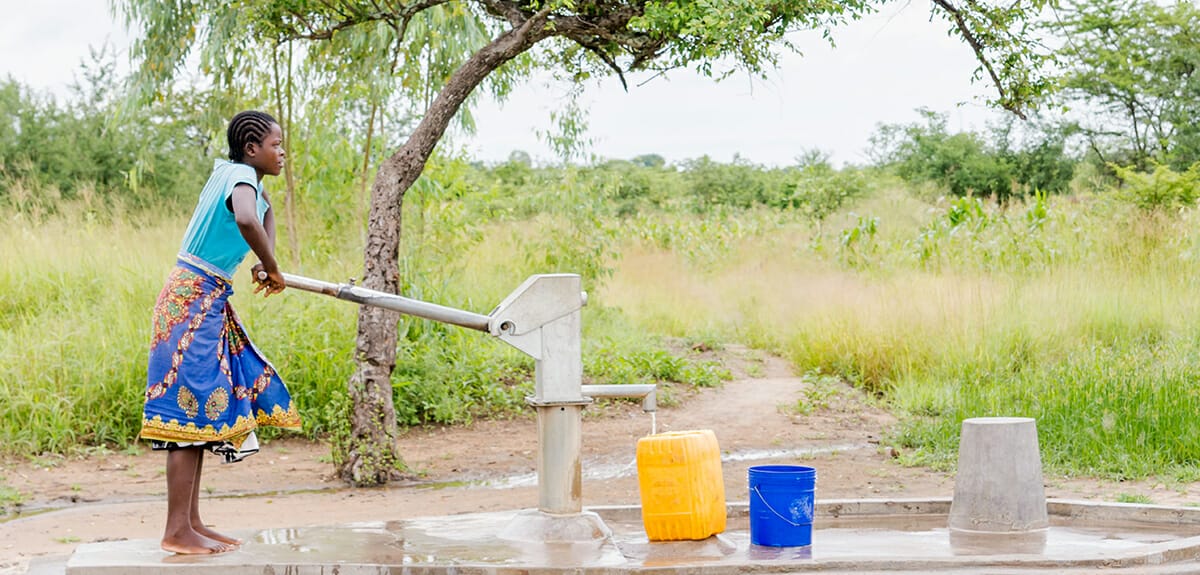 Access to clean water and safe sanitation is a fundamental human right and the first line of defense against the current global pandemic. Yet, according to UNICEF, 3 billion people are unable to protect themselves or their loved ones from COVID-19 and other devastating diseases because they lack basic hand-washing facilities. People living in rural, disaster-prone areas and low-income countries are the most vulnerable and the most affected.
In Malawi, where PCI, a Global Communities Partner, has been helping communities recover from extensive damage caused by 2019's Cyclone Idai, the Office of U.S. Foreign Disaster Assistance provided additional support for PCI to integrate COVID-19 prevention strategies into existing water, sanitation and hygiene (WASH) activities.
The objective of the Machinga-Zomba Cyclone Idai Response project (MAZI Response) was to rapidly expand access to clean water, improve hygiene and sanitation, and help prevent the outbreak of water-borne diseases for flood-affected households in the two districts. Phase two of the emergency WASH project, which took place between April 2020 and October 2020, reached more than 43,500 people with improved sanitation services and over 52,100 people with clean water.
To increase access to improved sanitation, MAZI Response supported communities to construct simple, permanent pit latrines that can withstand adverse weather conditions. In addition to providing the raw materials required for the construction of sanitation platforms (SanPlats), PCI identified and trained local artisans to assist community members with building SanPlats for their homes. In turn, communities contributed labor and locally available materials like sand and stone aggregates.
MAZI Response also worked with the Ministry of Health extension personnel, local leaders and community-based structures to promote proper hygiene and sanitation practices through WASH awareness campaigns. Messages about hand-washing with soap, guidance on SanPlat installation and COVID-19 preventative measures were delivered during home visits, at slab casting sites and throughout villages via public address systems in moving vehicles.
Over the course of the project, PCI regularly coordinated with the District WASH Technical Committees and relevant government structures at all levels, including the District Water Development Departments, the District Ministry of Health, Village Development Committees and water point committees.
An endline survey examining the results of the activities conducted by PCI found significant and meaningful improvements in access to water, sanitation and hygiene. A total of 8,098 households received SanPlat latrines. PCI also rehabilitated 144 boreholes and trained 144 water point committees on operation and maintenance mechanisms to ensure sustainability.