Global Communities has been operational in Ghana since 2007. Over the years, we have expanded our impact from serving nine poor urban communities in Accra and Sekondi-Takoradi to thousands of communities across ten regions. We continue to build strong partnerships with communities, governments, local NGOs and the private sector to improve the lives of underserved individuals through our comprehensive and multi-component project interventions.
While Global Communities began its work in Ghana with urban slum improvements, our portfolio has grown to include programs addressing access issues across many different areas, including:
Credit: An estimated 1.9 million people experience urban poverty in Ghana and face limited access to credit. To address this issue, Global Communities and HFC Bank Limited (Ghana) established a microfinance service company which provides housing and enterprise microfinance loans to households living and working in informal settlements.
Clean Water: Global Communities focuses on water, sanitation and hygiene (WASH) programs to provide access to clean water and improved hygiene practices. With the onset of the COVID-19 pandemic, we have accelerated WASH interventions

as

one of the most cost-effective strategies for increasing pandemic preparedness, especially where resources are limited. 

Economic Opportunity: To improve access to economic opportunity for disadvantaged young people, Global Communities provided youth vocational and entrepreneurial skill development in the booming construction industry.
With a strong focus on partnerships with the government and private sector, Global Communities aligns the interests of businesses and communities to achieve sustainable results. We are dedicated to breaking down barriers so that all Ghanaians have access to the services and opportunities needed to ensure the health, livelihood and stability of their families and communities.
Expanding Access to Credit for People Experiencing Urban Poverty
In 2007, Global Communities and HFC Bank Limited (Ghana) established Boafo Microfinance Services Ltd., a microfinance service company which provides housing and enterprise microfinance loans to households living and working in the informal settlements of Accra, Tema and Kumasi. Loans are provided with funding support from the U.S. Agency for International Development (USAID) and the United Nations. Since its inception, Boafo has grown to include a loan portfolio worth nearly $7 million and a client base of more than 3,000 active borrowers, as well as a savings program with more than $13 million in 2016.
Boafo cannot provide mortgages, but instead uses its unique role to support small businesses and households through loans to improve or expand homes in informal settlements; loans to expand businesses to improve household incomes; lower collateral requirements for loans to informal sector entrepreneurs than those required by other lenders; access to savings services through the HFC Bank; and courses for clients on managing credit and home improvement projects. Boafo, which means "helper" in the native Twi language, combines Ghana's largest mortgage lender with Global Communities to provide a "helping hand" to low- and moderate-income Ghanaians in their pursuit of business, shelter and educational opportunities.
Improving Key Water, Sanitation and Hygiene Practices in Ghana through a Behavior-Led Approach
Global Communities has been implementing water, sanitation and hygiene (WASH) projects across Ghana since 2009. Under the current USAID-funded WASH for Health program, Global Communities works in over 30 districts to create sustainable improvements in water and sanitation access and hygiene behaviors through improved sector governance and private sector engagement. Global Communities is adapting its Community-led Total Sanitation methodology developed in Liberia to the Ghanaian context to bring open-defecation-free achievement to scale, and works closely with district governments to institutionalize WASH in district plans. WASH for Health increases access to water supply through small town water system development, and activities are complemented through partnerships with Coca-Cola and Rotary International. Global Communities has also partnered with Cummins Ghana Ltd., the Cummins Foundation and the Unilever Ghana Foundation to help over 6,000 students improve their hygiene behaviors at school and share their knowledge with family and community members. In the final years of this program, Global Communities applied and evaluated an approach to behavior-led programming called Behavior Integration. Initial findings indicate that the Behavior Integration approach can yield changes to entrenched obstacles and increase the likelihood of WASH behavior change in months, rather than years – an exciting opportunity for additional study and potential application across many different contexts.
Equipping Underserved Communities with Access to Clean Water
Building on over a decade of experience creating sustainable improvements in water and sanitation access in Ghana, Global Communities is partnering with the Gold Fields Ghana Foundation to help break down barriers that have traditionally left the poorest districts in Ghana without lifesaving water and sanitation initiatives. Focusing on two mining towns in the Western Region, Global Communities is implementing WASH infrastructure projects in underserved communities to provide access to clean water, and providing technical and financial support around behavior change and capacity building to ensure sustainability of these projects.
disadvantaged young people trained in technical and entrepreneurial skills to gain employment
Creating Sustainable Economic Opportunity for Young People in Urban Areas
Under the Youth Inclusive Entrepreneurial Development Initiative for Employment (YIEDIE), Global Communities created economic opportunities in Ghana's booming construction sector for disadvantaged youth by providing training in technical, life and/or entrepreneurship skills leading to employment. In partnership with the Mastercard Foundation, the program addressed the labor shortfall in the industry and applied an integrated youth-led market-systems model to improve the capacity of youth and service providers across the value chain. Young men and women benefited from job opportunities and higher income, while sector stakeholders – such as private sector firms, financial services providers, training institutions and the government – gained increased coordination and capacity to improve their enabling environment. By the end of the program in 2020, female enrollment had increased from 11 percent to 30 percent, and over 25,000 young people ages 17-24 were trained in technical and entrepreneurial skills in the cities of Accra, Kumasi, Sekondi-Takoradi, Ashaiman and Tema. (closed in 2020)
Improving Community Resiliency in Northern Ghana
From 2014 to 2019, Global Communities implemented the Resiliency in Northern Ghana (RING) program under USAID's Feed the Future initiative. The program contributed to the Government of Ghana's efforts to sustainably reduce poverty and improve the nutritional status of vulnerable populations. Focusing in one of Ghana's poorest regions, Global Communities partnered directly with regional and local governments to support their ability to fulfill their mandates to the communities they represent — and improve the social and economic well-being of those communities, especially women, in the process. By increasing the consumption of diverse quality foods (particularly among women and children), improving behaviors related to nutrition and hygiene of women and young children, and strengthening local support networks to address the ongoing needs of vulnerable households, Global Communities improved the livelihoods and nutritional status of vulnerable households while supporting local governments to address future needs. (closed in 2019)
Briefs & Case Studies
Unidos is a project funded by the United States Department of Agriculture (USDA) McGovern-Dole International Food for Education and Child Nutrition Program that aims to improve school-age children's literacy, increase the use of health and nutrition practices, and improve the effectiveness of food assistance through local and regional purchases. Global Communities with sub-recipient Save the…
Research & Publications
Safeguarding is an organization-wide responsibility to ensure that our people, programs, and practices respect the rights and dignity of the people with whom Global Communities comes in contact so that they can live free from abuse and harm. Safeguarding includes preventing sexual exploitation, abuse, and harassment (PSEAH), safeguarding children, anti-trafficking, sexual harassment in the workplace,…
Latest stories from the blog
Simple Innovation Helps Rural Communities in Ghana Improve Latrine Construction & Sanitation
By Megan Bohan The Ghana Enhancing Water, Sanitation and Hygiene (EN-WASH) Activity aims to increase the use of sustainable, equitable, quality and district-wide WASH services …
Read More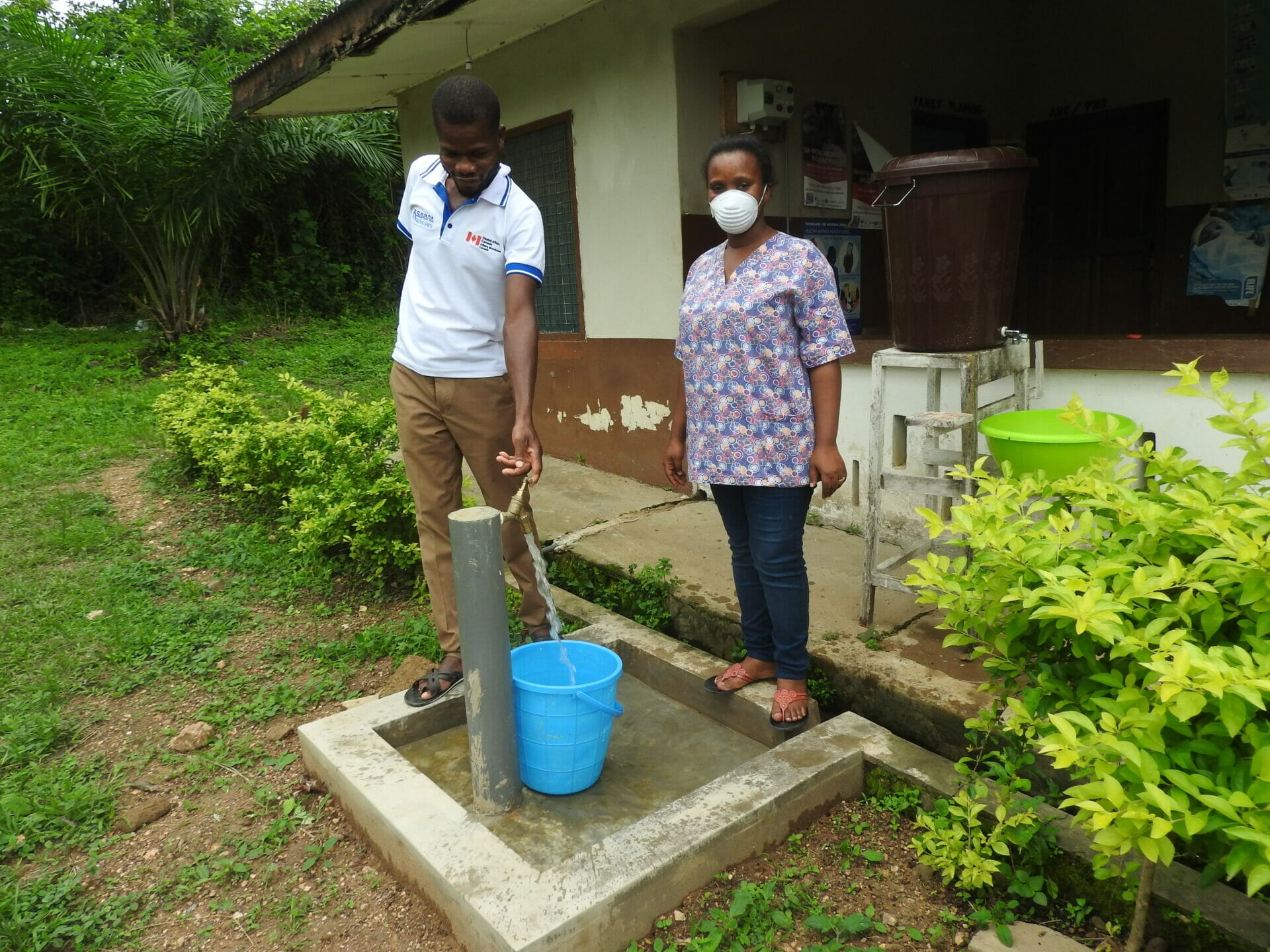 The Role of WASH in Sustaining Maternal Health During Delivery: Reflections from Global Communities WASH for Health Program, Ghana
Water, sanitation and hygiene (WASH) play a foundational role in improving maternal health outcomes during pregnancy, delivery and postpartum.
Read More
Kalba Community Benefits from the USAID Small Town Water System Approach
Traditional community-based rural water systems with their shallow wells and handpumps often do not provide sustainable water services. Pumps often break down and wells dry …
Read More