It Takes A Village: Transforming Care for Preterm Babies
Published 05/15/2019 by Global Communities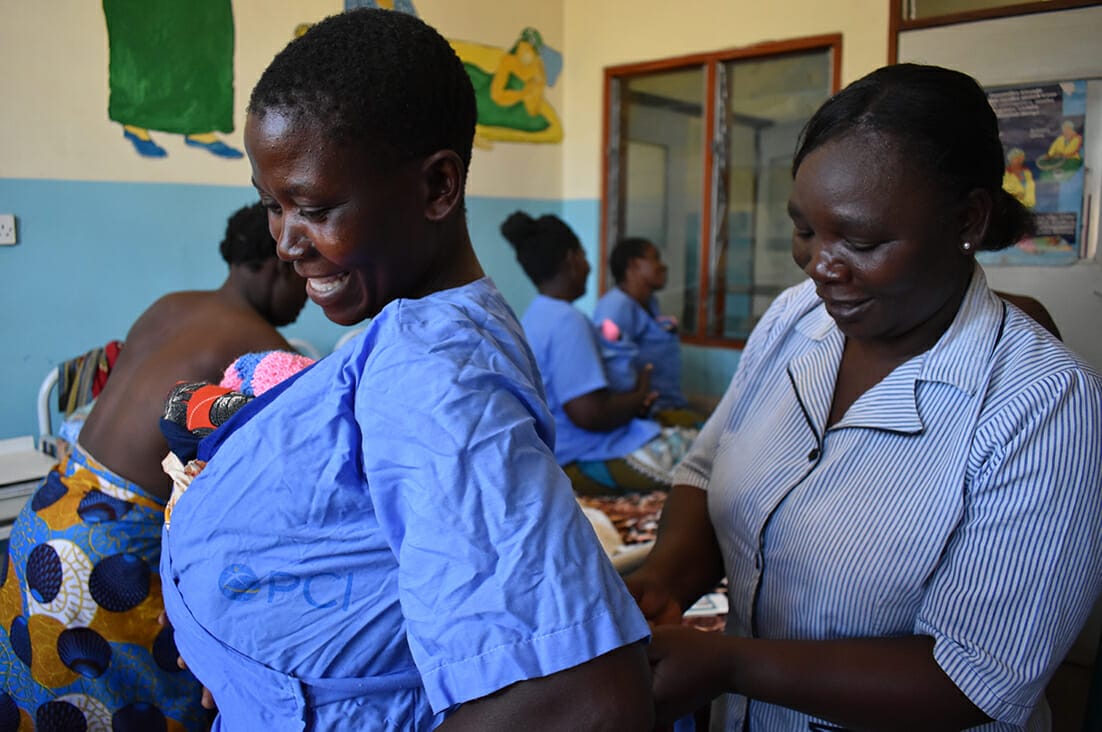 A mural painted on an outside wall of the Balaka District Hospital in Malawi has the following message translated in Chichewa: "Everyone can take care of a preterm baby."
Pictured with the declaration are three family members — presumably a grandmother, husband and wife — and each are shown holding a small, tightly wrapped newborn to their chest, skin to skin.
While the concrete display sounds simple, it's a concept that has transformed the way this facility cares for preterm/low birth weight (LBW) babies. With support from the U.S. Agency for International Development (USAID), technical assistance from PCI's Every Preemie-SCALE project (Every Preemie) and in partnership with the Malawi Ministry of Health, Balaka District Hospital and eight health centers have implemented the Family-Led Care model.
Family-Led Care empowers caregivers of all kinds to confidently address the unique needs of early/small babies — in the hospital, at home and out in the community. At the facility level, that means ensuring mothers and their preterm/LBW newborns receive immediate specialized care and continuous monitoring after delivery.
"Before this project, it just felt like we were taking care of these babies haphazardly," said Annie Nkosi, a nurse midwife at Balaka District Hospital who also serves as the KMC Coordinator for Every Preemie. "There was no isolation of premature babies, no real documentation and no storage of case notes. Every baby was managed the same, regardless of their condition."
In a country with one of the highest preterm birth rates in the world, Nkosi said it wasn't a lack of concern or awareness behind this response, but instead, a lack of resources.
"In the unit, there is typically only one nurse caring for sick babies and premature babies. So, it was very hard for them to care for a postnatal mom and to also care for a premature baby. The workload was too great," Nkosi explained. "But with the coming of this project and the Family-Led Care model, we are working now like a team."
Much like the Family-Led Care model involves counseling fathers, grandparents and other relatives on how they can support the mother in providing KMC, Every Preemie trained up participating health facilities' cadres of staff to help meet a dire need. Nearly 50 nurses, clinicians, medical assistants and support staff across nine health facilities in Balaka district now have the necessary skills to both care for and educate families coping with premature birth.
One such staff member is Sellina Mwenyedini, a hospital attendant whose primary job is cleaning the facility. After mopping and dusting the hospital and tending to other errands, she now adds KMC rounds to her shift.
"It is very painful for a mother to deliver a baby and then that baby dies. That is why I try my best to go there and help these mothers," said Mwenyedini, who has learned how to counsel mothers on breastfeeding, skin-to-skin contact and monitoring their babies for danger signs.
"I get satisfied when I see that I've helped a mother with a baby and the baby has grown well and they are discharged," she said. "When we meet at gatherings in the community, mothers will come to show their babies to me and say, 'See your child now! She is growing well. She is big.' I feel good knowing that I have done something valuable here."
Sevelina Chikanda has worked as a patient attendant at Balaka District Hospital for 29 years, before the facility even had a KMC ward. Since receiving training from Every Preemie and helping the hospital to implement Family-Led Care, she has noticed a major shift in how mothers, fathers, caregivers and other community members perceive preterm/LBW newborns.
"There is more hope now. The babies are surviving," Chikanda said. "… Because of the counseling and the experience they've had here, mothers are able to tell other mothers who have given birth to preterm babies in the community that they should come here. They know we can help."