Mentorship Program Offers a Helping Hand for Young Syrians
Published 09/24/2021 by Global Communities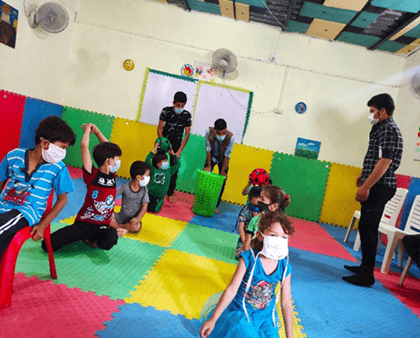 While the conflict in Syria has lasted more than a decade, protection risks remain high across the country and have been heightened by the coronavirus pandemic. With funding from the U.S. Agency for International Development's Bureau for Humanitarian Assistance (USAID/BHA), Global Communities is currently implementing Response Operations for the Syria Emergency III (ROSE III) program across Northern Syria.
The ROSE III program includes child protection activities, prevention and response to gender-based violence (GBV) and psychosocial support for community-based protection through a combination of static facilities (safe spaces) and mobile protection teams. Global Communities operates six Child-Friendly Spaces, two Youth Empowerment Centers and four GBV Centers under the program. These centers serve as the hub for comprehensive prevention, empowerment and response services within the challenging and changing context of an ongoing conflict.
The Global Communities Protection team worked together with the Hygiene Promotion (HP) team to develop a program for adolescents and youth at risk of or experiencing violence, abuse and neglect. Adolescents and youth between the ages of 15 and 24 engage in three months of targeted skills training followed by on-the-job experience. Sessions focus on improving employability and developing personal coping mechanisms by working on communication skills, increasing knowledge around child protection, GBV and hygiene promotion as well as developing facilitation skills. The mentorship program allows participants to receive protection support and gain skills to help them transition to adulthood, within a safe setting. Altogether, Global Communities has provided skill building training and protection services to 30,960 program participants (9,107 men, 21,853 women) in Northwest Syria through ROSE III. Of that number, 257 adults have taken part in mentorship programming.
Aisha*, a 15-year-old with a physical disability, was experiencing psychological distress and feelings of isolation due to infrequent social interactions. She has been out of school since the fifth grade because of bullying by her peers. In addition, because of a lung condition, her health has been challenging to navigate. Her family does not understand how to manage her condition nor are they able to support her.
After being identified by the peer support committee, the team conducted individual counseling sessions for Aisha and her parents. These sessions helped to enhance her self-confidence and led her to become more daring and interactive in social groups, with distinguished participation. Aisha also attended sessions and trainings at the Youth Empowerment Center and successfully completed the mentorship program with the Hygiene Promotion team.
These activities introduced Aisha to new experiences and provided her with opportunities to gain new skills that enhanced her self-confidence and the ability to assert her rights. She also benefited from stipends that made it possible for her to return to her studies. ROSE III program staff reported a noticeable difference in both Aisha's psychological condition and protection concerns after joining the program.
"I feel happy, because I believe in my abilities and I can achieve my dreams," Aisha said.
Fatima*, another teenager in the ROSE III program, lost her father at a very young age. When her mother remarried, the 17-year-old was forced to move in with relatives and withdraw from school to support her family.
"When you are going through difficult circumstances, you have to give up your minimum rights and this is what happened to me," Fatima said.
With support from Global Communities, Fatima had the opportunity to attend Youth Empowerment Center activities. Staff started to see an improvement in her confidence after she participated in life skills trainings, English language classes, computer lessons and other recreational activities. She also joined the mentorship program.
After receiving a stipend, Fatima was able to purchase school supplies and support her family while returning to her studies. She is now attending middle school and has increased her confidence and skill sets.
Stories like Aisha's and Fatima's are what sustain staff members such as Muhab Al Salamh, a Youth Empowerment Facilitator for the ROSE III program.
"There is no happiness like supporting others to make their dreams come true and giving them the opportunity to start a new life," he said.
*All names of individuals in this story have been changed to protect the privacy of program participants.