Protecting DREAMS in the Time of COVID-19
Published 05/10/2020 by Global Communities
At the beginning of April, just a few weeks into the global coronavirus pandemic, DREAMS Botswana had one message for its Facebook followers and the more than 3,000 adolescent girls and young women it serves: "Even through COVID-19, we remain Determined, Resilient, Empowered, Healthy [AIDS-free], Mentored and Safe from HOME."
The line served a dual purpose: 1. To remind participants of the six characteristics that define them and this global initiative of the U.S. President's Emergency Plan for AIDS Relief (PEPFAR); and, 2. To assure them they were not alone.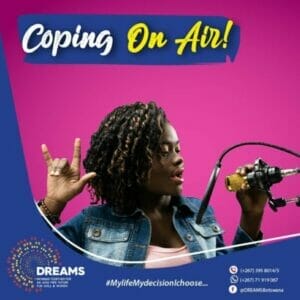 In Botswana and countries around the world, adolescent girls and young women face serious challenges with discrimination, violence and exploitation that limit their freedom to learn, thrive and live on their own terms. The ongoing COVID-19 crisis just exacerbates existing gender inequities and issues related to accessing crucial health information, services and resources.
Recognizing this, PCI staff, DREAMS mentors and implementing partners have found a way to maintain communication with program participants even under strict lockdown measures. They conduct weekly check-ins via WhatsApp and conference calls and continue to educate and engage participants through social media channels and The Catch, a radio program broadcast every Saturday morning. PCI coordinates the show with rotating monthly partner involvement.
"Our DREAMS girls and their mentors continue to take part in the show despite the pandemic," said host Botlhale Sebataladi, who also serves as a program officer at PCI/Botswana. "The show is, of course, done live from home to adhere to the lockdown rules and regulations. This is facilitated via conference call."
Many listeners and program participants have expressed how these virtual safe spaces have served as a helpful source of inspiration and guidance during lockdown.
One young woman shared, "I paused and reflected on my entire life, my school, relationships, money. I must say I've seen clearly what needs to be changed. I'm more aware of where I come from and where I'm going, and most importantly how to get there."
In April, The Catch focused on coping strategies for lockdown emotions, COVID-19 Do's & Don'ts and other topics relevant for adolescents during this stressful period of separation. This month, Sebataladi said the show will center on refining work skills and being the best you.
"With the first lockdown experience, it was all about reflecting, adjusting and being in touch with oneself," she explained. "Now, with the extension of the lockdown, it is time to re-strategize based on the findings from our reflections. There is now new hope. We can indeed be better at what we do or what we want to achieve, starting with enhancing our work skills."
Upcoming episodes will specifically focus on identifying and pursuing what you want, creating a résumé you can be proud of, interviewing the right way and putting your best foot forward.
"The team saw this as an advantage to reach out to our adolescent girls and young women to keep them engaged since they will not be preoccupied with their daily lives," Sebataladi said.
As the program's Facebook page stated early on in the pandemic, "The show must go on."
Even if it is from home.
---
*Note: In the lead image, DREAMS participants and program staff are recording an episode of "The Catch" prior to the onset of the COVID-19 pandemic. Subsequent episodes have adhered to all COVID-19 safety rules and lockdown regulations.
"The Catch" radio show is organized in Botswana by the U.S. Agency for International Development through partner Project Concern International as part of PEPFAR's DREAMS program. DREAMS strives to keep adolescent girls and young women Determined, Resilient, Empowered, AIDS-Free, Mentored and Safe. Every Saturday morning, "The Catch" invites expert guests, mentors and young women enrolled in DREAMS to talk about important health issues, social concerns and personal experiences on Radio Botswana 2.