SCORE Supports Kandy District Secretariat to Celebrate Strengths of Diverse Women Marking International Women's Day
Published 03/11/2021 by Global Communities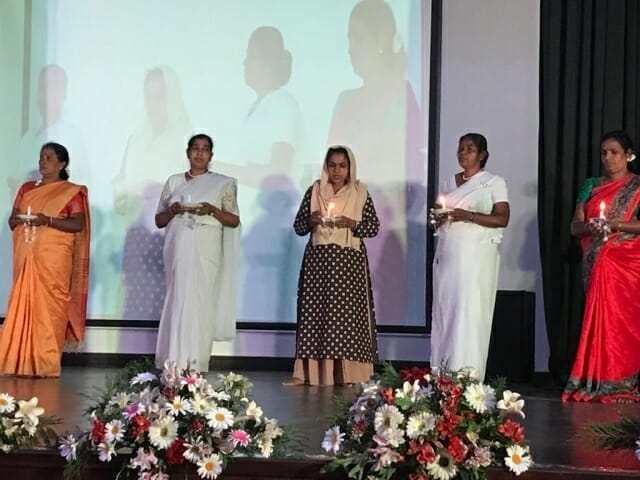 By Kathya de Silva Senarath
After months of close coordination between the Kandy District Secretariat and the Social Cohesion and Reconciliation Activity (SCORE), the International Women's Day celebration in the Kandy District kicked off on a grand scale at the Secretariat auditorium on March 9, 2021.
The event was a celebration of womanhood regardless of ethnic, religious, caste, class and age difference. Women representing all social strata in the district came together to share, recognize and appreciate each other for their courage, determination and resilience during trying times. Kandy is a multi-ethnic district, marked by ethnic and caste divisions with ethnic violence reported in some parts such as Digana. However, during this event, all groups came together in celebration regardless of differences and it became a platform for interaction and engagement.
The chief guest was Kandy District Secretary Chandana Tennakoon. USAID Deputy Mission Director Debra Mosel, SCORE Chief of Party Travis Gartner, District Secretariat officers, Kandy Divisional Secretariat officers, multi-ethnic women from the 20 Divisional Secretariat Divisions, schoolchildren, SCORE staff and others also participated.
The event began with the welcome of guests by multi-ethnic women conducting traditional rituals. The 'Women's Song' was sung by women representing different ethnicities and generations, followed by song and dance that showcased the Sri Lankan heritage made up of diverse groups. Muslim women too actively engaged in the festivities which was significant, since culturally, they are reluctant appear in public.
District Secretary Tennakoon appreciated SCORE support for this event. "I greatly appreciate SCORE for collaborating with us closely over the past month to make this event a success. SCORE staff were in our DS premises for long periods working closely with our staff to provide all the support necessary. It was great to see this and we hope we can carry out more activities together in the future," he said.
Joining the event virtually, USAID Deputy Mission Director Debra Mosel said she appreciated the Kandy District Secretariat for the 'support, guidance and space to organize the event'.
"USAID has been investing [in Sri Lanka] in gender equality and women's empowerment for 60 years… which helped transform communities. For societies to thrive, women and girls must have equal access to resources, which is why our projects, including SCORE, have a specific component on women… USAID is proud to help make a space for women, collaborate and lead the way as peacemakers, entrepreneurs, social leaders, and change agents," she said.
SCORE Chief of Party Travis Gartner said he received a warm welcome to the event from Sinhala, Tamil and Muslim women together, "bringing together diverse communities to celebrate your unique identities and cultures in Sri Lanka. This is a great example of the SCORE programs across the country."
Referring to the challenges of the COVID-19 pandemic, he added: "You are doing things differently than your grandmothers and mothers. You are shattering the barriers that held them back… to create a more equal, inclusive and sustainable future."
District Non-Governmental Organizations Coordinator Nandana Deshapriya said "it is the NGOs that give life to the people at grassroots," and encouraged their role in development.
Twenty women entrepreneurs in the district from marginalized backgrounds were given the opportunity earlier on March 3, 2021, to showcase and market their products during an SME exhibition at the Secretariat premises as part of the Women's Day celebration, also supported by SCORE. Two of them were given the first and second places to recognize their reliance during challenges. They shared their compelling stories with the audience, reminding other women to keep fighting and never give up.
Dinesha Dissanayake, a mother of three from Kundasale, was awarded first place. She told the audience how she had to fight alone for survival while her husband was abroad, and caring for a seriously ill child at home. "We were financially constrained but I didn't give up. I started the sale of ornamental plants in 2013. I started from zero, but now I'm the owner of the only Canary Plant Nursery in the Kandy District," she said, reminding women to take courage.
Ten female schoolchildren from low-income backgrounds faced with financial challenges in continuing education also received peace-themed educational gift packs to motivate them to continue their studies. In addition, 60 local government officers working in women's development affairs across the district received tokens of appreciation for their hard work in women's empowerment.
The celebration concluded on a high note, as a celebration of the unseen strengths of all women, regardless of divisions. SCORE built better relations with the government body through this event and the celebration will be used as an entry point for more engagement with the district's diverse communities to build social cohesion and reconciliation. SCORE will collaborate on other activities with the District Secretariat in the future. Already, SCORE is working with the Kandy District Secretariat to provide an opportunity for inter-ethnic interactions between Sinhala and Muslim women. Fifty Muslim women from Akurana will travel to the multi-ethnic, majority Sinhala area of Medadumbara on March 20, 2021 for a facilitated discussion on the value of coexistence and unity.