The Role of WASH in Sustaining Maternal Health During Delivery: Reflections from Global Communities WASH for Health Program, Ghana
Published 04/07/2022 by Global Communities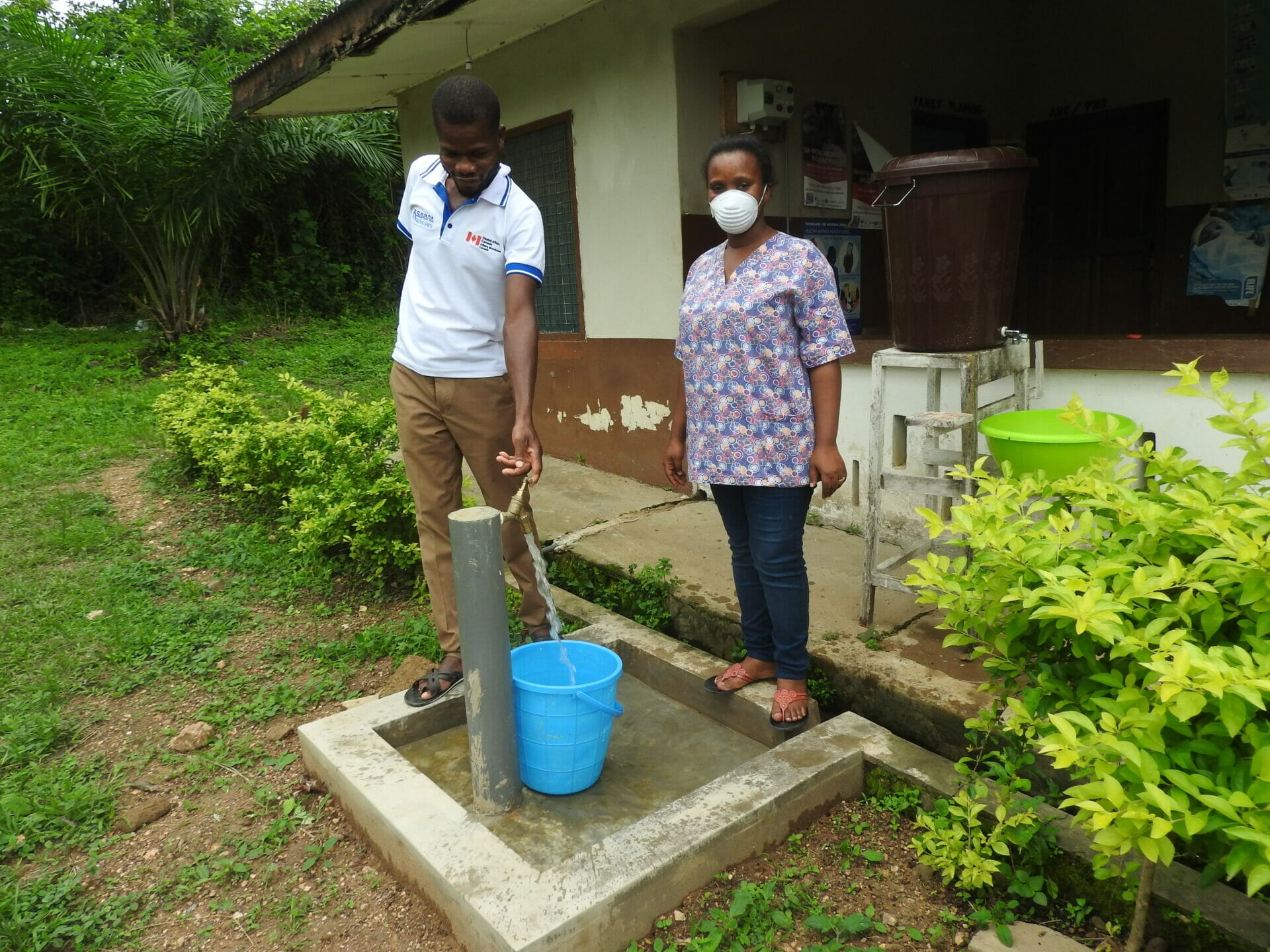 "At about 12 midnight in June 2019, a baby boy was born to a young couple at Tutukpene Health Center," recounts Monica Hwanompe, the Senior Community Health nurse who doubles as a midwife at the health center in Oti Region, Ghana. "Unfortunately, there was no water to wash the mixture of blood and amniotic fluid off the baby and the equipment used for the delivery. Relatives of the newborn's mother had to save their congratulatory wishes until after they fetched water from a nearby community, about 15 minutes away on foot. Giving birth without access to clean water can be very dangerous for mom and baby. Thankfully, the baby survived."
Until recently, this scenario was common in some health centers and Community-based Health Planning Services (CHPS) and community-based health care facilities in the Savannah and Oti Regions of Ghana.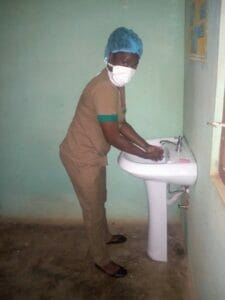 It is a frequent occurrence in Sub-Sahara Africa for expectant mothers and their families to bring water in jerry cans when they deliver their babies in local public hospitals. Many health centers lack basic facilities for hand hygiene and safe disposal of medical waste. These services are necessary to prevent infections in babies, avoid antimicrobial resistance and ensure moms and babies have the quality care they need, particularly during childbirth. When health facilities lack adequate water, sanitation and hygiene, many mothers and their babies are at increased risk of infection and death. These facilities are also crucial to respecting the dignity and human rights of patients and health care workers, specifically nurses and midwives.
According to a new report by WHO and UNICEF Joint Monitoring Program for Water Supply, Sanitation and Hygiene (JMP), one in four health care facilities worldwide lack essential water services, impacting more than 2 billion people. This report also found that one in five health care facilities have no sanitation services, affecting 1.5 billion people and that only 55 percent of health care facilities in Least Developed Countries (LDCs) have basic water services. The WHO-UNICEF JMP report also estimates that one in five births worldwide takes place in LDCs and that 17 million women in these countries give birth in health centers with inadequate water sanitation and hygiene every year. An accompanying report explains that 1 million deaths around the world are associated with unclean births annually.
Water, sanitation and hygiene (WASH) play a foundational role in improving maternal health outcomes during pregnancy, delivery and postpartum. Health care workers require clean water for several components of safe delivery, including handwashing and cleaning medical tools. But a 2014 systematic review found a significant association between poor WASH and higher maternal mortality rates. Giving birth at home can be even more dangerous in low-resource settings since there is even less availability of clean water and sanitation facilities. A 2016 study based on data from 58 low- and middle-income countries found that women who were poor, lived in rural areas, or had less education were at greater risk of going through childbirth without safe water and sanitation. Clearly, the consequences of poor WASH for reproductive, maternal and newborn health are numerous and can be grave.
To address these issues, Global Communities, with funding from USAID Ghana established nine mechanized boreholes for water supply under our USAID-funded WASH for Health program. In June 2020, nine health facilities in Soma, Kulmasa, Nahari, Saru, Gbeniyiri in the Savannah Region, and Nabu, Lakpor, Pusupu CHPS compounds and Tutukpene Health Center in the Oti Region received equipment. The water supply system uses electricity or a solar-powered submersible pump to lift water into an elevated tank connected to standpipes and ultimately, to healthcare facilities. These boreholes serve up to 2,700 people, including clients and staff at the healthcare facilities and surrounding communities, all in compliance with COVID-19 safety protocols implemented by Ghana Health Services.
Each health facility has also been provided with a sink for handwashing and cleansing equipment in the delivery rooms.
"Previously, only one Veronica bucket served the delivery room which sometimes accommodates two to three deliveries at a time," says Abigail Appiah, Midwife-in-Charge of the Kulmasa CHPS compound. "But with the provision of the sink and constant water flow, we are relieved of the undue pressure."
"With this water facility readily available, convulsion and high-temperature can be better managed," adds Doreen Smith, Nurse-in-Charge at Soma CHPS.
Four out of the nine participating health care facilities also had solar power installed as part of the program, including Soma, Saru, Gbeniyiri and Nabu CHPS compounds, which were not already connected to the national power grid. Much to the delight of nurses and midwives, the solar power source runs the submersible pump and illuminates the entire CHPS compound, including delivery rooms. Until the intervention, some healthcare facilities used battery-powered torchlights and candles to provide services at night.
With close to 15 years of implementation of WASH projects in Ghana, Global Communities, in partnership with USAID Ghana, national and regional governments, private sector organizations and local communities, 14 out of the 16 regions in Ghana have been reached to create sustainable access to water, sanitation and hygiene, not only in health facilities but also in schools, within townships and community spaces.
As we celebrate this year's World Health Day, we are reminded that access to WASH services is an essential component of maternal and child health and is fundamental to people's health in many ways. The theme ''Support Nurses and Midwives'' could not be better suited as we reflect on the role of WASH in sustaining maternal health during childbirth.
---
Written by: Betty Adera, Senior Technical Advisor for HIV/AIDS and Health and the Ghana WASH for Health program team