USAID SCORE in Sri Lanka Promotes Beekeeping as an Innovative Way to Mitigate Human-elephant Conflict and Improve Local Livelihoods
Published 09/20/2019 by Global Communities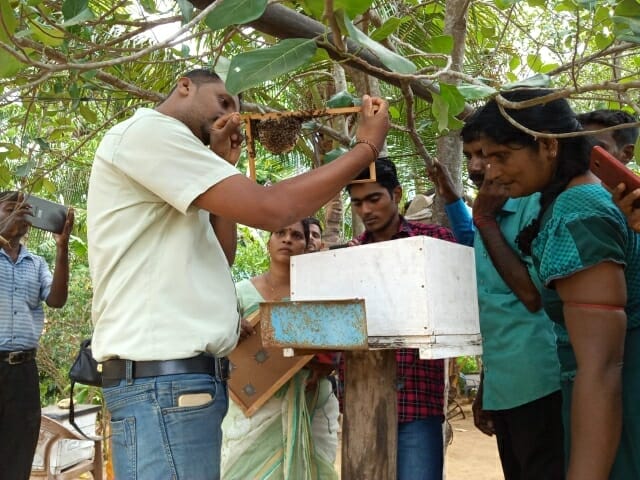 Following the community resettlement in 2010, frequent incidents of elephants raiding crops in the Paddikudiyeruppu GN division in Vavuniya North in Sri Lanka have resulted in a number of human casualties as well as severe economic consequences due to crop losses.
To mitigate the consequences arising from the human-elephant conflict, the Paddikudiyeruppu community suggested engaging in beekeeping as a cost-effective, non-violent and sustainable solution to the problem. The activity was put forward by the Paddikudiyeruppu Co Existence Society as a community-driven solution, whereby active bee hives placed around crops would act as a deterrent to elephants, reduce crop-raiding and ensure a steady source of income for the farmers. Beekeeping activities would also enhance rural livelihoods through honey sales, reduce retaliatory wildlife killings, and settle the human-elephant conflict on a wider scale.
Following a series of training programs on beekeeping facilitated by USAID SCORE, which is implemented by Global Communities in Sri Lanka, the sub-grantee Rural Development Foundation (RDF) organized a visit of 15 beneficiaries to the Keerisuddan village in Kilinochchi. The goal of the visit was for participants to observe a successful beekeeping project initiated by the Government for low-income families.
As part of the SCORE intervention, beneficiaries of the training program were given beehive boxes with a queen bee which were designed for home beekeeping. Participants hope to harvest natural honey from this process and further engage in commercial beekeeping activities.