Indispensable: Recognizing & Rebranding the Work of Brazil's Trash Recyclers
Published 05/09/2022 by Global Communities
By Roseli Bianchi and Lizzie Hickman
In Brazil, some low-income families make ends meet through recycling. However, the process is not as simple as sorting trash into neatly labeled green bins. Rather, 'catadores de materiais recicláveis' are informal waste pickers who spend long, back-breaking hours scouring the streets of their urban communities for discarded materials they can turn in for a profit.
"I raised my children by collecting," says Pedra, who has worked as a waste picker, or recycler, for the past 20 years. "I was able to send my daughter to be trained as a chemical engineer with the money I made."
Most municipalities in Brazil do not have official waste collection systems for recyclables, so catadores carry out a crucial public service for their communities. Even so, their labor remains largely unrecognized and undervalued. An estimated 800,000 trash recyclers collect 90 percent of Brazil's recycled materials.
As members of the informal economy, recyclers work independently, without any organization or structure. What they gather often ends up being stored in their houses' courtyards, putting the health of children and adults at risk. The hours are unforgiving, and the labor is difficult.
"Many people don't have enough to eat and go out to collect," says Pedra, who starts her day at 4 a.m. and returns home around 3 p.m. Carts used to carry found materials can weigh up to 600 pounds.
In October 2021, to improve recyclers' living and working conditions in the city of Montenegro in Rio Grande do Sul, the John Deere Brazil Foundation, Biocitrus, Poker and Tanac companies teamed up to support Projeto Reciclar ("The Recycle Project"). Global Communities designed the project in partnership with community members and is responsible for its coordination and implementation.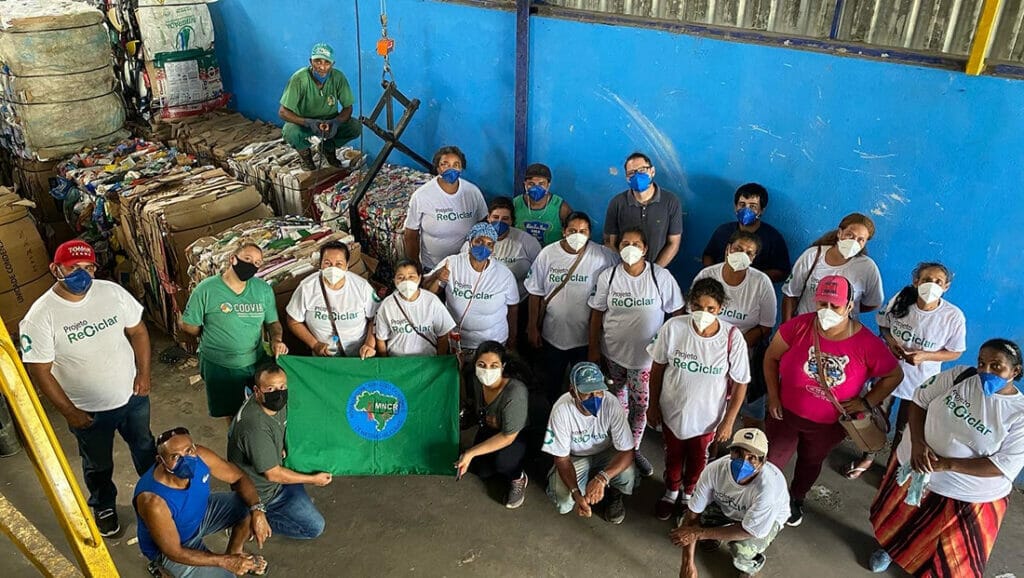 "We are partners in Projeto Reciclar because we believe that we can support these families to have a more dignified life through their work," says Alessandra Zalamena, Senior Internal Marketing Analyst at the Tanac company. "Recyclers do so much for our community that supporting this project is a way of giving back."
Approximately 30 families that depend on recycling to survive are participating in Projeto Reciclar, which aims to support the socioeconomic development of trash recyclers while also addressing solid waste management and the circular economy in Montenegro.
Over the course of three phases, Global Communities and its partners are focused on organizing and training the recyclers to formally establish a cooperative they can eventually manage and sustain with public and private resources. Ultimately, the goal is to help professionalize their work and teach the recyclers how to operate in ways that will improve their health, safety and quality of life.
As part of phase one, Global Communities engaged recyclers, partners and the community to revitalize a green space in a neighborhood where many project participants live. More than 100 residents and volunteers from partner organizations, the local school and government worked together to collect 200 bags of garbage, plant 85 tree saplings and convert 20 used tires into flower gardens.
"Now, we all must take care of that space. What was made today is not meant to last just a day or a just a month, but rather, it is meant to last a lifetime, because it was an action for the community."

Pedra, Projeto Reciclar participant and recycler
Since the event, the community has continued to take care of the green space by watering trees and flowers that were planted and encouraging residents to throw away their trash. Recyclers have a vested interest in maintaining it, because they were involved in mapping, planning and executing the neighborhood improvement project from the beginning.
More recently, in partnership with the National Association of Trash Recyclers (ANCAT), the Projeto Reciclar team completed research on the production chain of recyclable materials in Montenegro. The main objective was to map where trash ends up in the city and if it is feasible to undertake a local recycling cooperative.
As part of the study, ANCAT researchers also held a focus group with recyclers to understand what their aspirations, desires and perspectives are regarding participation in a local cooperative. The results of the research will be used to plan future workshops with the recyclers.
Project participants also had an opportunity to visit the COOVIR cooperative in Viamão city, which serves as a model of success for trash recyclers in the region. This experience allowed them to see a structured cooperative in action and directly learn from its workers about the benefits and challenges of participating in a cooperative. Projeto Reciclar participants went back to their neighborhood full of ideas, plans and hopes for their future.
Seu Di has worked several different jobs but always seems to find his way back to collecting recyclable waste as a livelihood.
"I'm proud of what I do, because by collecting, I can support my family and it gives me the opportunity to keep my neighborhood, city and planet clean," Seu Di says.
While Seu Di is proud of his work, he knows it is still stigmatized in his community and the improvements that have already been made through the project are giving him newfound motivation.
"Participating in Projeto Reciclar is giving new meaning to our work," he says. "The project is providing the neighborhood's collectors with an opportunity to change our lives for the better. I have hope our collective will succeed."
This content is part of Future Forward, a thought leadership and storytelling series on how Global Communities is driving change to save lives, advance equity and secure strong futures. To learn more, visit globalcommunities.org/futureforward.