Today's Challenges, Tomorrow's Solutions
See how Global Communities is driving change to save lives, advance equity and secure strong futures.
Confronting the World's Most Pressing Problems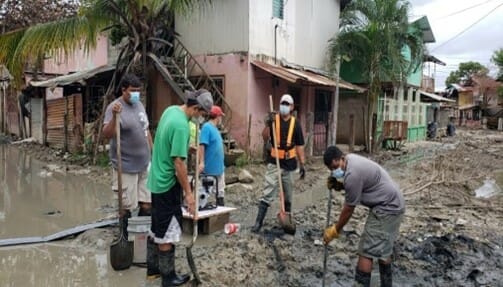 Over the past several decades, conflicts and other crises have become more protracted, and the increasing impact of climate change has threatened shared resources, decimated livelihoods and intensified inequalities. Meanwhile, the COVID-19 pandemic has been disrupting and devastating communities and local economies for two years and counting, moving international development goals further out of reach.
Indeed, the challenges we face today are diverse, complex, interconnected and daunting. However, we cannot be paralyzed into inaction or siloed in our search for solutions. We have an urgent need and opportunity to adapt our thinking, capitalize on lessons learned, test new ideas and meet this moment with humanity, collaboration and innovation.
Combining Local Ingenuity with Global Insights
Since our founding in the cooperative housing movement in 1952, we have understood the value of working in partnership with communities at the forefront of their own development. We bring together local leaders, governments, civil society and the private sector to build a more vibrant future of collective design.
By combining local ingenuity with global insights from decades of work across sustainable development, humanitarian assistance and financial inclusion, we are poised to take smart risks and deliver evidence-based solutions that can be customized and scaled. Communities impacted by poverty, disasters and conflict seek an actionable path forward, and we are committed to providing the resources, technology and support that is crucial to accompany them in this pursuit and ultimately drive more equitable growth.
Expanding What Is Possible
Right now, concerned citizens from underserved neighborhoods in San Diego to overlooked villages in Sri Lanka are leading alongside us to address the threat and impacts of COVID-19 and other public health crises in culturally-responsive and sustainable ways.
From artisanal mining sites in the Democratic Republic of the Congo to Youth Empowerment Centers for displaced Syrians, we are working to increase the safety, security and well-being of conflict-affected individuals and families with dignity, integrity and connection among our core values.
Whether we're working with women's savings groups in Guatemala, cooperatives in Kenya or corporations in Brazil and Zambia, we know that expanding what is possible requires prioritizing the voices of those who are most impacted.
With a spirit of constant innovation and a vision of a more just, prosperous and equitable global community, we are collaborating across sectors and in more than 30 countries to save lives, advance equity and secure strong futures.
Expanding access to essential interventions that give everyone the chance to thrive
Breaking down barriers to social justice, human rights and equal opportunities
Strengthening household and community livelihoods in a changing climate
3. Subscribe to our email list using the form below.