Global Communities Responds to Devastating Earthquakes in Türkiye, Syria
Published 02/09/2023 by Global Communities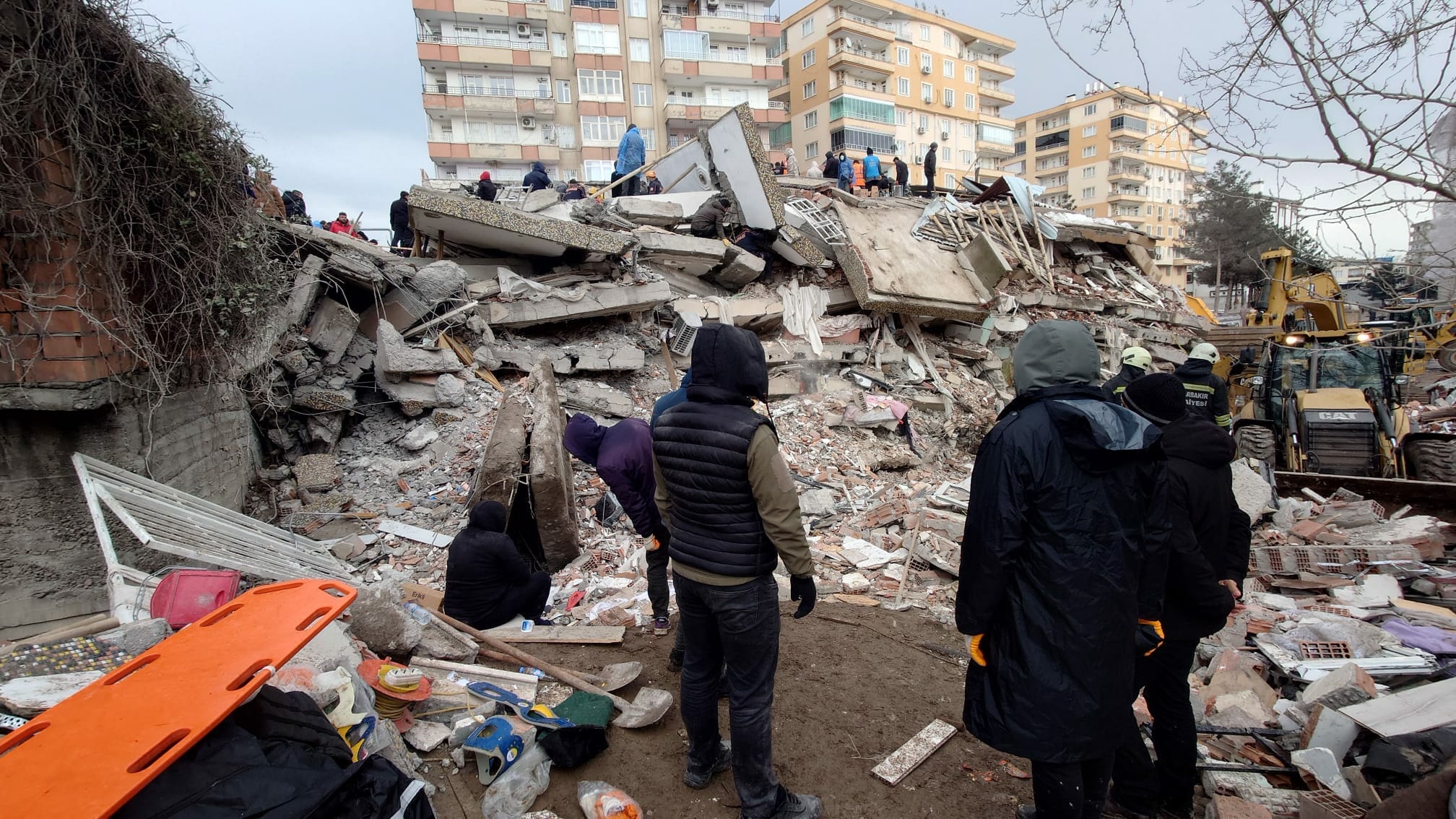 On February 6, 2023, magnitude 7.8 and 7.6 earthquakes struck southern Türkiye and northern Syria, causing widespread destruction across 91,000 square miles and affecting the 23 million people who call that region home. Global Communities immediately activated our teams on the ground to prepare a response while also supporting the safety of our staff and their families in this time of unprecedented tragedy.
In Türkiye, the earthquakes and thousands of resulting aftershocks have left more than 2 million people displaced, and a death toll that is more than 50,000 and growing. The Government of Türkiye has reported more than 520,000 collapsed or heavily damaged buildings, causing more than 1 million people to live in government shelters and temporary sites, with thousands more in informal sites with even fewer facilities and support.
In Syria, there have been more than 4,500 deaths, mainly in governorates bordering Türikiye in the country's northwestern region, home to 4.5 million people. This is particularly distressing considering much of the region was already experiencing economic collapse, major displacement and damaged infrastructure because of the last 12 years of protracted conflict. Many live in camp settings and 90% rely on humanitarian assistance to meet their needs.
Our entire global team is holding our team members and partner communities in Türkiye, Syria and across the Middle East in our hearts.

Global Communities President and CEO Carrie Hessler-Radelet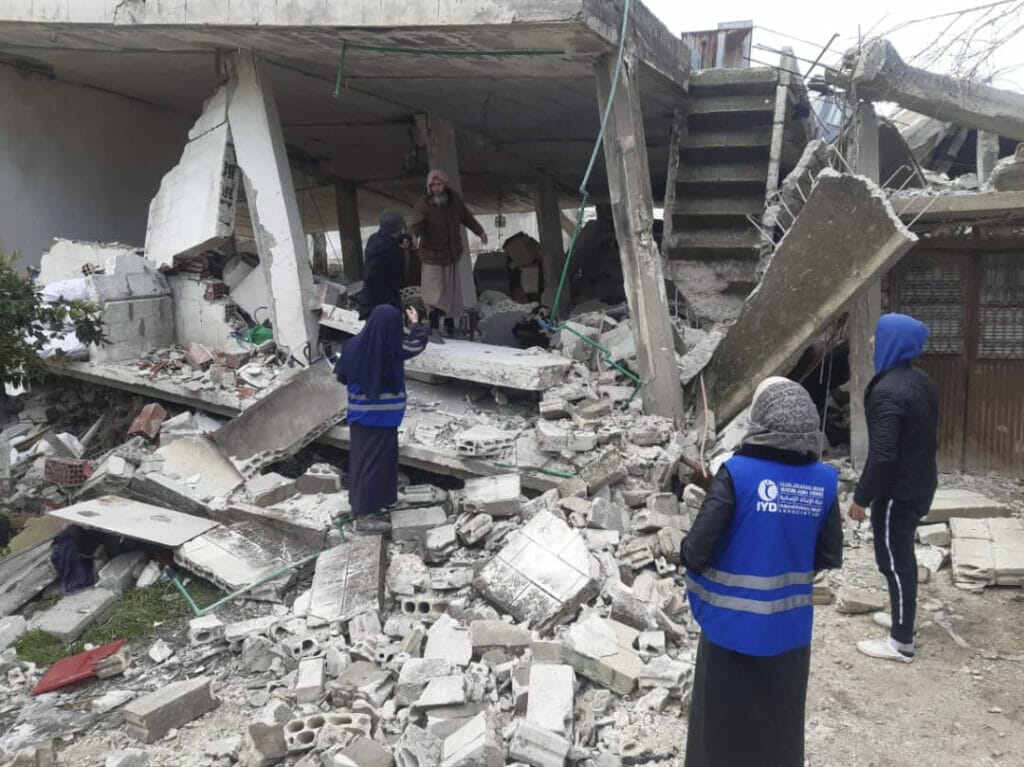 RESPONSE ACTIVITIES IN SYRIA
Following the earthquakes, Global Communities quickly pivoted programming while continuing lifesaving activities inside Syria, by responding to both new and pre-earthquake needs. To date, our response has been focused on addressing food security and livelihoods, protection, shelter, and water, sanitation and hygiene (WASH) needs.
Food Assistance
In northwest Syria, Global Communities supported the Government of Türkiye's Disaster and Emergency Management Authority and the Azaz local councils with an in-kind flour donation of about 148 metric tons to support the production of subsidized and free bread—a staple food in the Syrian diet. An estimated 84,000 households, comprising 422,000 individuals, will benefit from this activity and the food assistance will allow families to redirect personal funds to meet other needs. Global communities in currently supporting collective centers in the Azaz area (around 600 households) with free bread and will continue to do so for three months. These families will also receive a $120 one-off cash distribution for ready-to-eat rations.
Protection
Global Communities is providing ongoing case management support for 367 vulnerable program participants and issuing $200 unconditional cash transfers to ensure basic needs are met. We have also committed to supporting collective centers, with about 7,000 hygiene kits and winter clothes kits provided through partnership with the United Nations' International Organization for Migration (IOM). Lastly, Global Communities is providing psychological first aid and referrals (service mapping) to program participants in camps in northwest Syria.
Shelter
Over the last several weeks, Global Communities has distributed 674 non-food item kits from IOM to people in need. In addition, we will distribute approximately 7,000 flooring kits over the next 8 weeks through an in-kind donation from Every Shelter that will support approximately 350 households. These flooring kits will help improve the living conditions of displaced families who are using temporary tent shelters. Global Communities is also conducting shelter infrastructure assessments of damaged project structures such as protection centers. Activities funded through the UN's Syria Cross-Border Humanitarian Fund will provide cash transfers for more than 6,000 vulnerable families in camps in northwest Syria, providing the resources to buy winter fuel, clothes, blankets and other essentials to reduce suffering throughout the cold winter months.
WASH
Global Communities is the primary WASH actor in a collection of camps in northwest Syria that house nearly 140,000 displaced people. After the first two earthquakes, we assessed the WASH infrastructure, including sewage lines, water lines, water tanks and boreholes. As additional quakes or aftershocks occur, Global Communities is continually reassessing the infrastructure for further damage. We are also providing essential services, including water distribution, sanitation support and garbage collection to collective centers where new arrivals have been congregating.
Global Communities has already distributed 246 feminine kits from IOM comprised of a one-month supply of sanitary pads and bars of soap in addition to 1,476 pieces of soap to 246 newly arrived families.
RESPONSE ACTIVITIES IN TÜRKIYE
Global Communities seeks to respond in Türkiye, having been working cross-border from Gazianstep since 2014. As humanitarian coordination mechanisms are being established, we are participating in information sharing and coordination efforts.
Global Communities is partnering with the Government of Türkiye's Disaster and Emergency Management Authority (AFAD) to procure and distribute temporary shelters for displaced families in southeast Türkiye. Eighty tents and 30 prefabricated caravans—complete with a kitchen, bathroom and bedrooms—will provide short-term safe and habitable housing until homes can be repaired or alternative long-term housing can be secured. Procurement and delivery are expected to be completed by mid-March.
GLOBAL COMMUNITIES' PRESENCE IN TÜRKIYE AND SYRIA
Global Communities has been responding to the protracted Syrian crisis since 2014, implementing more than 40 programs aimed at saving lives and alleviating human suffering through a community centered, resilience-focused approach driven by the tireless efforts of our 670 staff based in offices across Northern Syria and in Gazianstep, Türkiye.
Our Syria country program has grown into an integrated multi-sectoral approach including food and agricultural assistance, provision of water and sanitation services, and protection programs to mitigate the risks of violence, exploitation, abuse and neglect of those affected by conflict or disaster.
We know that needs in the wake of this disaster will only grow, and we will be there, standing with our partners every step of the way.
Latest News
*Lead photo of aftermath of the earthquake courtesy of VOA/Wikimedia Commons.
###
About Global Communities: Global Communities works at the intersection of humanitarian assistance, sustainable development and financial inclusion to save lives, advance equity and secure strong futures. We support communities at the forefront of their own development in more than 30 countries, partnering with local leaders, governments, civil society and the private sector to achieve a shared vision of a more just, prosperous and equitable global community. Learn more at globalcommunities.org.