The Soccer School that Teaches More than a Sport: Respect, Friendship and Unity
Published 10/16/2017 by Global Communities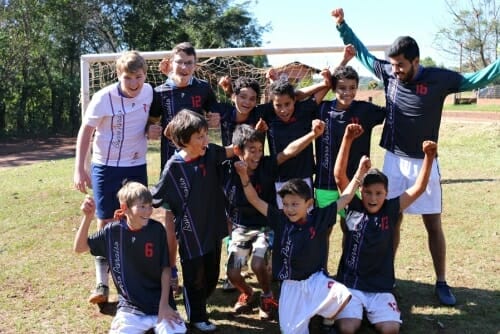 The Soccer School that Teaches More than a Sport: Respect, Friendship and Unity
Lusinir Martins Chaves, 25 years old, has moved neighborhood, city and state many times.  He always carried in his suitcase and in his heart the dream of becoming a soccer player. He tried once, twice – actually more than 10 times! – but it was only volunteering as a coach that he found the self-fulfillment he was looking for on the soccer fields.  But without support and a proper network, he wasn't able to start a program for the youth in his community.
Through the local Neighborhood Residents Association, Nire learned how to get his soccer school up and running with the help of Sowing Futures, a partnership of the John Deere Foundation and Global Communities which aims to improve the capacity of communities and local institutions to have more autonomy and search for a better social and economic situation. He quickly had the support of the neighborhood residents, and started looking for sponsors to get balls and shirts.
As a result, since January 2017, Nire nurtures love for sport, respect and friendship among more than 30 children in the Paraíso neighborhood of Horizontina as a volunteer coach.
Every Saturday, weather permitting, the group gathers exactly at 9 a.m., excited and ready for practice. "I always wanted to help. When I saw this abandoned field in the neighborhood's square, I decided I wanted to create a soccer team.  I thought: ok, let's turn this into sport," says Nire, as he is known in the community. "Already in the first training, I felt so much satisfaction for this initiative.  For me, soccer is a passion above everything.  And to help the kids is even better," he says.
Nire says the program was a natural fit since Sowing Futures encourages communities to consider and improve the future of their children, and because he believes that by working together, they can all create a better future for their community. He adds that physical activity is even more important nowadays, when video games tend to dominate the current generation.  "With the soccer school, we are succeeding in drawing their interest to sport, making them active in the field. This way, they learn to work hard for their dreams."
Last year, a group of community leaders created the Paraíso Neighborhood Residents Association, and through the support of the Sowing Futures Program, the team received training in planning and development of community projects.  With additional support from civic volunteers of the program, known as Community Ambassadors, Luse and the Association succeeded in writing and presenting the project for the soccer school, which was received by the community council.  Lire says he donates his time to coach the training sessions for many reasons.  "It makes me enthusiastic to see the children smile after each training.  I don't know much, but I teach all that I know. Besides sports, I teach what I learned from my mother: we should always help and respect each other, stay away from drugs and violence.  Be a good citizen."
Nire is getting rave reviews in his coaching position. Fourteen-year-old student Gabriel Lucas Alves credits him for ensuring youth have fun and learn not only soccer-related skills like stretching and dribbling, but also values like respect and hard work. Gabriel also affirms that he will maintain friendships he made at Soccer School for life. For Josiane Raquel Cardoso dos Santos, 32, the project also helps even off the soccer field. She is the mother of two young players – Emanoel, 8, and Giovani, 10, and she says that since Soccer School began, her children became more engaged at school, and they have more interest in helping around the house. "Because they know they will take part in the training sessions, they wake up early, have breakfast, brush their teeth and feel motivated.  During the week, they study more, so that they can train on Saturday," she says.  "Their coach encourages them to study, he is a good example.  It's thrilling to see my kids involved in this project." Sowing Futures is hoping to grow the program so that more youth are able to get involved something that is fun, healthy and constructive in building and bettering their neighborhoods.
For more information please visit https://www.globalcommunitiesbrasil.org