In Brazil, Global Communities focuses on corporate volunteering, community development and strengthening the third sector, which includes charities, social enterprises, volunteer and community groups and cooperatives. 
In addition to designing and implementing Corporate Social Responsibility (CSR) programs, we assist companies and institutions in determining the best strategy and most efficient approach to aligning business objectives with the needs of their home communities. We train CSR teams and volunteers in skills and tools for program engagement, management, monitoring and evaluation.
We envision communities in which people have access to services which address their social needs, with thriving business communities, and in which people, especially youth, have access to educational opportunities that provide them with the skills necessary to pursue productive livelihoods.
Communities that have leaders and local institutions equipped with the knowledge and tools to self-determine and self-direct local development are best positioned to withstand shocks and leverage opportunities to improve overall quality of life.
Better Living & Working Conditions for Recyclers
The John Deere Brazil Foundation and the Biocitrus, Poker and Tanac companies have teamed up to support the Recycle project, which focuses on improving the living and working conditions of trash recyclers in the city of Montenegro in Rio Grande do Sul. Through the project, companies will support approximately 30 families that survive from gathering recyclable materials, enabling these workers to improve their working and living conditions. In addition to the socioeconomic development of these families, the project will also address solid waste management and the circular economy in the city. In 2020, Global Communities was responsible for mapping opportunities with the community and partners and designing the Recycle project. From 2021-2023, our team will be responsible for its coordination and implementation in three phases. Phase 1 involves the mobilization, engagement and organization of the recyclers to start collaborative work with each other. Currently, trash recyclers work autonomously, without any organization or structure. Gathered materials are kept in their houses' courtyards, putting the health of children and adults at risk. Phase 2 will focus on the training and professionalization of the recyclers, preparing them to organize a cooperative, so they can mobilize public and private resources and partnerships and the necessary infrastructure to work. Finally, Phase 3 will involve developing the autonomy of the recyclers, teaching them how to work in a network and promoting the sustainability of the cooperative. The ultimate goal of the Recycle project is to enable participating trash recyclers to achieve autonomy, organize themselves to professionalize the gathering of materials, and improve the quality of work and life of their families and communities.
community participation hours logged
corporate and civic volunteer hours logged
youth engaged in program activities
community, institutional and youth leaders trained
*as of January 2021 and representative of the Sowing Futures program in both Brazil and Argentina
Sowing Brighter Futures for Brazilian Youth
From 2015-2020, in partnership with the John Deere Brazil Foundation, Global Communities worked with Brazilian communities to develop leadership skills in youth, strengthen local institutions and promote civic engagement through volunteerism and community participation. The Sowing Futures program drew upon Global Communities' Participatory Action for Community Enhancement (PACE) methodology, which is our method of facilitating community development that unites and empowers. As one of the goals of the program, opportunities were created for John Deere volunteers to transform the reality of the surrounding communities, especially those in which employees live. In creating these opportunities, the program strengthened the ties between both the company and its employees and with the communities where they operate. Over its five-year implementation in six Brazilian cities, Sowing Futures served 34 neighborhoods, formed 845 local partnerships, created 11,132 volunteer opportunities, engaged with 10,590 youth and directly benefited a total of 98,217 people.
Confronting the COVID-19 Pandemic
When the COVID-19 pandemic began in 2020, Sowing Futures program staff in Brazil worked tirelessly to reassess local conditions, maintain contact with program stakeholders, coordinate with local John Deere teams and reprogram activities to meet the growing needs of at-risk families. Our team mobilized the program's network of community leaders and partner organizations and coordinated with municipal governments to deliver 3,836 food baskets to nearly 2,000 families. Deere and community volunteers logged over 1,300 hours to support organization and delivery of food aid.
Positively Influencing the Educational Development of Children & Youth in Brazil
From 2017-2020, Global Communities, through Sowing Futures, provided technical assistance for the John Deere at School program, leveraging the time and talent of John Deere volunteers to develop professional and personal skills in youth from partner schools. All projects were customized and created to meet the specific demands and interests of partner schools and volunteer committees. The Youth Leadership and Workplace Organization projects offered tools for leadership development, allowing participants to put improvements into practice in their respective school communities. The Youth Talents, Mentoring and Careers project offered support and guidance to students to conduct a self-assessment of their skills and development potential in order to make more informed and targeted choices with respect to continued education or professional work. Students created individualized professional and personal development plans that will serve as road maps for continued growth and attainment.
Expanding Corporate Volunteerism
Due to our expertise in designing social investment strategies, Global Communities has partnered with Instituto SLC to collaborate in the design of a Corporate Volunteer Program. The objective is to create a program that aligns the company's business priorities with the interests of its employees and society's demands. Technical assistance to the Institute includes raising awareness among leaders, internal research and volunteer policy alignment, and support in planning and implementing volunteer actions.
Strengthening Networks & Developing Job Skills
From 2020-2021, Sicredi (a cooperative financial institution) chose Global Communities to implement a project with trash recyclers in the city of Três de Maio. Goals that guided the project included strengthening a collaborative network between the public and private sectors, educational institutions and the community, as well as developing the skills of trash recyclers and improving the working conditions of waste pickers. The project attended to the needs of 20 trash recyclers' families and led to a more qualified workforce as well as the correct disposal of discarded materials in the city of Três de Maio.
Expanding Impact through Deere Dealer Partners
In 2019, Global Communities, through Sowing Futures, piloted the John Deere at School expansion with Veneza Group, a John Deere dealer. The Veneza Group operates a number of green and yellow line dealerships throughout Brazil's northeastern and southern states. After mapping the interests of the company's employees, Sowing Futures staff worked with Veneza Group's senior leadership to create Social Veneza, the company's first volunteer program. Veneza Group created a volunteer committee and Sowing Futures facilitated work sessions to develop volunteer policies, guidelines and an action plan to initiate volunteer activities focused on education. The volunteer committee selected the São Francisco de Assis School in Recife as the company's first school partner and, together with the school, identified two priority projects. For the first project, a total of 30 Veneza volunteers dedicated approximately 150 volunteer hours to renovating an outdoor multi-sport court that directly benefits more than 1,060 students. The second project involved implementing a youth mentoring project for high school students to receive career guidance and professional advice through one-on-one mentoring. In 2020, with Sowing Futures support, the Veneza Group expanded the work of the volunteer committee to a second unit.
Briefs & Case Studies
Global Communities' Sowing Futures program, funded by the John Deere Foundation (JDF), applies Global Communities' Participatory Action for Community Enhancement (PACE) methodology for community development, youth engagement and institutional strengthening in southern Brazil. The program's first phase, which began in late 2014, was implemented in 10 communities in and around Horizontina, Brazil (the location of…
Latest stories from the blog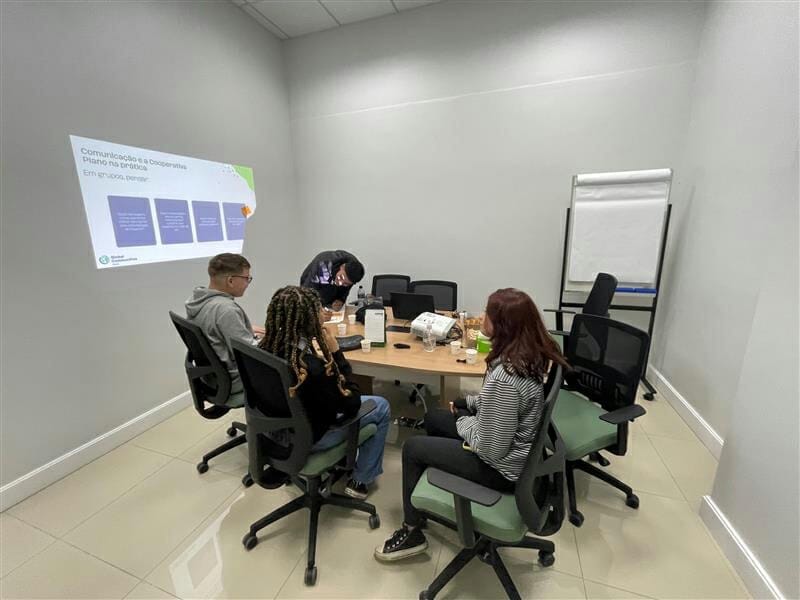 Recycling Cooperative in Brazil Gets a Boost from Young People's Communication Skills
By Leticia Oliveira An estimated 800,000 trash recyclers collect 90% of Brazil's recyclables every day. Many Brazilian cities lack formal recycling programs, so catadores (recyclers) …
Read More