Giving San Diego Infants a Healthy Start through Lactation Education and Access 
Published 08/31/2022 by Lizzie Hickman
By Lizzie Hickman
The recent baby formula shortage in the United States (U.S.) has brought attention to infant nutrition needs and costs. The scarcity highlighted a larger conversation around the importance of breastfeeding/chestfeeding, inequity in healthcare and barriers parents face to accessing lactation services.
In the U.S., Black birthing parents are nine times more likely to be given formula in the hospital than white counterparts, even though the World Health Organization (WHO) recommends babies be breastfed/chestfed within the first hour after birth.
"In the hospital, staff helped me put my son on to latch, but it felt like an afterthought," says Arianna Miller, a San Diego County resident who gave birth to her son in February. "Immediately after latching, they switched to telling me about pumping and then said I would likely have to switch to formula when I got home. It felt like there was no support and that I'd have to figure it out on my own."
The Centers for Disease Control and Prevention (CDC) recommends that babies be breastfed/chestfed for the first six months. However, 60 percent of birthing parents report being unable to breastfeed/chestfeed for as long as they planned as a result of difficulty with latching, unsupportive work environments, cultural norms and lack of family support.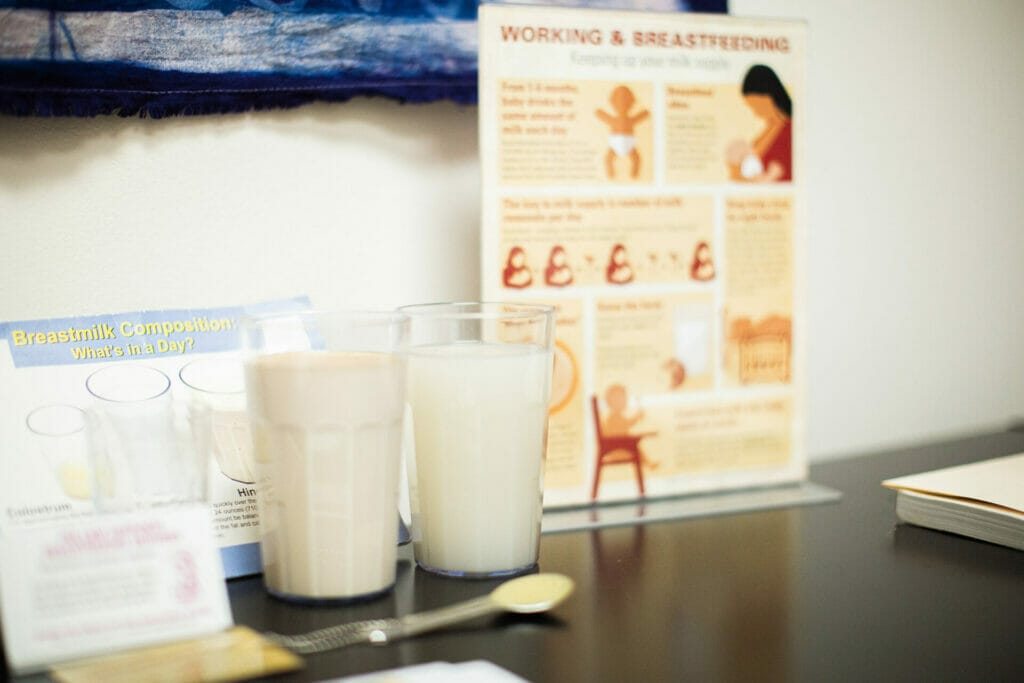 "Having the option to breastfeed in the hospital creates a good and fair chance for it to be successful over the first few days and weeks," says Chardá Bell, senior perinatal health navigator with Global Communities' Healthy Start program.
Funded by the Health Resources and Services Administration, Healthy Start provides free prenatal and childbirth education, postpartum and breastfeeding support, with a focus on diverse Black and immigrant communities in San Diego County.
"My breastfeeding journey was a little overwhelming. I wanted to be the most natural and organic mom out there," says Miller, who enrolled in Healthy Start in September. "My son had a tongue tie and cheek buckle which made it difficult to feed him because it was very painful."
When new parents like Miller experience more complicated challenges related to breastfeeding/chestfeeding and need specialized care, Healthy Start provides either direct support or referrals through the Community Action Network (CAN), an alliance of more than 40 agencies and programs aligned around collective impact goals to increase healthy pregnancies, safe labor and delivery and nurturing parenting for San Diego families. These organizations provide targeted solutions to everything from prenatal care to lactation services.
"As a Healthy Start perinatal navigator and certified lactation educator and counselor, one of my main jobs is to guide clients to the right options to address breastfeeding challenges. Knowing when it is clinical or non-clinical is a key component to this. When the issue is clinical, we refer out to the San Diego Breastfeeding Center or Jarrah Foster at the San Diego Community Birth Center for support," Bell says. "If it is something that we realize is more about just lack of knowledge, we as navigators can use our skills to educate them to the best of our abilities in the basics of lactation so they can be confident in making the choice to breastfeed."
As part of the program's person-centered approach, Healthy Start perinatal navigators provide home-based visits for families from the time their clients are pregnant until the child is 18 months old.
"My lactation experience was something I easily could have given up on," Miller says. "After my son's procedure, Chardá came to my home every week, sometimes twice a week, to check on my breastfeeding progress." 
While Miller's postpartum experience was challenging, she reports that after three months of troubleshooting and support from her perinatal navigator, she has been able to successfully breastfeed/chestfeed.
"If I wasn't given the resources from Healthy Start, it wouldn't have been realistic to breastfeed my son," Miller says. "I would have been sad if I missed out on this experience. The time I can spend bonding while breastfeeding has been priceless."
Global Communities was recently awarded a grant by the United Healthcare Foundation to support Healthy Start in increasing the availability, diversity and sustainability of breastfeeding/chestfeeding services in San Diego. The program will expand services to fill geographic and language gaps through:
Training, certifying and deploying at least eight new Black, African American and/or immigrant Lactation Educators;
Implementing in-person breastfeeding/chestfeeding support groups in the "first food desert" of Southeast San Diego; and
Strengthening and expanding access to a multi-lingual "Breastfeeding Warmline" as a vital telephone resource for breastfeeding/chestfeeding health education, support and referrals.
Click here for more information about Healthy Start services and program eligibility.
---
Chardá Bell will soon be only the second independent Black International Board Certified Lactation Consultant in San Diego County.